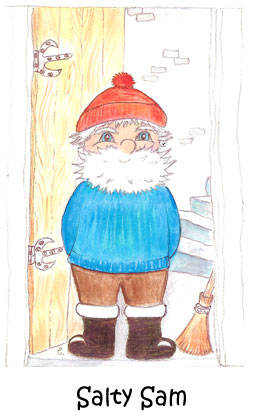 My books are designed to entertain nursery and primary school children. And hopefully they will give a parent reading them as a bedtime story a smile as well.
The books have an equal balance between illustrations and text because children like looking at pictures when they are being read a bedtime story and children practising their reading skills like to relate what they are reading to what is happening in the pictures. Pictures make reading so much more fun.
As an English teacher I have taught many people to read.
All my characters love animals and are constantly surrounded by them.
These small companions like to get involved with the main action in their own way and they create their own sub-text in the small pictures at the bottom of the page.
Salty Sam and some of his friends can now be made into cuddly toys from simple to use patterns that are now available from this website. ( © Christina Sinclair 2008)
Readers who care about the environment will like to know that for every book sold a tree will be planted by the International Tree Foundation the longest-established tree charity in the UK and doing good work around the world.