Salty Sam's Adventures
Hi Everyone! 
Welcome to Salty Sam's Adventures!!!  I'm Salty Sam the lighthouse keeper.  I live in a tall, red and white striped lighthouse perched on some rocks out here in the middle of the sea. 
It is very exciting living in my lighthouse because I am always having visitors and you just never know who will turn up next!
The nearest town to me is Rocky Bay. I can see it on the mainland from my windows. It is a small fishing town with a harbour. 
Next to it is Sandy Cove where there is a beautiful, sandy beach. Holiday-makers love it because there are cafes and ice cream parlours and lots of ways to have fun like crazy golf and puppet shows.
Rocky Bay is a really magical place to live!
I visit the mainland often because I have friends and family there.
My best friend is Captain Jack. He often brings supplies to my lighthouse in his boat.
My Auntie Alice lives in a cottage by the river. She loves knitting. She knits lots of groovy stuff for all the family. Check out her free knitting patterns!
I have two nephews, Bill and Bob, who live in a little, stone cottage called Primrose Cottage at the back of Rocky Bay and we all love going on adventures together.
Welcome to my world!  Just click on the red VISIT MY BLOG button…
Salty Sam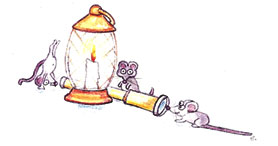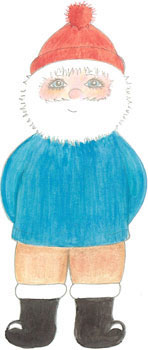 Salty Sam
For:
Having Fun
Children's Activities
Home Schooling Resources
Free Easy Knitting Patterns
Free Craft Patterns
Free Toy Patterns
Improving Your English