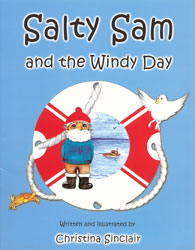 Book Information
SALTY SAM AND THE WINDY DAY (ISBN 978-1848760-196)
Salty Sam the lighthouse keeper has no garden in which to put up a
washing line so he ties it down the side of his lighthouse instead.
One day the wind becomes so strong that it blows all of his washing
away over the sea.
Fortunately, he is then helped by all his sea-creature friends who set
about collecting it for him. They bring it all back safely to make a happy ending.
TEACHER'S NOTES:
Vocabulary: sea creatures and clothes
For those children learning English the book's text is accessible through a translation dictionary.

Discussion points:
The purpose of lighthouses
Friendship and helping people
Free Gifts
Projects
Sam's Seagull Jumper
Seagull Ornament
Embroidered Lavender Bag
Mermaids' Purse
Mermaids
Activities
3 Colouring Sheets
Drawing Sheet
Picture Search
Word Search
Recipe & Answers Sheet