October 13th, 2017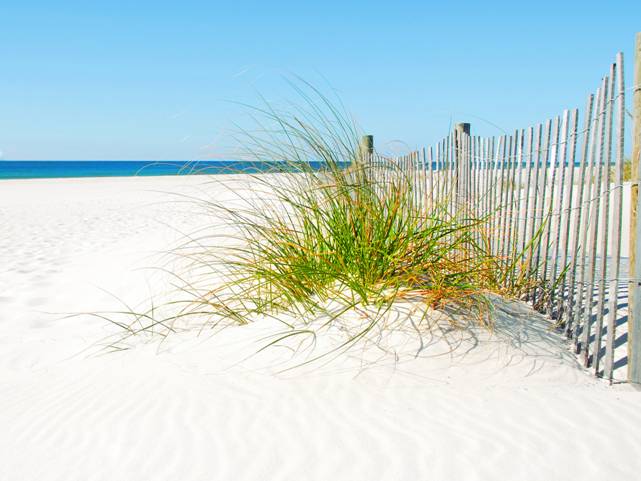 Salty Sam's Fun Blog for Children
Number 139
Growing Flowers
Hello Everyone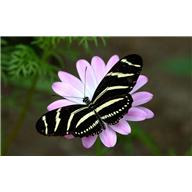 Bill and Bob have had such a success with their vegetable growing in the back garden that they decided it was about time they branched out into flowers.
Planning a garden usually takes place in winter when there aren't many other jobs to do in the garden. Seeds can be ordered from catalogues or bought in shops or on the lnternet for planting in the spring.
ln order to be a successful gardener the first thing that you need to do is find out what kind of soil you have by using a soil test kit. (Blog Post 42)
Using one is like a chemistry lesson. You are finding out whether your soil is acid or alkaline or neutral (neutral means neither one nor the other). The instructions come with the kit, but basically all you have to do is mix a little earth with water and test the water with a special paper called a litmus paper. Use bottled water not tap water and don't touch the soil with your hands; use a clean trowel or old spoon. You should really take samples from different places in the garden to test.
Also, have a look at what the soil looks like. Clay soil sticks together like modelling clay and is good for growing roses. Chalk soil has a lot of white flecks in it and is good for growing lilac and clematis. Sandy soil is often quite good for growing rhododendrons.
Then you have to think about the micro-climate of your garden for example, is it blasted by winds a lot? Are they winds that have just come off the sea and so have a lot of salt in them? Do you have a lot of sun or shade? Do you have frost pockets in the winter?
ln order to be a good gardener, you need to make your plants happy, and in order to do this, you need to know what conditions they grow in their natural habitat.
There are lots of books that will tell you which plants do well in which position. You can also find this information on the lnternet.
There are other things you have to learn such as…
The word 'annual' means that a plant will only live for one year. Gardeners collect seeds from these plants to sow the next spring and grow those plants again.
The word biennial means a plant that takes two years to produce flowers. You plant them one year and they will grow shoots and leaves but wait all winter before they start growing again and then produce flowers/fruits/seeds. A typical example of a flower like this is a foxglove; so if you want to have foxgloves every year then sow them two years in a row.
A perennial plant is a plant that lives for more than two years.
A shrub should last for many years. lt is like a small tree but has many stems not just one trunk.
You need to know these terms when you are choosing packets of seeds. Otherwise, planting and growing instructions are usually on the back.
Keep packets for when you collect seeds from your plants and they will be ready labelled with names, pictures and planting instructions!
The seeds must be stored in paper bags or envelopes, not plastic ones. The seed packets can be stapled to the top of the bag and you will have the all the sowing instructions you need for the following year.
(You very often get paper bags when you buy things in pharmacies, so if you know a grown-up that has any, ask them to keep them for you.)
lf you buy seeds that are labelled F1 Hybrid, the seeds you collect from your plants will not produce plants that are the same as the ones you have grown.
F2 hybrids may or may not be like their parents.
To 'harden off' means to take little plants you have been growing indoors or in a greenhouse and put them in a cold frame in the garden for at least a week before you plant them in the ground.
So what kind of flowers are easy ones for children to grow?
You could try primroses and pansies for early in the season. Then Canterbury bells, forget-me-nots, nasturtium, cornflowers, cosmos, lupins, daisies, marigolds, hollyhocks, foxgloves, carnations, sweet Williams, sunflowers and lavender to have flowers through the summer. Read the seed packets before you buy them to make sure the growing conditions in your garden will be good for them.
Other plants can be grown easily from bulbs, corms or tubers. Daffodils, day lilies and dahlias are easy to grow and suit most soils.
lf you plant seeds in the garden, it will be cheaper than buying plants from a shop. lf you mix the seeds with some sand (bought from a shop, not taken from the beach) you will be able to see where the seeds have landed and you will get even distribution.
And finally – how do you know the difference between the flowers you have planted and a weed? Some people joke that a plant pulls out of the ground easily and a weed doesn't. With experience you will get to know what weeds look like.
When you are learning, remember that the flowers you have planted will all have the same shaped leaves when they start growing.
Also, if you plant seeds in lines, then your flowers will grow in lines, and it will be much easier to identify them when they are very small. The weeds of course, won't be growing in lines; they will plant themselves all over the place!
Bye bye everyone – don't forget to subscribe to my blog!
lf you like my blog, please support it by telling all your friends and followers about it.
Thank you!
And see you again next Fun Friday!
Love and kisses
Salty Sam

www.christina-sinclair.com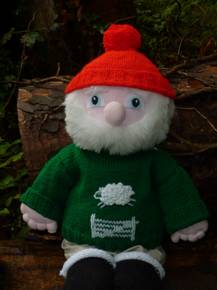 Bill and Bob's Joke of the Week


Bob: lf April showers bring May flowers, what do May flowers bring?
Bill: Pilgrims?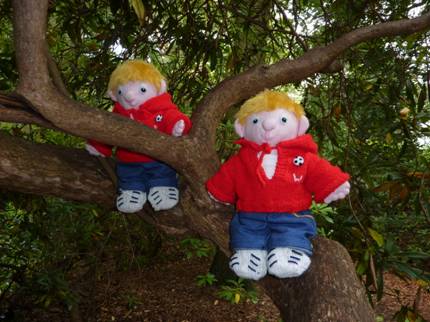 Salty Sam © Christina Sinclair 2015
Unauthorized use and/or duplication of material from this blog without express and written permission from this blog's author and owner is strictly prohibited.
Links may be used to www.christina-sinclair.com


Picture Gallery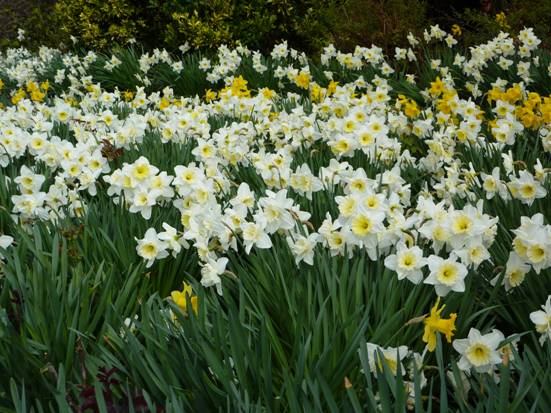 Flowers can be grown from bulbs as well as seed
Daffodils will take four or five years to grow from seed
Snowdrops come from bulbs too and flower as early as January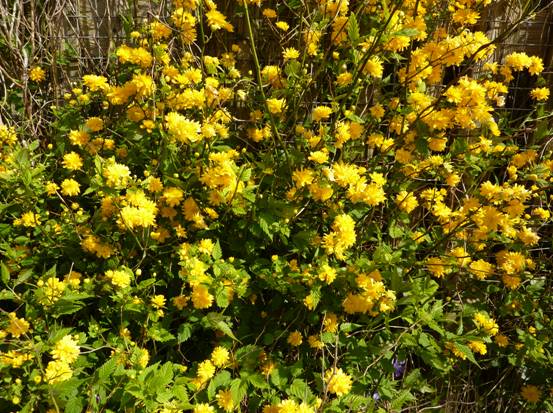 An easy way to grow flowers is to plant flowering shrubs
because most of them don't need a lot of care
This is Kerria Japonica which is a plant that gives you colour really early in the spring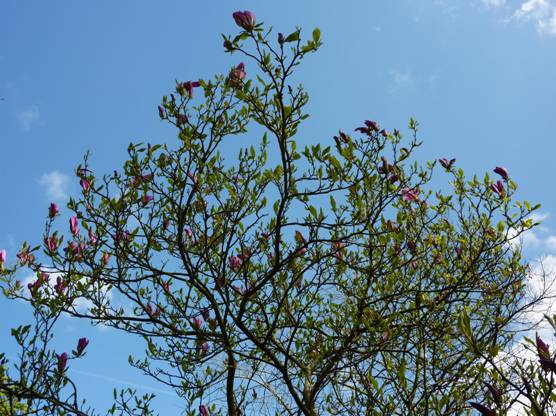 Trees can also have beautiful flowers on them like this dark pink magnolia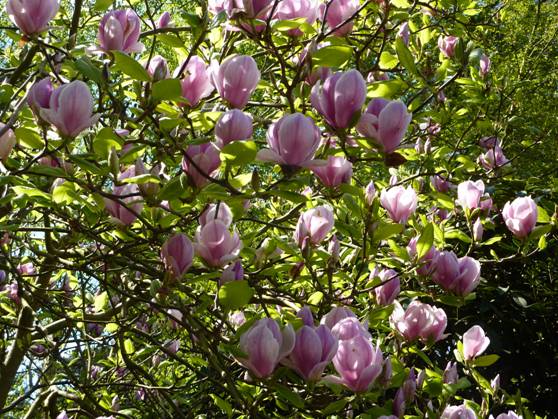 These magnolia flowers are pink and white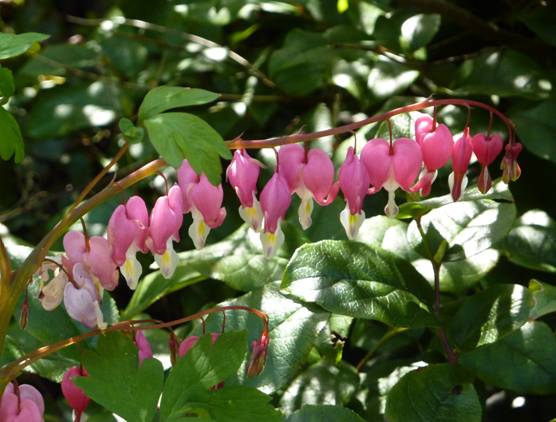 This is one of Emily's favourite flowers
It is called Bleeding Heart or Lady in a Bath
because when you turn it upside down and open it out it looks like a lady in a bath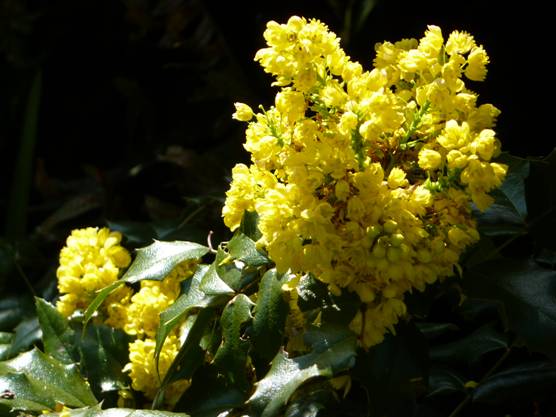 Some flowers you have to be careful of
Mahonia gives you flowers from November through to the following spring
but it does have prickly leaves!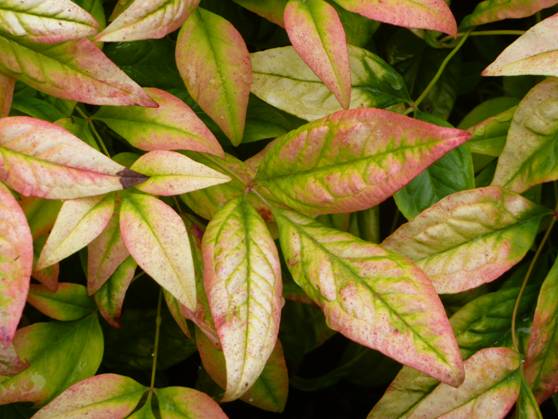 Some shrubs have very pretty leaves and look nice planted with flowers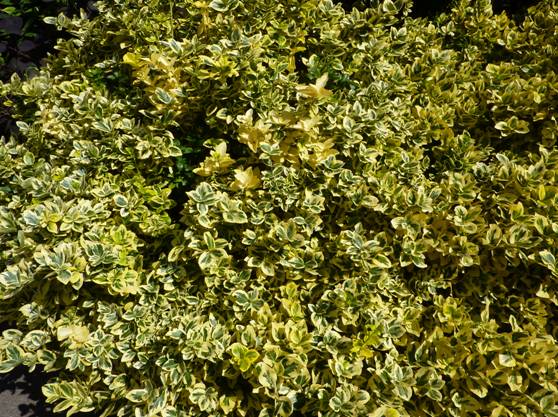 This is a Euonymus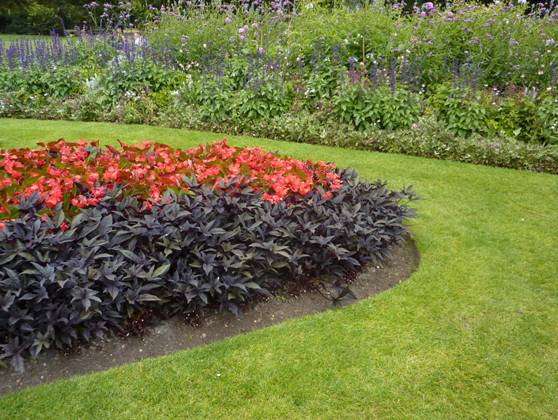 Bedding plants planted in islands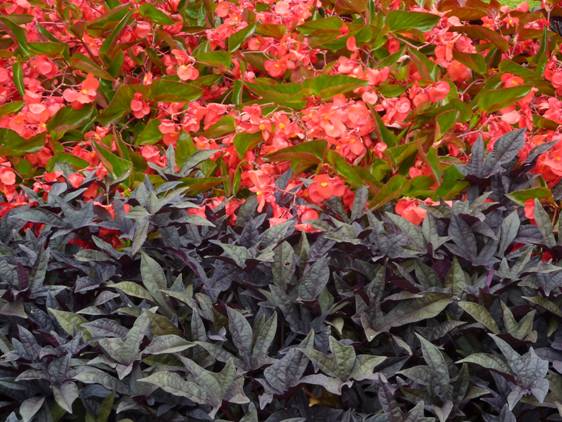 If you plant flowers close together, there is no room for weeds to grow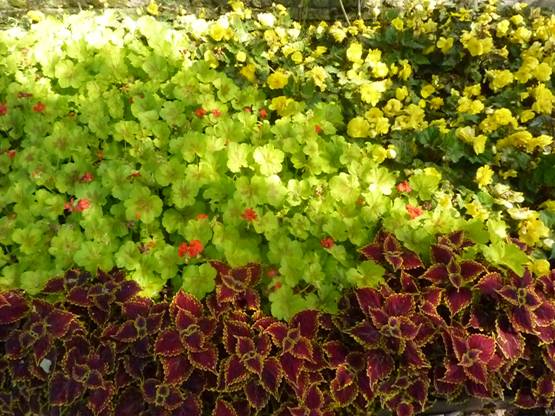 Pelargoniums on the left, begonias on the right and coleus at the bottom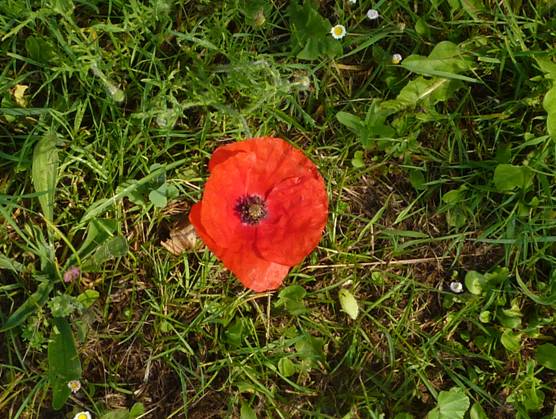 Poppy seeds can lie dormant (asleep) in the soil for up to 40 years – if the seeds are moved because the soil is disturbed, they start growing, which is why you see them on ploughed fields and building sites so often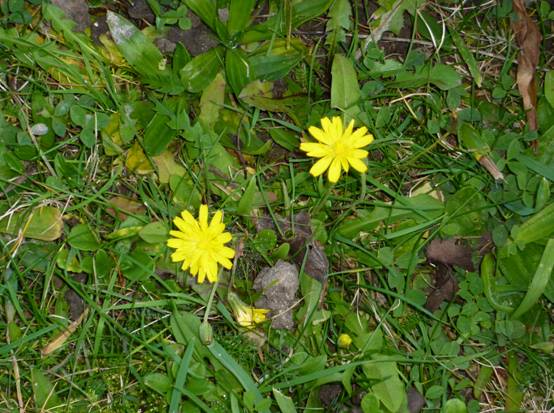 Some flowers are so small that they can live in the lawn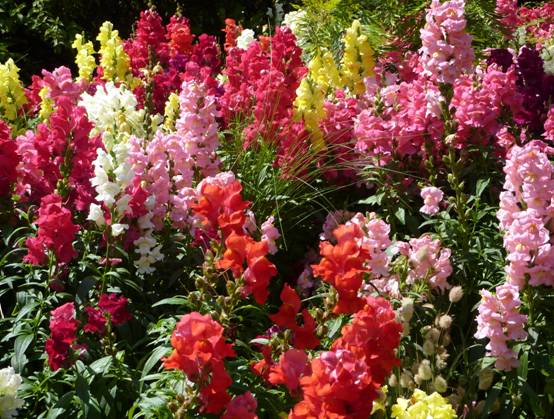 Antirrhinums are called 'bunny mouths' in our family because if you gently pinch their sides they open like little mouths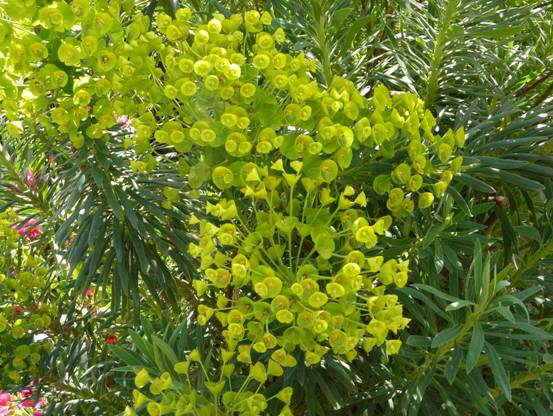 You mustn't let the juice from the stems of Euphorbia get onto your skin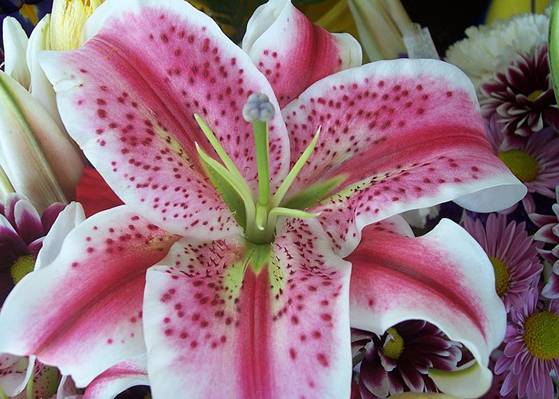 Do not bring lilies into the house if you have a cat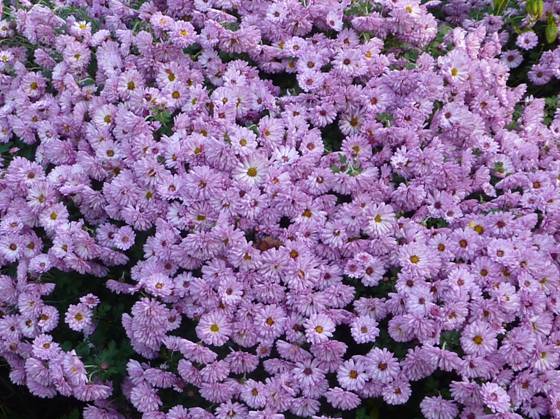 Chrysanthemums bloom in the autumn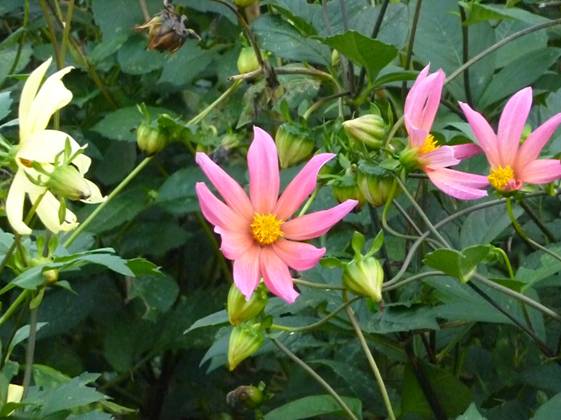 Dahlias bloom until the end of the autumn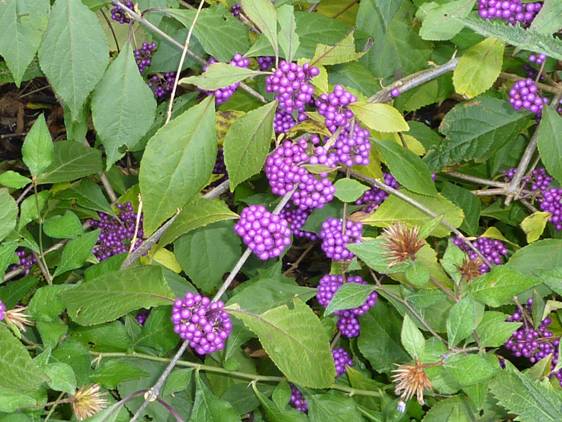 Some berries can be as colourful as flowers (callicarpa)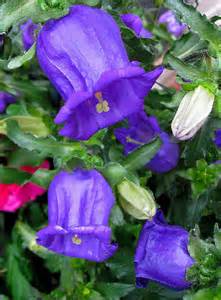 Canterbury bells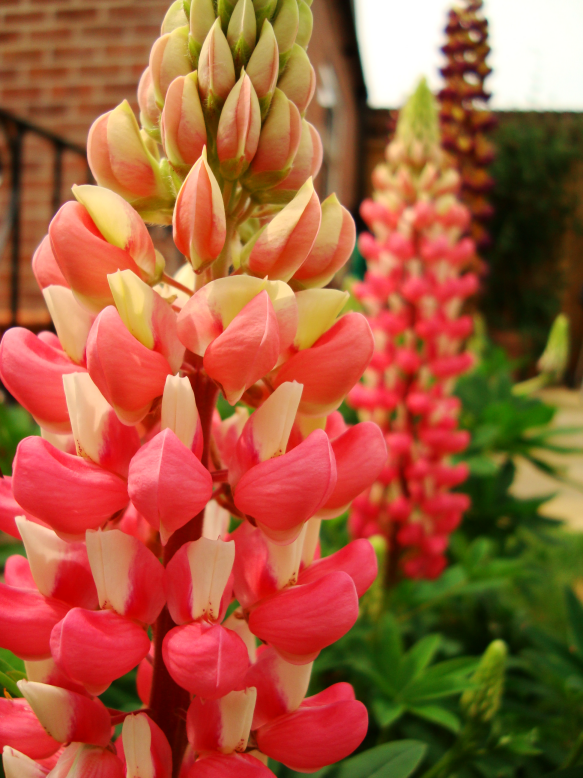 Lupins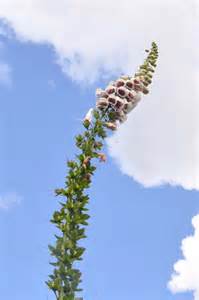 Foxgloves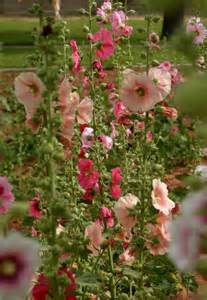 Hollyhocks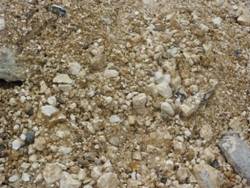 Growing the right flowers for your soil type is important
This is chalky soil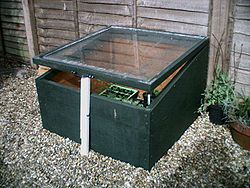 A cold frame can protect young plants in the spring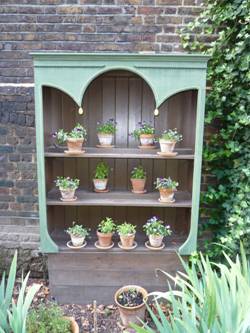 A theatre for plants is an alternative to a flower border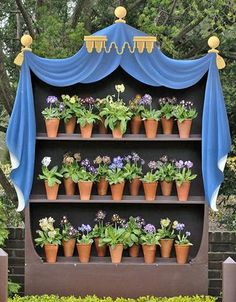 They were traditionally used for auricular flowers and were very popular in Victorian times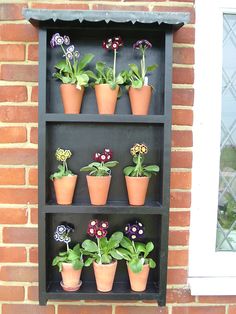 Auriculas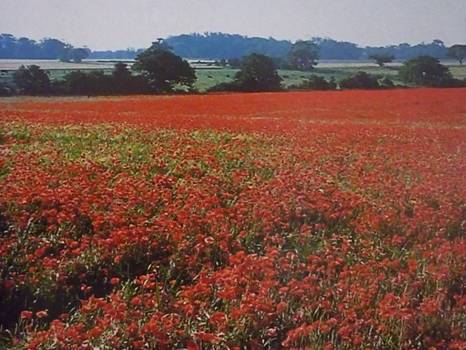 A field of poppies


  THE SALTY SAM NEWS DESK


I planted some marigolds in pots and put them on my window sills this summer and they did really well.
I was looking in one of my gardening books last night. There was a very interesting section that tells you were plant names came from – here are some of them…

Did you know that foxgloves are so called because people imagined the flowers were just the right size for foxes to fit onto their paws in order to muffle the sound of their foot steps? Then they would be able to creep up on chickens. I think they must have had very small foxes in those days – with very little feet!
Daisy comes from 'day's eye' because the flowers face the sun as it moves across the sky and close up at night.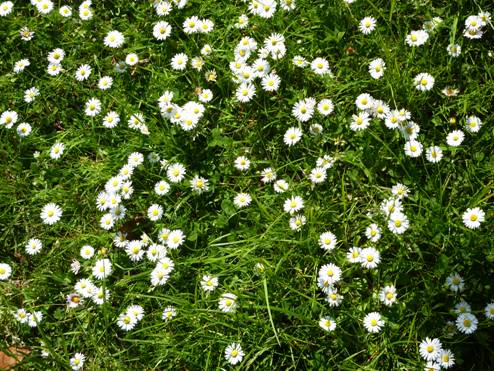 Daisies always look at the sun
Lilac comes from the Arabic word for blue 'laylak' and was used by the Spanish who brought it to England.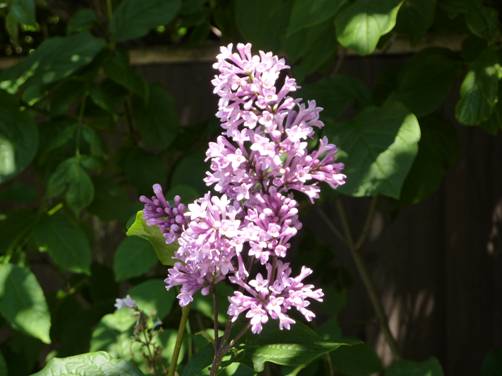 Lilacs can be different shades of mauve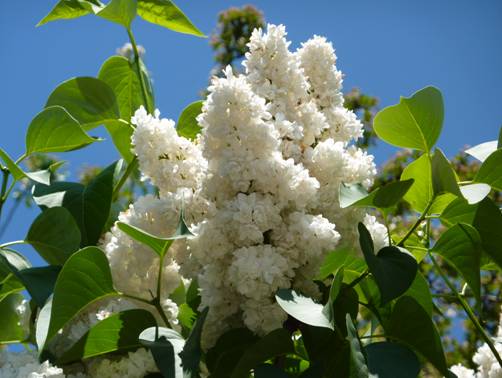 They can also be white
The flower spike and leaf shape of a gladiolas resembles the swords of the Roman gladiators.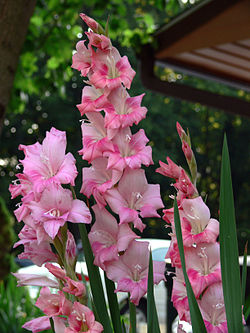 Gladiolas
Tulip comes from an old French word for turban – they are a similar shape to turban. Carnation comes from the French name for complexion; carnations are mostly pink. And pansy comes from the French word 'thoughtful' because they have little faces on them that look thoughtful.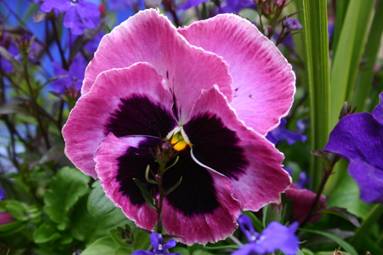 A pansy
There is also a story that there wasn't a word for the colour pink until it came from the flower called a pink. In the first place, the word meant frilly edge (as in pinking shears that you use for cutting a zigzag line on fabric). Pinks are pink in colour and also have frilly edges.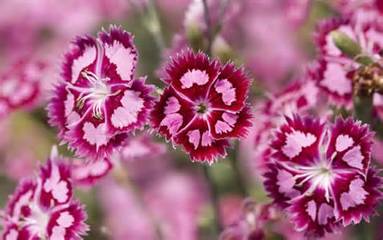 Pinks have a beautiful fragrance
Some plants are named after people like zinnias and tradescantia. John Tradescant was a famous gardener who lived about four hundred years ago.
There was a fashion in Victorian times, when people couldn't always be very forthcoming in what they wanted to say, for people to send secret messages with flowers. These little bunches of flowers were called 'tussie-mussies'.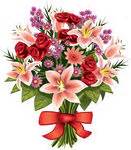 Romantic people today still like to use this 'language of flowers', but for most, the code has been forgotten – apart from red roses for love.
There are books and lists on the Internet that tell you what message flowers represent. For example Canterbury bells mean gratitude so if you give someone a bunch of them you are saying thank you for something.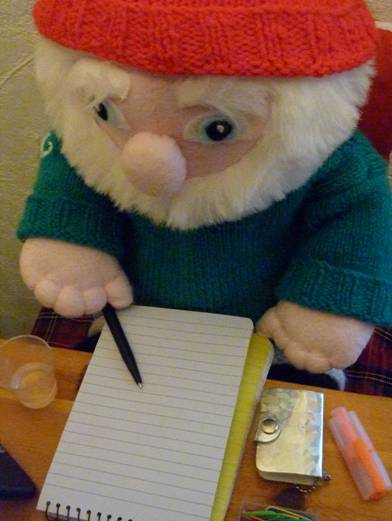 *********************
TO ADVERTISE ON THIS BLOG
PLEASE CONTACT:
christina.sinclair.ads@aol.co.uk
*********************


Crafty Tip
You can make a sun bed and drinks table for your dolls' house garden from Blog Post 137 by using rectangles of plastic canvas covered in brightly coloured diagonal stitches or cross stitch.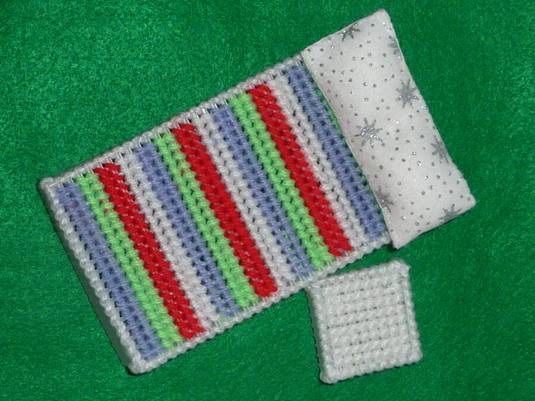 The pillow is two rectangles of felt sewn together with blanket stitch and stuffed just before the sewing is completed. Sew the pillow onto the bed to stop it slipping.
Measure your dolls before you make the bed to make sure they will be comfortable on it or use one of the beds from the house to measure the size you will need.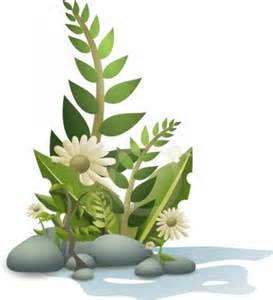 BLOW MY FOGHORN!!! 

PLUS
Salty Sam fans can join in with their comments and share them with children all over the world. You will need to ask permission if you are not an adult.
Enter your e-mail address to subscribe to my blog and receive new Salty Sam Blog Posts for free by e-mail every week. Your address will be kept private and will not be shared with any third party.
Sign me up at the side bar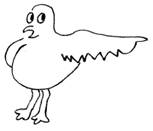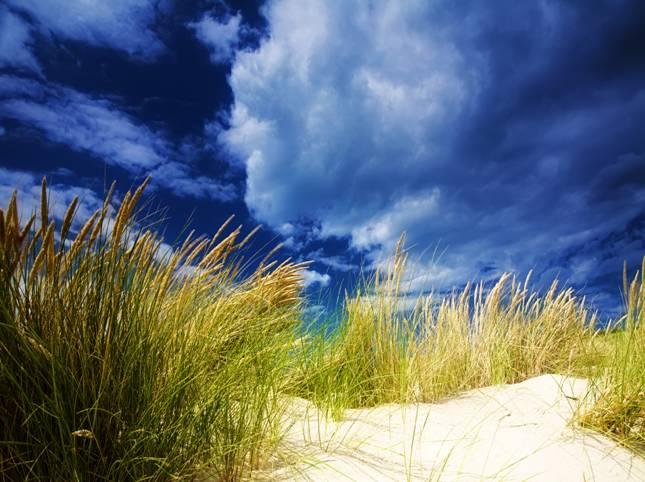 lt's the Weekend!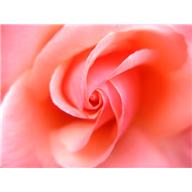 HOW TO PLANT UP A WlNDOW BOX
Not everybody has a large space to garden in. Some people only have space for pots and boxes, but planting up a window box is a good way to start gardening – and there isn't much weeding to do!
Plastic boxes are better for keeping soil damp. They don't dry out as easily as terracotta ones if they are placed on balconies, and they don't crack in the frost. They are also lighter to carry around.
If you use terracotta pots and boxes outside, make sure that you buy ones that will withstand frost and cold temperatures.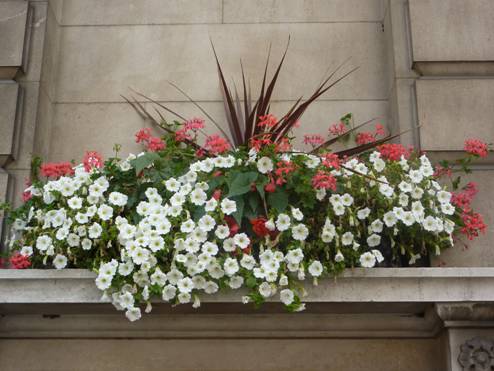 Choose a box with drainage holes and put a tray underneath.
Put the box where you want it to be. It will be so much heavier to lift once filled. Don't leave it loose on a window sill where it could fall onto somebody, and put it somewhere where it will be easy for you to water.
Fill the bottom with broken crocks, gravel, blocks of polystyrene (broken up packaging) or charcoal to aid drainage.
If it is a large container with large stones in the bottom that you are using, you might want to put in a fine plastic mesh at this point to stop the compost washing out the bottom holes.
Fill the box up nearly to the top adding water-retaining crystals in with the potting compost (multi-purpose or container). Small containers dry out very quickly in the sun and these crystals help to retain (keep) moisture in the soil. Also add some slow release fertilizer pellets in with the compost. Follow the directions on the packet/bag.
If you can find one, bury an olla in the compost (leave the top sticking out). An olla is an unglazed terracotta pot that you fill with water. The water will automatically seep out of the sides of the pot when the compost dries out and the plants need watering. They are especially good for any planted containers in an exposed position like a balcony or a roof garden where the wind will have a drying effect.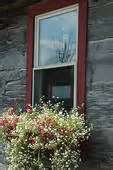 Next comes the fun part – designing your own little garden.
You could make a miniature succulent garden with a few little rocks between the plants or a spring bulb garden or a summer bedding garden. Or you could always start a herb garden if you are a budding chef.
You can have colour all through the winter if you plant evergreens and winter flowering pansies, violas or cyclamen planted up in the autumn.
You can put in a miniature fir to add height and all year round colour. You could put and ivy or two in at the front to have colour trailing down at the front of your box. Spider plants are pretty, green plants for the summer.
The kind of plants you use will be determined by how much sun your window box gets. Will you need to choose plants for a lot of shade or baking sun all day? Don't choose plants that are sharp or spiky, you might hurt yourself when you are planting them.
When you take your plants out of their pots put them straight into the box and make sure there is plenty of compost between the plants with no air pockets left – push them in gently. Don't overcrowd the box.
The window box shouldn't be left to dry out completely but it doesn't want to be soaking wet all the time either. Add some food to the water once a week later on in the summer and you will get a longer flowering season.
For spring bulbs you could plant miniature daffodils with grape hyacinth or tulips with wallflowers. Make sure the bulbs are planted deeply enough otherwise they won't flower (as a rough rule plant bulbs three times their own depth with the points upwards).
They should not be too wet through the winter otherwise they might rot.
For summer try lobelia, verbenas, miniature daisies and pinks.
Plants that do well in the sun are petunias, pelargoniums and cistus and for shady places you can choose ferns, busy lizzies and fuchias.
If you want it to be a garden for your toys to play in, don't forget to leave pathways for them to walk along and places for them to sit.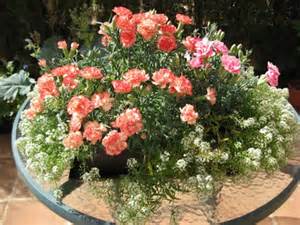 Please note that the material on this blog is for personal use and for use in classrooms only.
It is a copyright infringement and, therefore, illegal under international law to sell items made with these patterns.
Use of the toys and projects is at your own risk.
©Christina Sinclair Designs 2015