January 26th, 2018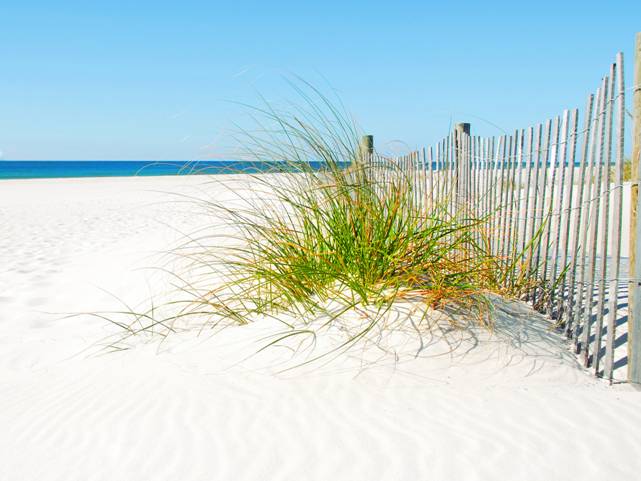 Salty Sam's Fun Blog for Children
Number 154
Survival Skills
Hello Everyone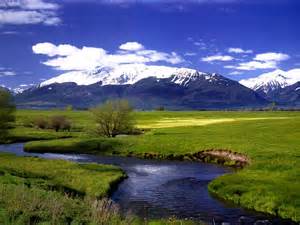 Bill and Bob love to go to Beaver Scouts and learn about camping and first aid. They have decided that when they grow up they want to go on lots of adventures like their uncle did! 

So l have been teaching them survival skills in case they ever get lost in the wilderness. Mobile 'phones don't work everywhere!
There are two golden rules when you go off into the wilds.
Firstly, if you decide to go exploring or take a journey across a desert or wilderness you should tell someone where you are going and when you are due to get back (or to another place). Then obviously, if you get lost or have an accident and you can't get home, someone will realise something is wrong and know to send help.
lf you do get to your destination safely, let them know.
The second important rule is to never leave your vehicle if it breaks down and you can't start it again. Never try to walk for help unless you know you can get to a building from where you are quite quickly.
lf you are in the middle of nowhere, and a plane or helicopter comes looking for you, a car will be much easier to spot than a person. lt will also give you some shelter at night.
lf you could find some stones or pieces of wood to spell out the word 'help' in big letters that could be seen from the air, that would be even more noticeable.
lf you are travelling in a country where English is not the first language, use S O S because this is an internationally recognized distress call.
Of course nobody will come looking for you and know roughly where you might be if you haven't followed rule one – and a lot of people don't!
Naturally, you should always plan a journey carefully; taking maps, appropriate clothing and food and water.
Make a list before you go and tick everything off as you pack. Take more water and food than you think you will need (if you can carry it) in case your journey takes longer than expected.
lf you come to a stream that you need to cross, take a long sturdy stick with you. You will be able to use it to check the depth of the water in front of you and lean on if the current is pulling at your legs.
Only get wet if you really have to though – you must try and keep your clothes as dry as possible because dry clothes keep you warm and wet clothes make you cold.
Never eat or drink anything unless you know that it is safe to do so – it is better to be hungry than poisoned.
lf you build a fire to keep yourself warm at night and dry your socks and boil water, make sure that you have absolutely and definitely put it out when you leave your campsite.
And finally, if a bear wants your picnic basket don't have an argument with him over it, let him have it, if he isn't bigger than you are, he may have some mates in a bush nearby that are!  

Bye bye everyone – don't forget to subscribe to my blog!
lf you like my blog, please support it by telling all your friends and followers about it.
Thank you!
And see you again next Fun Friday!
Love and kisses
Salty Sam

www.christina-sinclair.com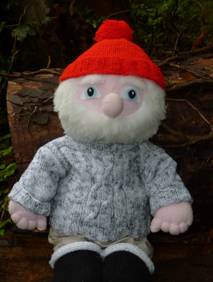 Bill and Bob's Joke of the Week


Bob: What do you call a lazy toy?
Bill: l don't know. What do you call a lazy toy!
Bob: An inaction figure!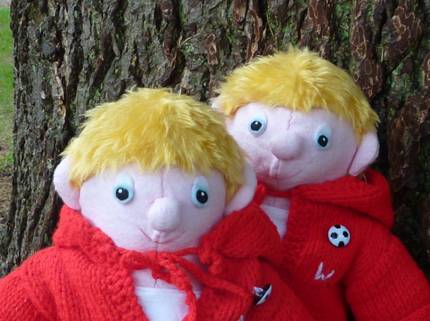 Salty Sam © Christina Sinclair 2015
Unauthorized use and/or duplication of material from this blog without express and written permission from this blog's author and owner is strictly prohibited.
Links may be used to www.christina-sinclair.com

Picture Gallery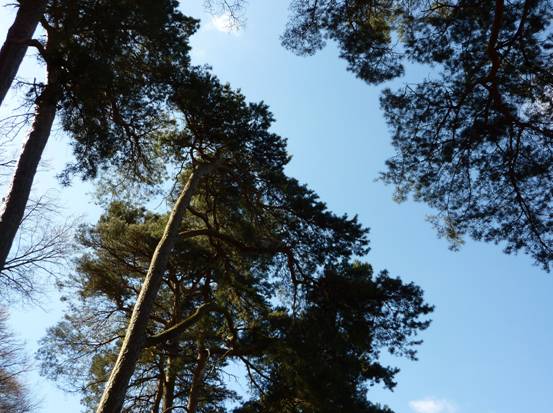 It is easy to get lost when everything around you looks the same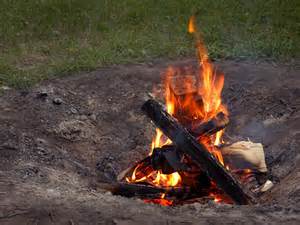 Make a fire in the open and cover it with earth when you have finished with it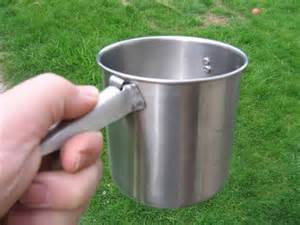 A billy can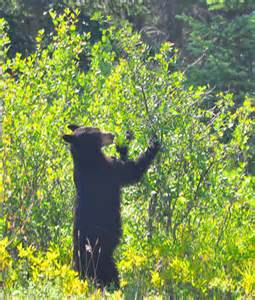 Don't argue with the locals


  THE SALTY SAM NEWS DESK


Bill and Bob love to go rock pooling as I have told you before and sometimes Henry and Emily come too.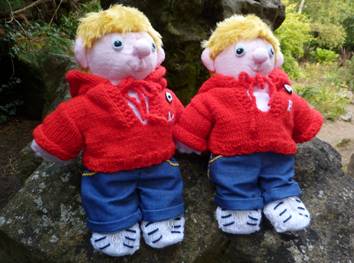 Every time we go, there are different things to see. Each rock pool is like a little community where each creature interacts with each other – and they are all in the pool together until the tide comes back to allow them to move on.
You have probably all seen limpets if you have visited a beach. Limpets are the conical (coned-shaped) shells that seem glued to the rocks at low tide. When they are under water though, they look like mini mushrooms that have come to life.
Limpets have rough tongues that graze the algae on the rocks (the green, slippery stuff that grows on rocks). Scientists have found that this grazing stops seaweed from growing.
Starfish are easy to spot because of their shape. They have been living on Earth for over 500 million years. They try to eat limpets, and limpets do everything they can to avoid or repel starfish!
One of the largest and most intelligent molluscs there is, can be found in a rock pool. It is the cuttlefish, and it has the most amazing ability to change its colour in order to camouflage itself as it hunts for prey. Shrimps too have the ability to change colour.
Mussels though, don't move about. They anchor themselves to the rocks with something called a foot and live together in colonies. They are what we call filter feeders. That means that they take their food from the sea water that drifts over them.
Dog whelks like to feed on mussels, and mussels do their best to keep the dog whelks away.
The empty and discarded whelk shells are used by hermit crabs which have developed their body shape to fit sideways into any whelk shell they decide is the right size for them. They also try to choose a shell that is the right colour to blend into the place that they live. They are very choosey about which shell they select.
The shells give them protection because they can shut themselves up in them when they want to and close the entrance off with the larger of their two claws.
When they grow bigger, they need to find a new shell to make themselves comfortable. The smaller shell they leave behind might then be used by a smaller crab.
The larger crabs that you see scuttling about the beach take three years to grow from eggs that have been laid in the sea. They grow their own shells. As they grow bigger they moult and grow a new shell.
On each rock pooling expedition we go on, we never know exactly what we will find!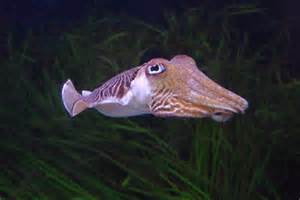 A cuttlefish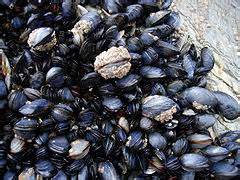 Mussels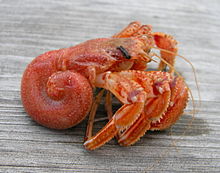 A hermit crab without a shell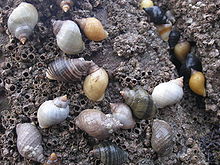 Dog whelks on barnacles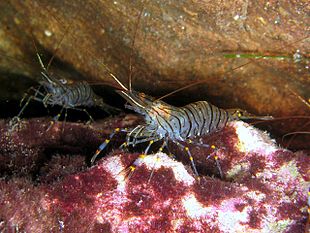 Shrimps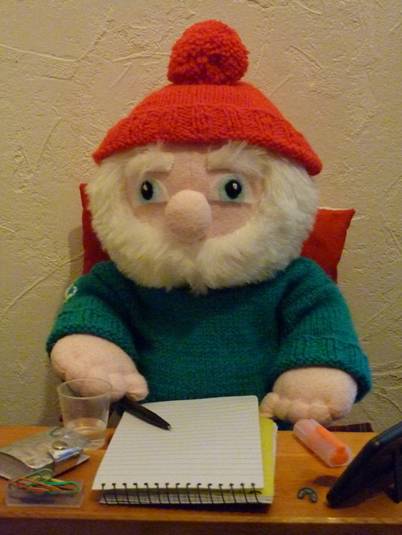 If your twelve inch doll doesn't like venturing out into the wilderness; walking around the park is more her style, then this dress is the perfect thing to wear.
If she would like her very own puppy to take with her, there is one on Blog Post 72.

If you prefer one and one rib knitting instead of two and two, there is another dress on Blog Post 129.
NEWSDESK MINIMAKE
A 12" DOLL WALK AROUND THE PARK DRESS
KNITTED DRESS (KNIT ONE)
*Slip stitch the first stitch of every row
Using 4mm knitting needles and white dk yarn cast on 30 stitches
K3 (p2 k2) repeat the last 4 stitches until 3 stitches remain p3
Repeat this row 19 times
(20 rows)
Change to pale blue dk yarn
Garter stitch 4 rows
Change to pale green dk yarn
Garter stitch 2 rows
Knit 15 and turn
Knit 15
Garter stitch 16 rows on these 15 stitches
(20 rows of pale green)
Cast off
Attach the pale green yarn to the 15 remaining stitches
Garter stitch 18 rows
Cast off

TO MAKE UP
Sew up shoulders 1cm from the arm hole (right sides together).
Sew side seams from hem to under arms using the appropriate colours
(3cm armholes).
Turn right side out.

BAG
Cut a piece of blue felt 5cm by 8½cm.
Cut a shape of white felt and attach it to one end with a small blue button.
Crochet 30 chains into a length of pale blue yarn.
Sew up side seams using sewing thread and small over-sew stitches with wrong sides together incorporating the ends of the crocheted strap.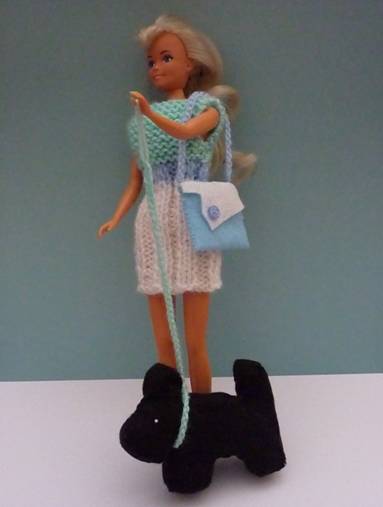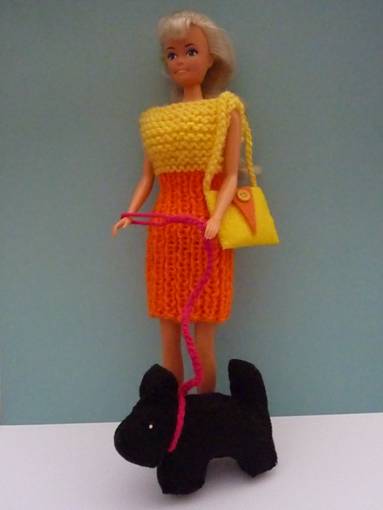 *********************
TO ADVERTISE ON THIS BLOG
PLEASE CONTACT:
christina.sinclair.ads@aol.co.uk
*********************


Quick Quiz
What do these words of wisdom mean?
Thought of the Day
Monday –
If you lie down with dogs, you get up with fleas
Tuesday –
Experience is the best teacher
Wednesday –
Organization is worth a ton of muscle
Thursday –
Those who do not study history are doomed to repeat it
Friday –
All things in moderation
Saturday –
A journey of a thousand miles starts with one step
Sunday –
It's nice to be important but it is more important to be nice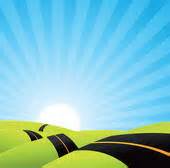 BLOW MY FOGHORN!!!

PLUS
Salty Sam fans can join in with their comments and share them with children all over the world. You will need to ask permission if you are not an adult.
Enter your e-mail address to subscribe to my blog and receive new Salty Sam Blog Posts for free by e-mail every week. Your address will be kept private and will not be shared with any third party.
Sign me up at the side bar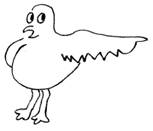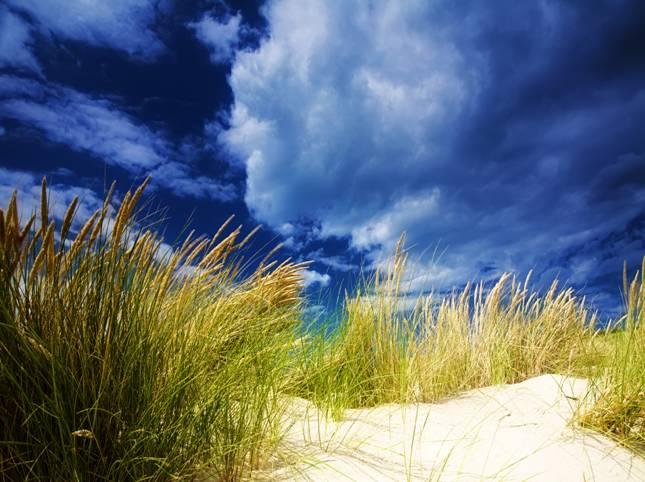 lt's the Weekend!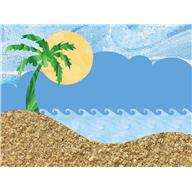 HOW TO MAKE MY SLEEPlNG BAG
Being the kind of person I am, that is to say loving adventures, I will of course always need to have a sleeping bag in my cupboard ready to pack at a moment's notice.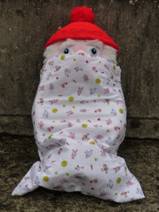 This sleeping bag is the right size for your Salty Sam toy and is lovely and warm to use inside a tent on the coldest of nights.
You will need a piece of thin wadding 90cm/36 inches by 43cm/18 inches
2 pieces of fabric 94cm/39 inches by 47cm/19 inches
A zip about 20cm/8 inches
Curl the top fabric around the wadding and attach with hand-sewing without going through to the outer surface.

Fold back the edges of the lining and attach to the top layer (wadding side) leaving a gap for the zip.

Over-sew the bag around outer edge using tiny over-sew stitches wrong sides together and insert zip at top of side seam.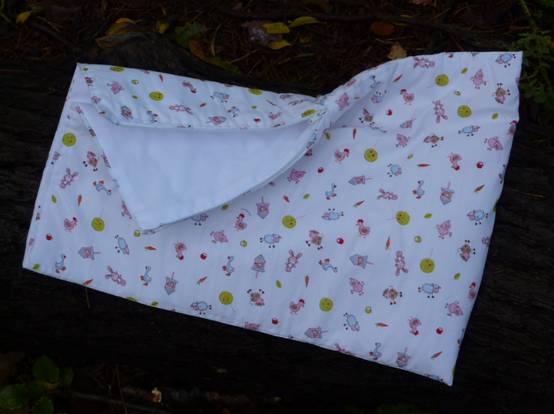 TIP
If you would like to make a smaller version for your 12" doll you will need a piece of thin wadding 36cm/14 inches by 30cm by 12 inches
You will need 2 pieces of fabric 39cm/15 inches by 34cm/13 inches
A zip no longer than the side of the sleeping bag maybe 18cm/7 inches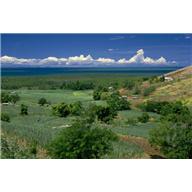 OR
If you want to use a different shape piece of material:-
Sam's Sleeping Bag
Wadding 45cm by 86cm

2 pieces of fabric 47cm by 92cm for Salty Sam's sleeping bag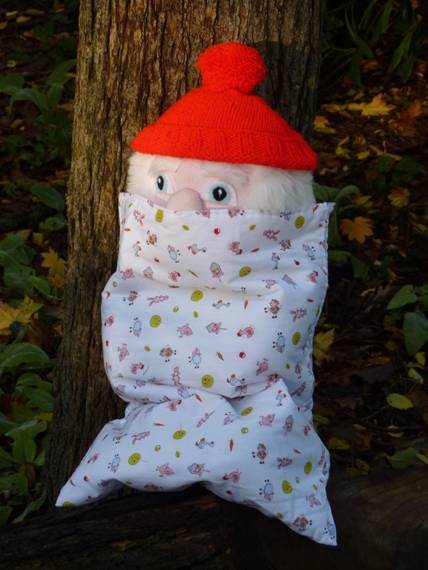 12" Doll's Sleeping Bag
wadding 18cm by 60cm

2 pieces of fabric 64cm/26 inches by 22cm/9 inches

(Nightdress pattern from Blog Post 138)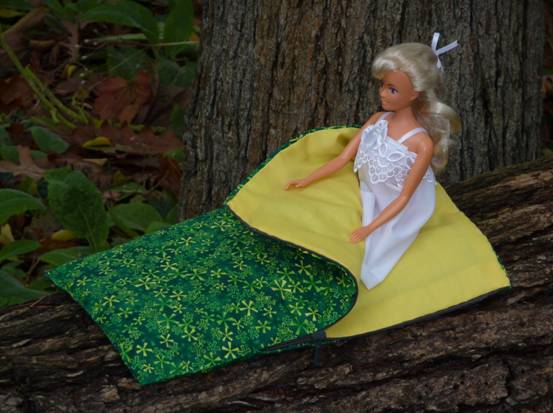 Please note that the material on this blog is for personal use and for use in classrooms only.
It is a copyright infringement and, therefore, illegal under international law to sell items made with these patterns.
Use of the toys and projects is at your own risk.
©Christina Sinclair Designs 2015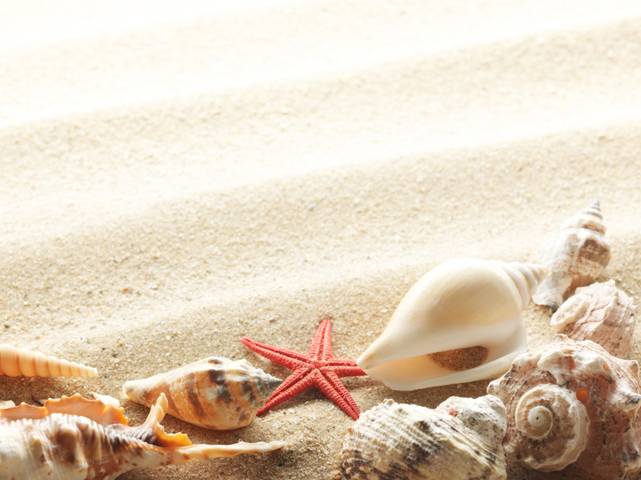 ANSWERS TO LAST WEEK'S WORDSEARCH
| | | | | | | | | | | | | | | | | | | |
| --- | --- | --- | --- | --- | --- | --- | --- | --- | --- | --- | --- | --- | --- | --- | --- | --- | --- | --- |
|   |   |   |   |   | B |   |   |   |   |   |   |   |   |   |   |   |   |   |
|   |   |   |   | R | U | B | B | E | R | D | U | C | K |   |   |   |   |   |
|   |   |   |   |   | B |   |   |   |   |   |   |   |   |   |   |   |   |   |
|   |   |   |   |   | B |   |   |   |   |   |   |   |   |   |   |   |   |   |
|   |   | S |   | F | L | A | N | N | E | L |   |   |   |   |   |   |   |   |
|   |   | P |   |   | E |   |   |   |   |   |   |   |   | T | B |   |   |   |
| T | O | O | T | H | B | R | U | S | H |   |   |   | S | O | A | P |   |   |
|   |   | N |   |   | A |   |   |   |   |   | B |   |   | W | T |   |   |   |
|   |   | G |   |   | T | O | O | T | H | P | A | S | T | E | H |   |   |   |
|   |   | E |   |   | H |   |   |   |   |   | S |   |   | L |   |   |   |   |
|   |   |   |   |   |   |   |   |   |   |   | I |   |   |   |   |   |   |   |
|   |   |   |   |   |   |   |   |   |   |   | N |   |   |   |   |   |   |   |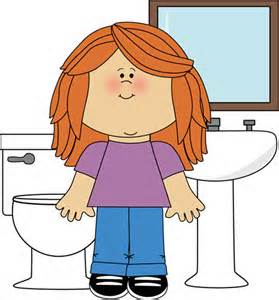 Quick Quiz Answers
lf you lie down with dogs, you get up with fleas. – lf you keep bad company, it will get you into trouble.
Experience is the best teacher. – You learn and remember valuable lessons from life.
Organization is worth a ton of muscle. – Plan things carefully and you can save wasted effort later.
Those who do not study history are doomed to repeat it. – We should learn valuable lessons from history and not repeat our mistakes.
All things in moderation – Too much of anything is bad for you.
A journey of a thousand miles starts with one step. – When a project seems large and difficult to manage, just take things one step at a time.
lt's nice to be important but it is more important to be nice.