May 18th, 2018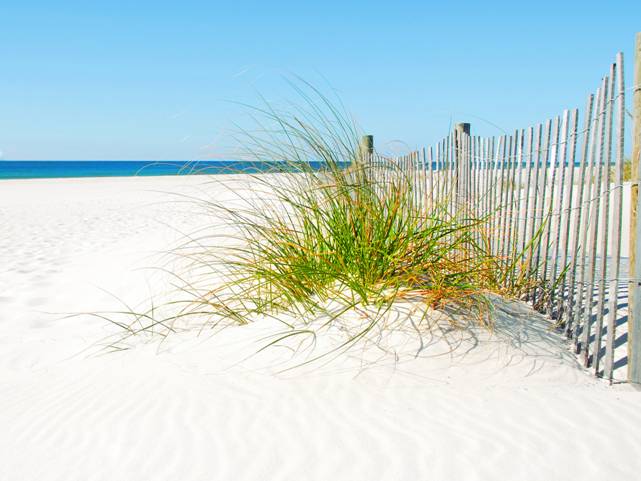 Salty Sam's Fun Blog for Children
Number 170
Composers
Hello Everyone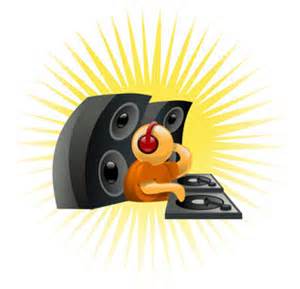 The other day, Miss Pringle caught Bill and Bob listening to their music in class.
She said if they wanted to listen to music in class, she would give them a lesson about some music they had maybe never heard of before.
She chose three composers to tell the children about, and then she played some of their music.
The first one she told them about was Antonio Vivaldi. His nickname was 'The Red Priest' because he was a Catholic priest with flaming red hair.
He lived from 1678-1741, so he was one of the earliest classical composers.
His most famous work is 'The Four Seasons'. There are four pieces of music each representing spring, summer, autumn and winter. Winter is probably the part that most people would be familiar with.
Vivaldi was born in Venice, which is a town in north ltaly where most of the streets are, in fact, waterways. He later went to live in Vienna, which is the capital city of Austria. He was famous all over Europe during his lifetime, but his work lost favour after his death.
Strangely, his music became popular again in the early 20th century when some of his work was found – after it had been left in a cupboard for 200 years!
The cupboard was in a monastery – they obviously tidied their cupboards up even less frequently than l do. 

The next composer Miss Pringle told her class about was Ludwig van Beethoven (about 1770 – 1827)
He was born in Bonn in Germany and showed a talent for music from an early age; he was a brilliant pianist.
He moved to Vienna in 1792, and in 1800, at the age of only 26, he began to lose his hearing. ln the last 10 years of his life he was totally deaf, but strangely, this was the time when he composed some of his most admired work.
The last composer Bill and Bob learnt about was Wolfgang Amadeus Mozart (1756 – 1791).
He was born in Salzburg in Austria and later moved to Vienna.
He was what we call a child prodigy; he started composing music at the age of five!
He travelled around Europe with his family, playing the piano and violin to the crowned heads of Europe when only a young child, and later he influenced Beethoven when he came to live in Vienna.
Mozart achieved fame in his lifetime; but unfortunately not wealth.
These three men left behind them music which is still very popular today.
All of this prompted Bill and Bob to take up playing musical instruments.
Bill decided to opt for the violin, and Bob not to be outdone, took up the recorder.
They have now decided that as well as astronauts and aspiring millionaires they also want to become classical musicians, or at the very least composers.
Although their parents love them dearly, they are not altogether sure that their children are quite cut out for a career in the world of music.
ln fact, they have now bought earplugs to help them withstand the seemingly endless scraping and tooting coming out of the back bedroom.
Bye bye everyone – don't forget to subscribe to my blog!
lf you like my blog, please support it by telling all your friends and followers about it.
Thank you!
And see you again next Fun Friday!
Love and kisses
Salty Sam

www.christina-sinclair.com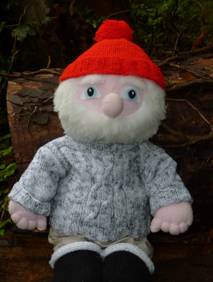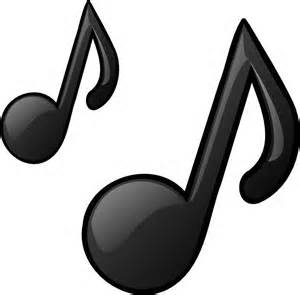 Bill and Bob's Joke of the Week


Bill: Knock Knock.
Bob: Who's there?
Bill: Bach.
Bob: Oh no! l think the dog's been locked out again!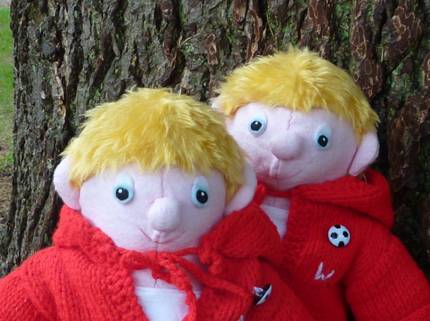 Salty Sam © Christina Sinclair 2015
Unauthorized use and/or duplication of material from this blog without express and written permission from this blog's author and owner is strictly prohibited.
Links may be used to www.christina-sinclair.com

Picture Gallery
Bach (1685-1750)
A German composer famous for his church organ music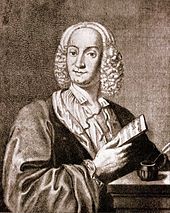 Vivaldi (1678-1741)
Beethoven (1770-1827)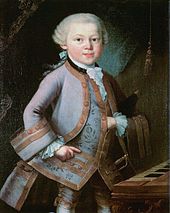 Mozart as a child (1756-1791)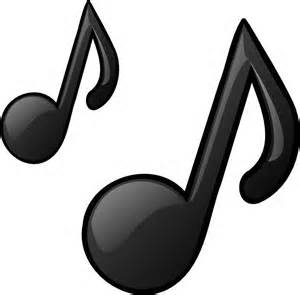 THE SALTY SAM NEWS DESK


Emily was suffering with measles this week and Auntie Alice was baby-sitting her while her parents were at work.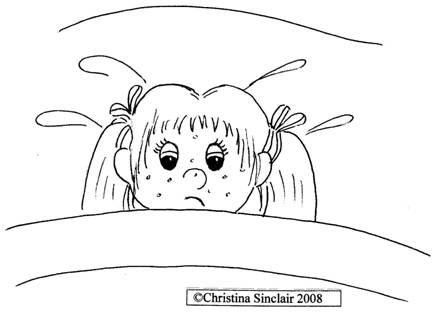 Auntie Alice used some odds and ends she found in her cupboard to make Emily a little present.
To cheer her up she made this little dancing clown. She decorated him with pink seed stitches so that Emily wasn't the only one with pink spots!
When you put the loop over your finger and bounce him up and down on a table top he dances and because his hands and feet are made of bells he jingles as well.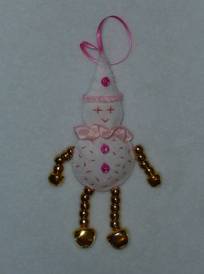 He also makes a lovely decoration to put on a Christmas tree.
To make a paper pattern all you have to do is draw around two jar lids, one smaller than the other and overlap the circles. Draw a centre line through the larger circle before you place the smaller circle on top in order to position the head correctly. The clown in the photograph is made from a circle of 5cm/2 inches in diameter and a circle of 3cm/1¼ inches in diameter.
Then draw a triangular hat on top of the head.
Fold the paper pattern in half length ways in order to check it is exactly symmetrical.
NEWSDESK MINIMAKE
A DANCING CLOWN
When you are happy that the clown is a good shape; cut it out of two pieces of felt.
Embroider on a face using two strands of embroidery thread.
Use seed stitch to decorate his costume and add beads to his chest and hat.
The arms and legs are made from a length of narrow ribbon sewn onto a bell (thread the ribbon through the top of the bell and sew the top of the loop with some strong thread) then some beads are threaded onto the ribbon to hide the sewing.
The tops of the arms and legs and the base of the top loop are anchored firmly into position on the inside of the back of the clown.
The loop is 15cm/6 inches of narrow ribbon but you could use a length of crocheted yarn.
Over-sew or blanket stitch the two shapes together leaving a gap in the side of the neck above one arm then lightly stuff the shape and close up the gap.
The base of the hat is made by crocheting some chain stitches into a length of yarn and the ruff is some left over ribbon gathered up by using a running stitch up one side. Both these decorations are added after the clown is constructed.
If you bounce the clown in the right way, he can walk along the table as well!
Emily thought he was very funny.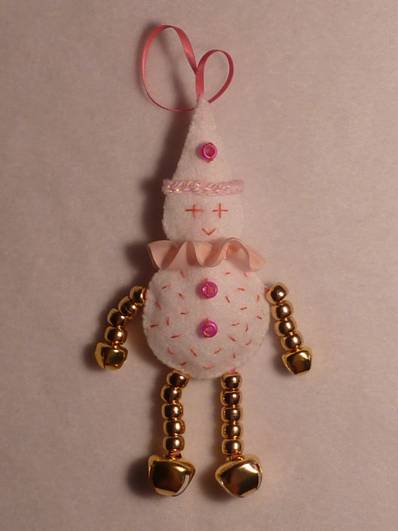 The head and the body are one piece of felt
(you will need one piece for the front and one piece for the back)


*********************
TO ADVERTISE ON THIS BLOG
PLEASE CONTACT:
christina.sinclair.ads@aol.co.uk
*********************


Quick Quiz
Can you un-jumble the names of these musical instruments?
niovil
lefut
leekmuttrd
lolec
tigrua
hanespoxo
noipa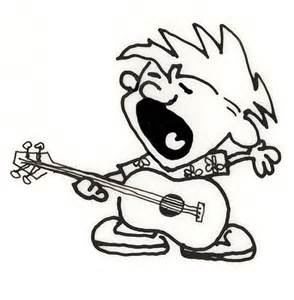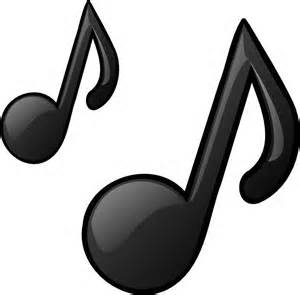 BLOW MY FOGHORN!!!

 PLUS
Salty Sam fans can join in with their comments and share them with children all over the world. You will need to ask permission if you are not an adult.
Enter your e-mail address to subscribe to my blog and receive new Salty Sam Blog Posts for free by e-mail every week. Your address will be kept private and will not be shared with any third party.
Sign me up at the side bar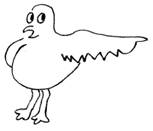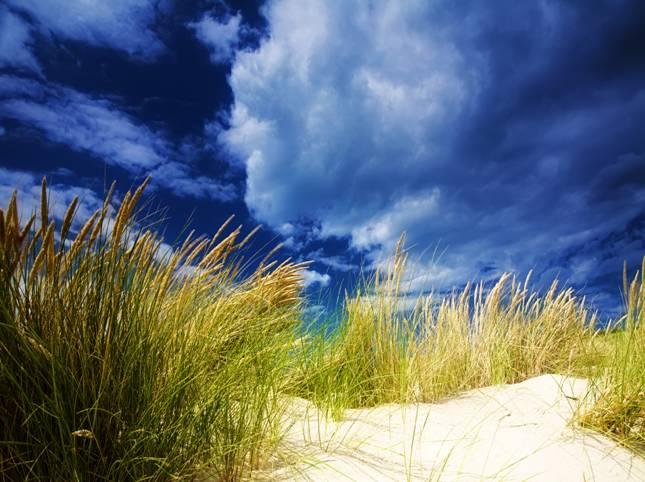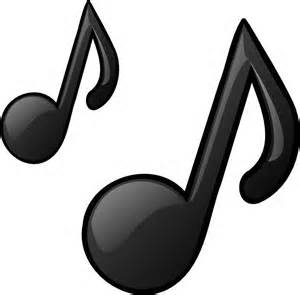 lt's the Weekend!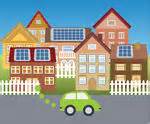 HOW TO MAKE EVENlNG OUT DRESSES
FOR YOUR TWELVE lNCH DOLL
These dresses have mix and match components for any occasion whether it is for a cocktail party, concert or grand ball.
There is also an evening coat on Blog Post 116.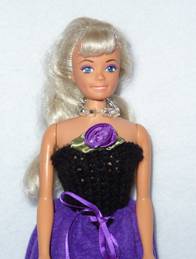 You will also need buttons or ribbon roses and odd lengths of ribbons for decoration.
These designs give you a chance to let your imagination run riot and you can design your own unique garments – the ball-gown made in white would make a lovely wedding dress.
*Use over-sew stitching to sew together all your knitted pieces.

EVENING DRESS BODICE (KNIT ONE)
Using 4mm knitting needles black or black with sparkle texture added dk yarn cast on 22 stitches
Purl 1 row
Knit 1 row
Knit 32 rows of stocking stitch starting with a knit row
Purl 1 row
Knit 1 row
Cast off loosely
TO MAKE UP
Over-sew back seam right sides together.
Decorate centre front and/or top.
This can also be used as a short cocktail dress.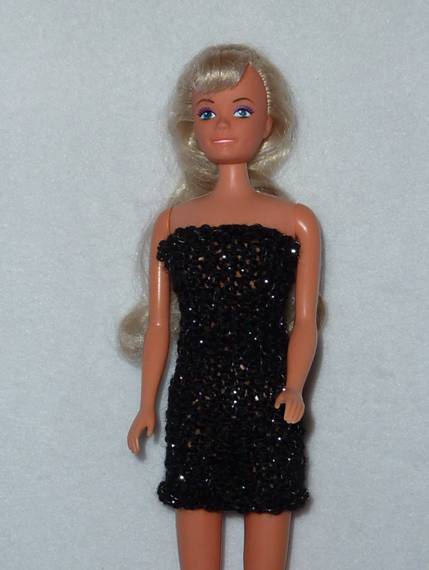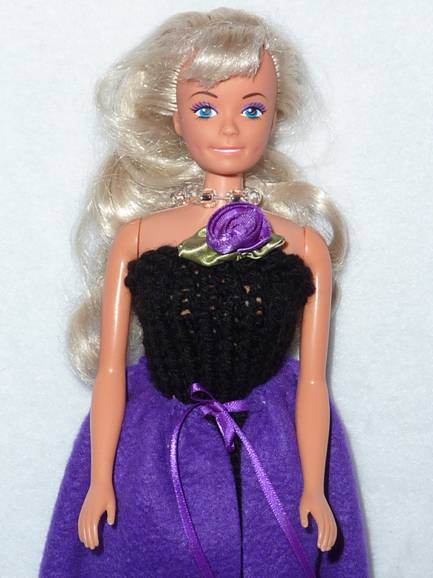 BALL GOWN SKIRT
If you use a thin fleece for this design in a rich colour, it will look like a sumptuous garment but with the added bonus of not needing any hems because the fabric will not fray – just make sure that you cut your edges very straight.
Cut a piece of fabric 30/32cm by 19cm (12/12½ inches by 7½ inches)
Gather the top in with strong thread.
Sew the ends of two pieces of narrow ribbon 18cm long to the top corners of the skirt.
(Remember you can use any fabric for this skirt but if you use a fabric that needs hemming you will need to cut the rectangle larger to add seam allowances)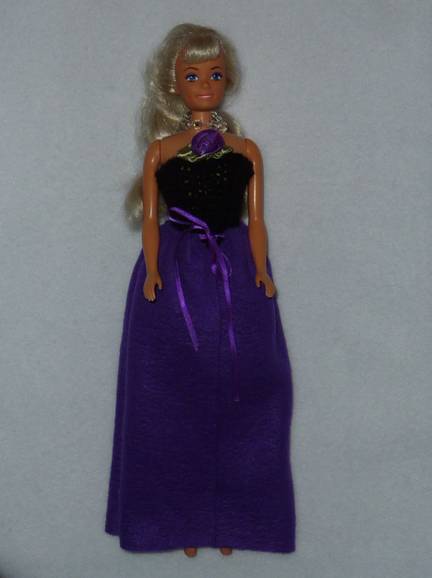 COLUMN EVENING DRESS (KNIT ONE)
Using 4mm knitting needles and black sparkly yarn cast on 24 stitches
Purl 1 row
Knit 1 row
Knit 50 rows of stocking stitch starting with a knit row
Knit 1 x 1 rib for 10 rows
Purl 1 row
Knit 1 row
Cast off loosely
Over-sew back seam.
Turn right side out.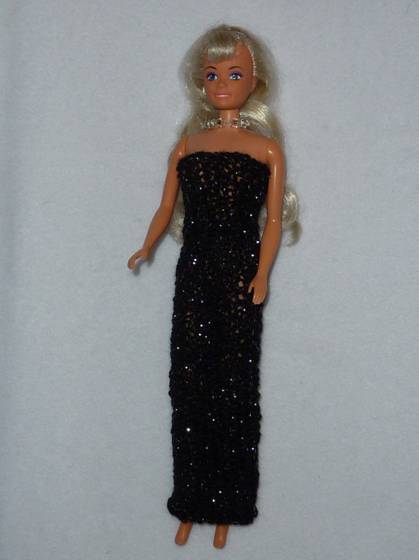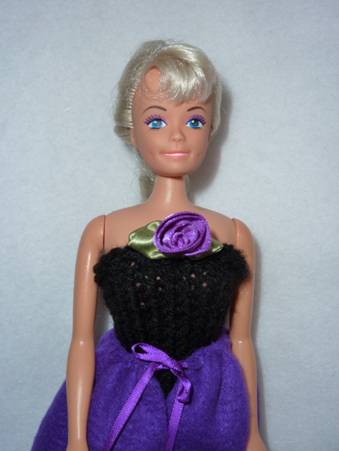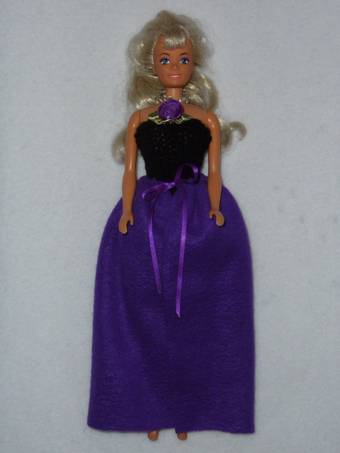 Please note that the material on this blog is for personal use and for use in classrooms only.
It is a copyright infringement and, therefore, illegal under international law to sell items made with these patterns.
Use of the toys and projects is at your own risk.
©Christina Sinclair Designs 2015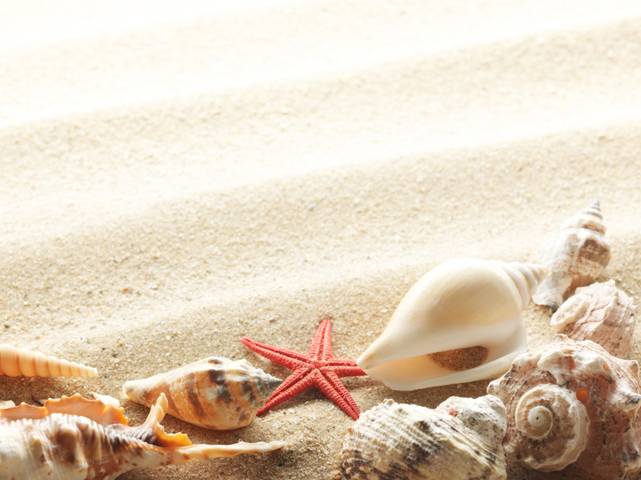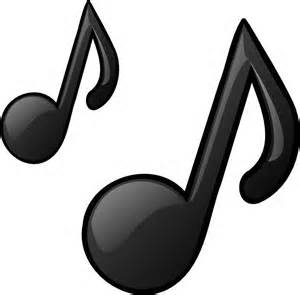 Quick Quiz Answers
niovil – violin
lefut – flute
leekmuttrd – kettle drum
lolec – cello
tigrua – guitar
hanespoxo – saxophone
noipa – piano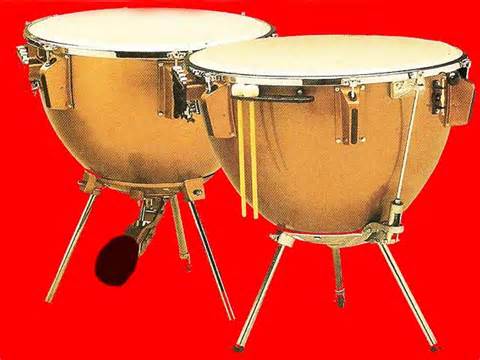 Kettle drums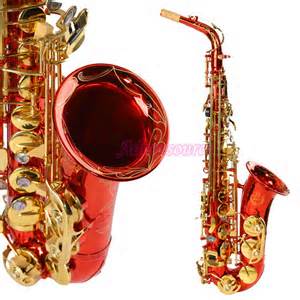 saxophone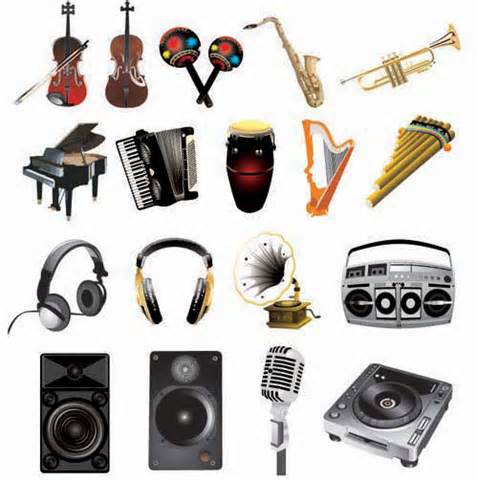 How many of these things to do with music can you name?