May 19th, 2017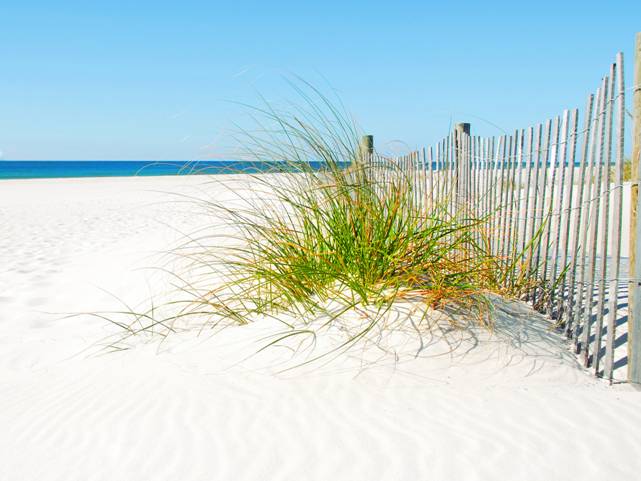 Salty Sam's Fun Blog for Children
Number 118
Hibernation and Migration
 
Hello Everyone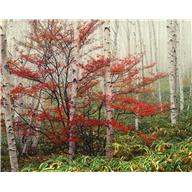 When Bill and Bob were doing research for their animal projects a while back, they had to understand what the words hibernation and migration meant.
They like watching the animals and birds in their garden and they notice that they come and go as the seasons change. This is because animals and birds can sometimes either hibernate or migrate at certain times of the year. We have about twelve and a half million migrating visitors every year.
Hibernation means hunkering down and spending most of your time asleep and migration means moving to a different place for a while.
Some animals hibernate or migrate because when the seasons change (in the places away from the Equator) living conditions change as well. Some creatures cannot find food at certain times of the year and others would be in danger of being killed by the change in temperature.
Animals such as bears, hedgehogs and bats find natural or even man-made protection like caves and buildings to spend part of the year in hibernation. This is done mostly in the winter when it is cold.
Dormice can sleep for more than six months over the winter.
Most other animals will be active through the winter, and during mild spells birds will sing as though it is summer.
Migration is when creatures want to move to another place where the temperatures and food sources are better for them. They can often travel enormous distances to get there.
Some animals like barnacle geese travel to exactly the same place, for example from lceland to Britain in the autumn, and others like redwings roam to different countries to spend the winter each year.
The mammal that migrates the furthest is the grey whale, travelling 12,000 miles from Mexico to Alaska. Whales migrate because it is better that their babies are born in warmer waters but they can find more food in colder waters.
Turtles are other sea creatures that migrate. Green sea turtles and leather backs for example travel great distances.
The animal that migrates the furthest is the Arctic tern. lt flies from the Arctic to the Antarctic. That means it flies from the top of the world to the bottom and then back again.
Eels, even though they are only small creatures, travel all the way from Britain to the other side of the Atlantic. The eels in the River Thames arrive as larvae from the Sargasso Sea. They live in the river for at least 20 years, and when they are old enough they swim 4,000 miles back to the Sargasso Sea to breed.
Monarch butterflies flee the cold of Canada and the Northern USA flying over 2,000 miles south. They fly so high up in the air that they can be seen from aeroplane windows! lt can take them up to ten weeks to make this journey, which is not surprising seeing as they have such little wings!

And the Painted Lady butterflies fly 9,000 miles from Africa to Britain and back again. This is an incredible feat for such a tiny creature. lt has a brain the size of a pin head and yet it still contains a sort of biological compass that enables it to find its way over vast tracts (areas) of land.
ln the autumn and spring, many birds migrate too. ln fact, around the world about 40% of bird species migrate – although not every place sees migration. This doesn't happen so much in the countries near to the equator where the food supply is more constant.
ln the autumn, swallows and house martins fly away to Africa where insects are more plentiful and escape the British winter, while geese fly into Britain to get away from an even colder Russian winter.
The geese fly in 'v' shapes called skeins – they do this because it makes flying through the air easier and less tiring. The most experienced flyers take pole position. But the geese take it in turns to be at the front because this is the place where they will get most wind-resistance so it is the most difficult position to fly in. Even so, they can cruise at over 60kph and can fly much faster in bursts of speed.
lf a goose is ill or injured and has to rest for a while, members of its family will stay with it until it feels ready to take to the skies again to finish the journey.
lf you are ever lucky enough to see them coming in to land, it is an awesome sight, especially if you see them against a vibrant early winter sunset; wave after wave of hundreds of birds, all flying together in comradeship, touching down after thousands of miles of flying.
Birds do have a wonderful capacity for navigating across great distances. 
l wonder if homing pigeons ever wonder how humans find their way home.

Bye bye everyone – don't forget to subscribe to my blog!
lf you like my blog, please support it by telling all your friends and followers about it.
Thank you!
And see you again next Fun Friday!
Love and kisses
Salty Sam

www.christina-sinclair.com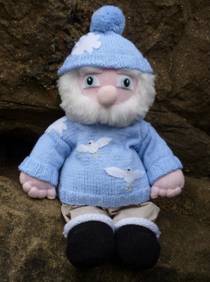 Bill and Bob's Joke of the Week


Bob: Which animal hibernates standing on its head?
Bill: l don't know. Which animal hibernates standing on its head?
Bob: Yoga Bear!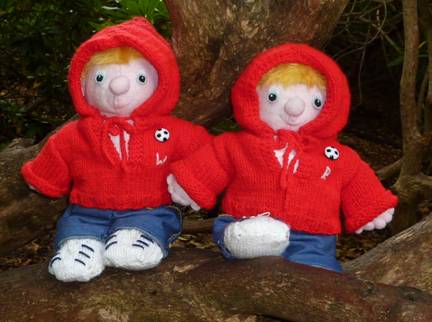 Salty Sam © Christina Sinclair 2015
Unauthorized use and/or duplication of material from this blog without express and written permission from this blog's author and owner is strictly prohibited.
Links may be used to www.christina-sinclair.com

Picture Gallery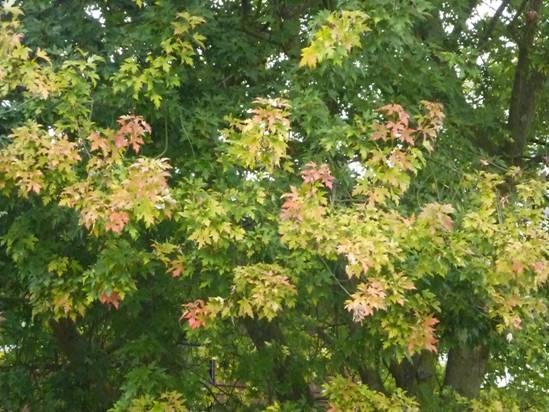 As autumn approaches leaves turn from green to yellow, orange and red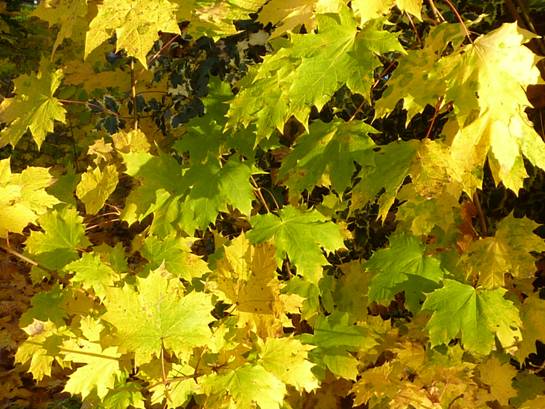 Eventually they will all turn yellow or red then brown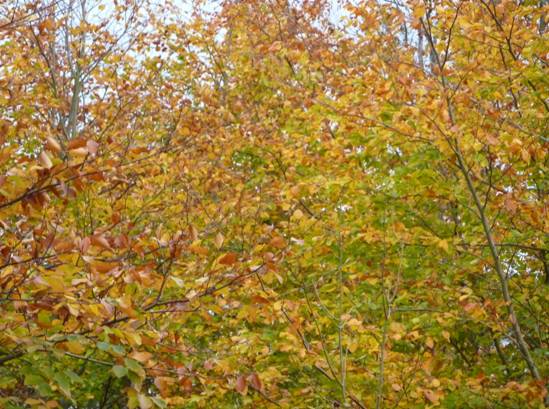 Beech trees change colour from green to lemon-yellow and copper as the temperatures in autumn drop
 The trees prepare for winter by losing their leaves to prevent water loss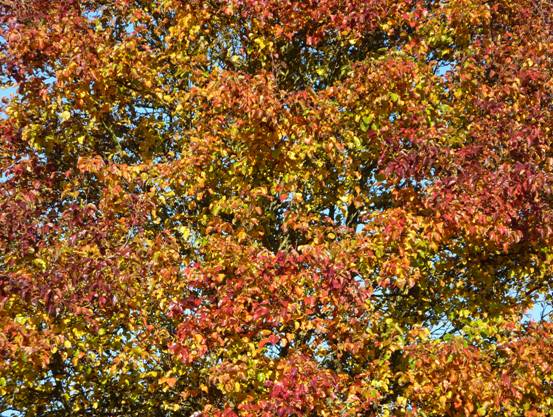 Some years the colour is more vibrant than others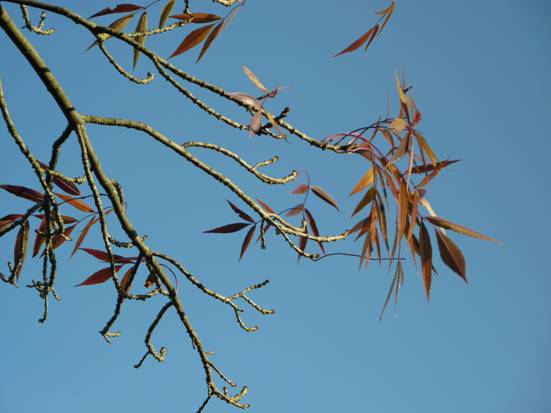 By the end of November most leaves have dropped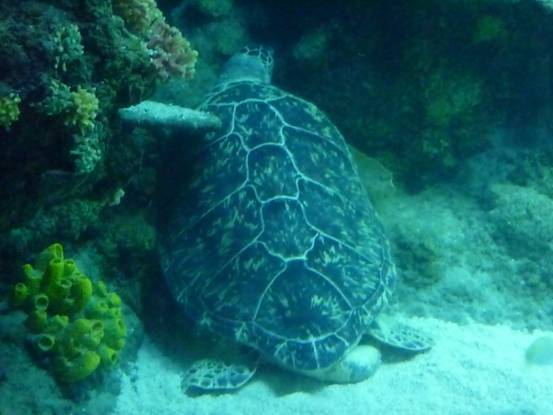 A green sea turtle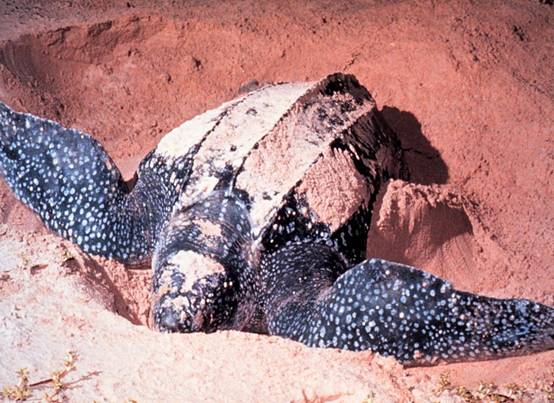 A leatherback turtle's shell is not very hard – it is more like leather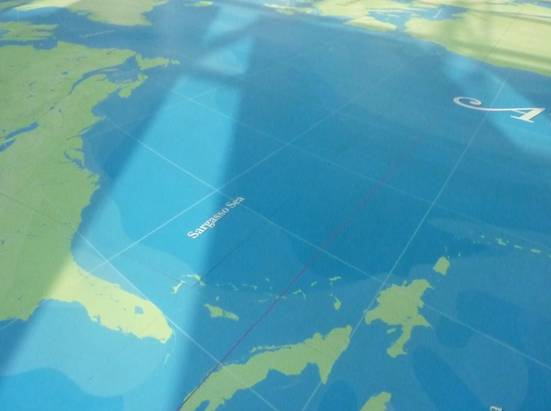 The eels' passage from the Sargasso Sea across the Atlantic to Britain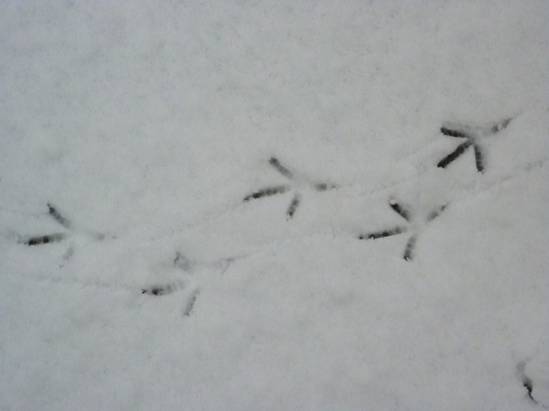 Some animals and birds don't leave and have to find food through the winter
These are pigeon footprints in the snow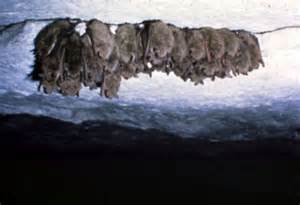 Hibernating bats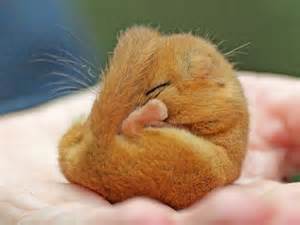 Hazel dormouse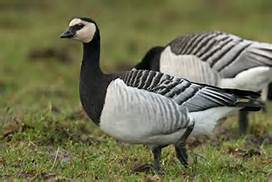 Barnacle geese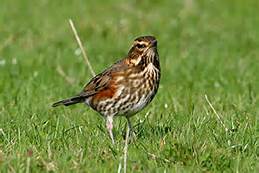 A redwing
A grey whale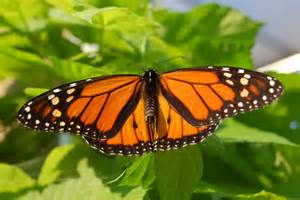 A monarch butterfly
 A painted lady butterfly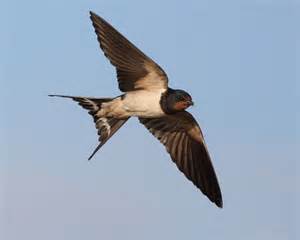 A swallow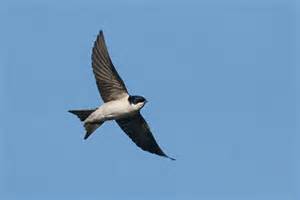 A house martin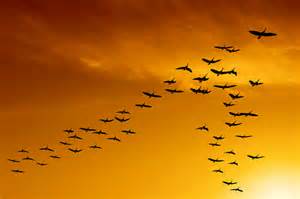 Migrating geese fly in skeins and thousands arrive at the same time


  THE SALTY SAM NEWS DESK


Did you know that if a bat comes to live in your house, you are not allowed to evict it? (In the UK) 
This is because it is a protected species. That means protected by law. 
If you don't want bats in your belfry

or attic, the best thing to do is make sure there are no holes that they can get through into your house to set up home in the first place. 
If you have large outbuildings, this is may not be so easy. 
If a bat just gets lost and flies into your room by mistake, you can open the door to help it escape.
Of course bats have to live somewhere and Auntie Alice decided that she wanted some bat boxes put up in the trees at the bottom of her garden.
She has seen them flying around and she doesn't want them coming into the house like that owl did last summer. Do you remember? It sat at the bottom of the bed looking at her in the middle of the night and gave her a big fright.
Because I am so good at woodwork I made them for her. You know that I put some bird boxes up for her a couple of years ago, and it was time to check on them as well. I wanted to make sure that they were still in place and not interfering with any tree's growth. 
So I made a few bat boxes. They were made of untreated wood like the bird boxes but differed in shape.
Bats need a bigger entrance to their home than little birds and they like to have a slit at the bottom not a circular hole the front. They also like a little grooved plank to act as a ladder to climb up.
The box has to be well-insulated and the joints made tightly so there are no draughts.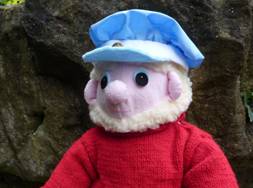 We put our boxes up in the trees near the back hedge facing in different directions and are waiting to see if they will become occupied. This can take some time to happen so we will have to be patient. 
My best friend Captain Jack came to help. He held the ladder. And Bill and Bob came to help decide where we should put the boxes.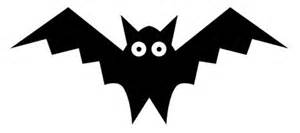 When they got home, Bill and Bob's mum said that now they had helped some bats to find somewhere to sleep it was about time they tidied their own bedrooms otherwise they might well be enticing goblins and trolls to move in and camp out in the corners and they didn't want that!
First of all she collected their dirty laundry and found them some more clothes hangers so they would stop hanging all their clean clothes on the floor!
Actually, they didn't really believe that goblins and trolls would move in, but they thought just to be sure…

*********************
TO ADVERTISE ON THIS BLOG
PLEASE CONTACT:
christina.sinclair.ads@aol.co.uk
*********************


Quick Quiz 
Who would you find living in the following homes?
sty
stable
kennel
drey
sett
nest
shed
den
warren
coop
hive
form
eyrie
hole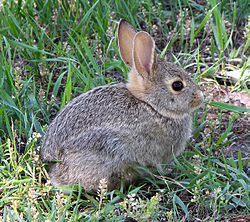 A rabbit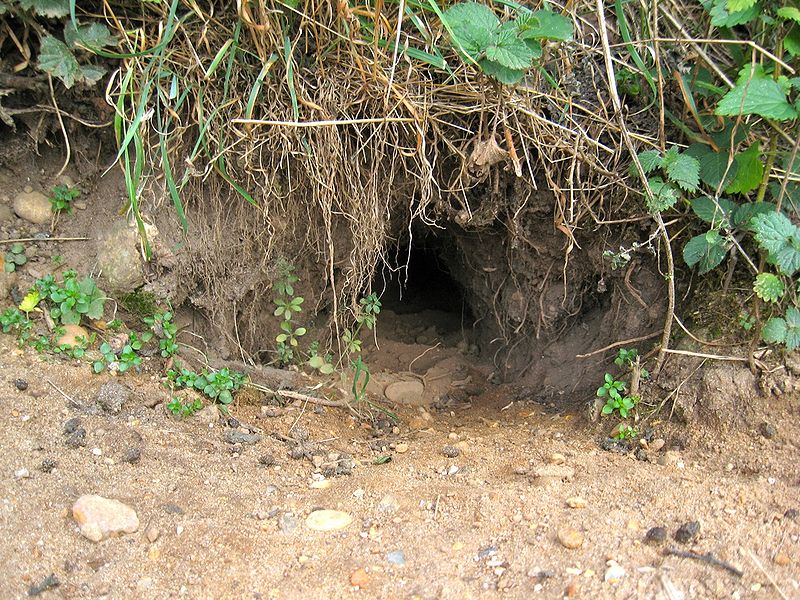 A burrow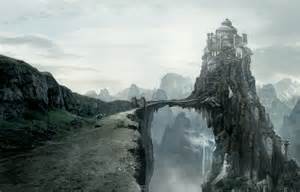 An eyrie from fantasy tales – who lives in a home like this?
BLOW MY FOGHORN!!! 

 PLUS
Salty Sam fans can join in with their comments and share them with children all over the world. You will need to ask permission if you are not an adult.
Enter your e-mail address to subscribe to my blog and receive new Salty Sam Blog Posts for free by e-mail every week. Your address will be kept private and will not be shared with any third party.
Sign me up at the side bar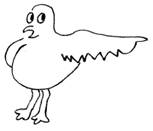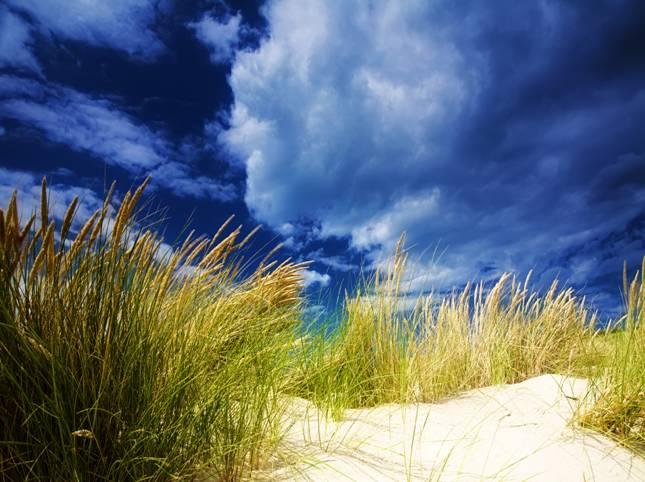 lt's the Weekend!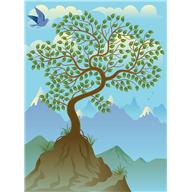 HOW TO TlDY UP YOUR BEDROOM
 
No don't groan and run away! It's going to be more fun than you think.
First of all, this is an idea for where to put all your laundry rather than leaving it on the floor. 

HOW TO MAKE A NET WASH BAG
This wash bag is an easy project to make when you are learning to sew. 
It is more easily done by hand. If you want to use a machine, you will have to adjust the machine to sew this kind of material. 
You simply fold an old net curtain in half (or get an off-cut from a curtain shop) and sew up the bottom and side. It doesn't matter what the exact size of the bag is as long as it isn't too big to go into your machine. 
You can tie the top up or thread a piece of tape or cord or ribbon through the rail channel at the top of the curtain and tie the ends of the tape or ribbon together.   This will act as a drawstring and enable you to close the bag at the top. 
Wash bags are good to collect piles of underwear in and then the whole bag can be put in the washing machine. 
Don't muddle up colours that will run though!
If you put white clothes in with red ones, they may come out of the machine pink.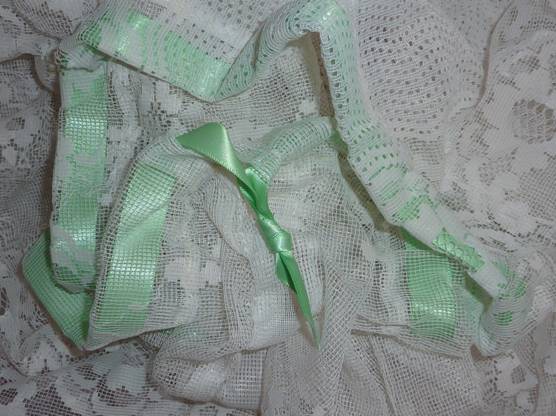 You can buy odd pieces of net curtains from curtain shops
HOW TO MAKE A PICTURE FRAME
This is easy to do and a lovely way to display your favourite photographs. 
Firstly, you need to measure your photograph or post card and cut 2 panels of plastic canvas in a size slightly bigger than your picture making sure that there are an odd number of holes in each direction. 
The frame in the picture uses 7 mesh and fits a postcard. The 2 panels are 47 holes by 35 holes.
You need to add a 5-hole border around the size of the part of the picture you want to be visible. You will need a 6-hole border if you would like to add another line of pink inside the yellow.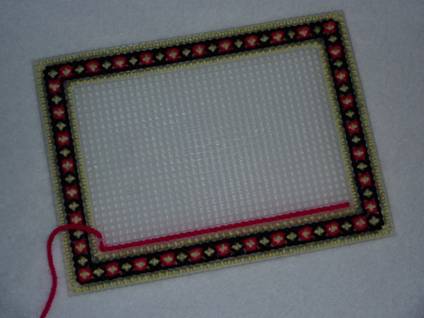 Of course, you can use any colours that you would like to match the colour of your bedroom. 
If you want to make a much bigger frame, you will need a piece of stiff card behind your picture or photograph in order to keep the frame stiff and straight. 
One piece of canvas will act as the back of the frame and can be kept as it is. A spare piece of rectangular canvas is attached to the back of this to make a stand. The stand needs to be about two thirds of the size of the back to be sturdy enough to take the weight of the frame. Sew just along the top of the stand so that the bottom will pull out. 
The basis of the pattern is a yellow cross worked over 9 holes – remember to make your stitches lie in the same direction, for example the bottom stitch goes from left to right and the top stitch goes from top to bottom.
+ 
Yellow 
The pink and black stitches are worked diagonally over the yellow cross into the centre hole in each side of the nine holes. 
Work each square in the same way and you will have a neater effect at the back of your work. 
Use this guide and come up on the odd numbers and down on the even.
5/8
                                                            2/7                            3/6
1/4
Black or pink 
The border of squares around the frame is outlined in back stitch in black yarn. When you bring your needle down into the work, push it to the side of the yarn not through it otherwise the yarn will split. 
There is another line of yellow back-stitch along side on the inside and outside of this.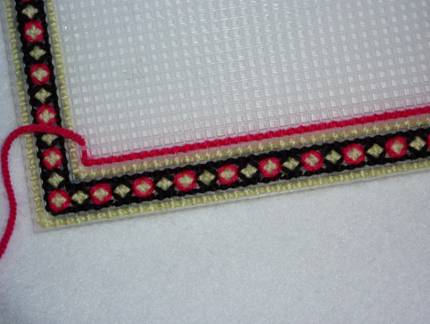 The front of the frame can be attached to the back using over-sew stitching but remember to leave the top open otherwise you will not be able to slip your picture into the finished frame. 
If you want to neaten the top by sewing it together as well, you will not be able to change the picture in your frame.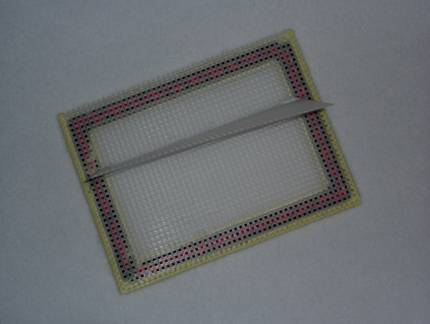 The frame will stand up on end as well.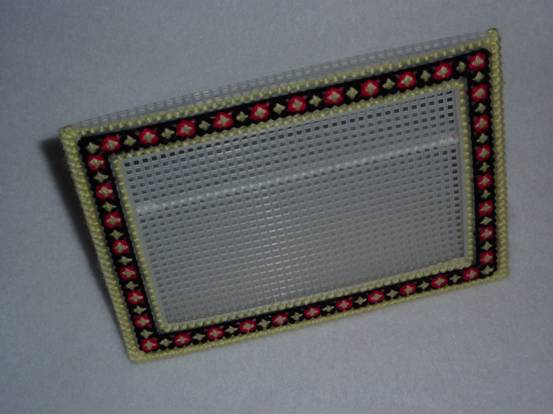 *Be careful that you don't sew the stand to the bottom of the frame as you work your way round.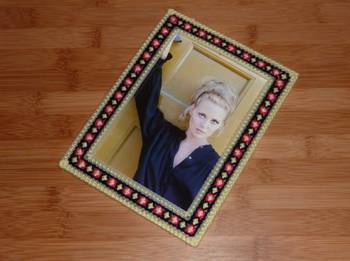 Please note that the material on this blog is for personal use and for use in classrooms only.
It is a copyright infringement and, therefore, illegal under international law to sell items made with these patterns.
Use of the toys and projects is at your own risk.
©Christina Sinclair Designs 2015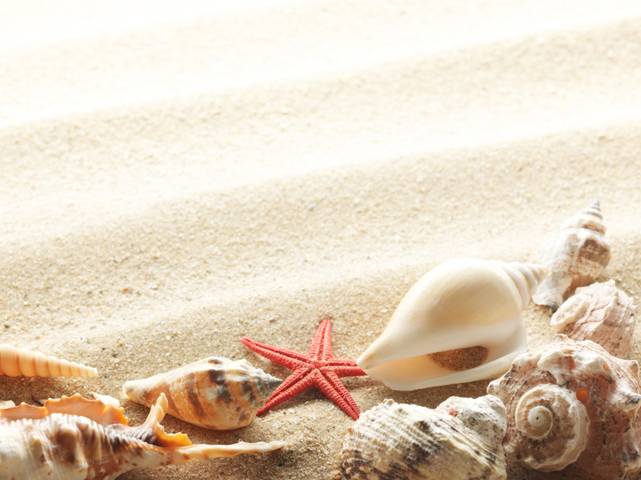 Quick Quiz Answers 
sty – pig
stable – horse
kennel – dog
drey – squirrel
sett – badger
nest – bird/ant/wasp (not in the same nest though!)
shed – cow
den – fox/hedgehog (again – not in the same one)
warren – rabbit (also burrow and hutch)
coop – chicken (also run)
hive – bees (also nest)
form (a depression in the ground) – hare
eyrie – eagle
hole – mole (also tunnel and nest)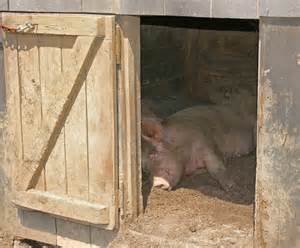 A pig sty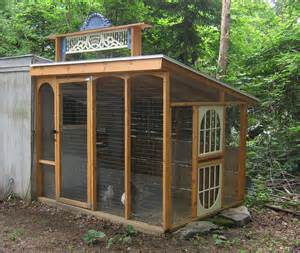 A chicken coop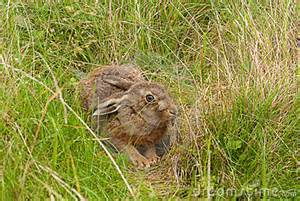 A hare's form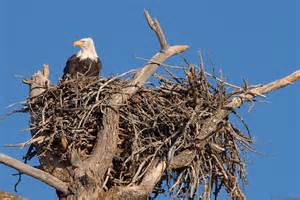 An eagle's eyrie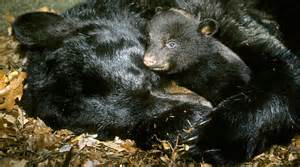 Bears