March 4th, 2016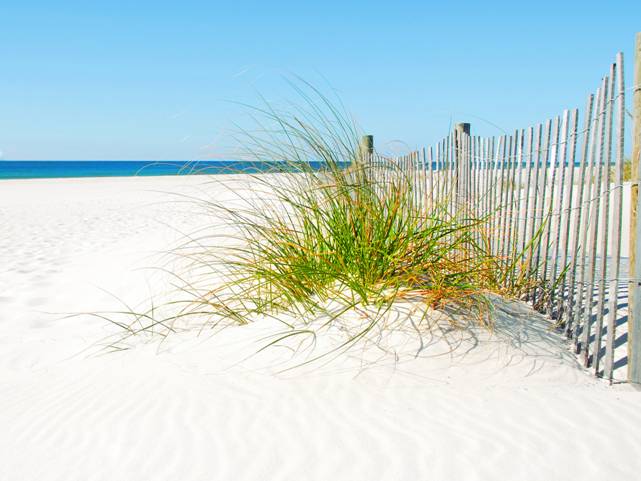 Salty Sam's Fun Blog for Children
Post Number 55
Toy Theatres
 Hello Everyone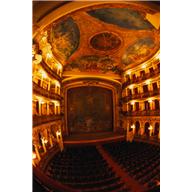 One of the things that Bill and Bob like to do on a rainy day is play with their toy theatre.
They made it themselves out of a carton they got from the Rocky Bay Supermarket. The box had had biscuits in it and the manager was happy to let them have it.
They cut a big square hole in one side (their dad helped them with that part because it was a bit difficult) and then decorated the box around the hole to make it look like the front of a big stage.
lf you want to know the name for this part of a theatre, it is called a proscenium – pronounced pro-see-nee-um.
They put two pieces of fabric on a piece of string to make curtains to pull across (Auntie Alice did the sewing for them).
They cut a hole in the bottom of the box so that they could use finger puppets as well. A loose piece of card can be put down over the hole to make a solid stage.
They made scenery by drawing on sheets of card to put at the back of the inside and made cardboard cut-out figures they sticky-taped onto bamboo skewers. They cut holes in the side of the box to poke the characters through so they can move them about on the stage.
They write their own plays using stories from their story books and do all the voices of the characters.
When they put on a play, the family gathers in a room then we turn out the lights and use a torch to light up the stage. This makes it look more dramatic!
During the 19th century, before television was invented, toy theatres were one of the ways that families entertained themselves.
ln Victorian times, sheets of scenery and cut out figures were printed especially for people to buy. They related to famous stories like traditional fairy tales.
A lot of people could not afford to go to the theatre and so they pretended to in their own homes. Some of the stage settings were exact copies of those seen in famous London theatres.
However, the interest for home theatres started to fall in the 1900s.
A famous toy theatre maker was Benjamin Pollock (1856 – 1937) who owned a toy shop in Hoxton in East London. One of his most popular plays was called 'The Miller and his Men'. This play featured an exciting explosion.
Pollock owned the last toy theatre shop in London.
Bill and Bob think it is more fun to make their own though!
Have you ever made a toy theatre? Which plays do you put on?
Bye bye everyone – don't forget to subscribe to my blog!
Love and kisses
Salty Sam

www.christina-sinclair.com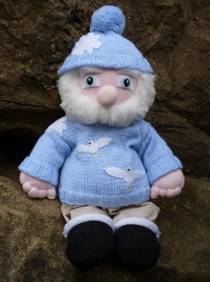 Bill and Bob's Joke of the Week


Bill: Knock knock!
Bob: Who's there?
Bill: Aladdin.
Bob: Aladdin who?
Bill: Aladdin the street who wants to come in!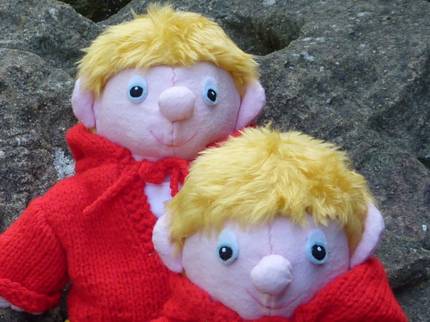 Salty Sam © Christina Sinclair 2015
Unauthorized use and/or duplication of material from this blog without express and written permission from this blog's author and owner is strictly prohibited.
Links may be used to www.christina-sinclair.com

Picture Gallery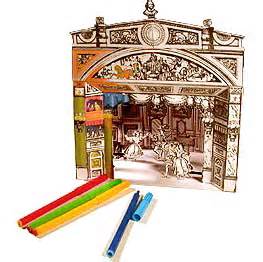 A toy theatre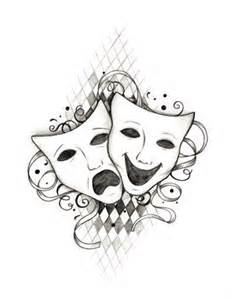 The masks of tragedy and comedy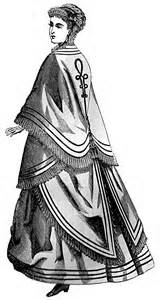 A Victorian dress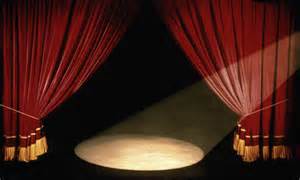 A spotlight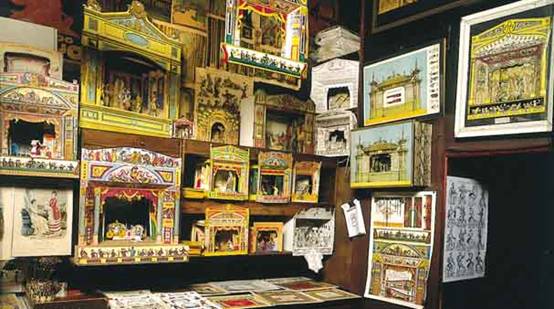 Pollock's Toy Museum London
(1 Scala Street)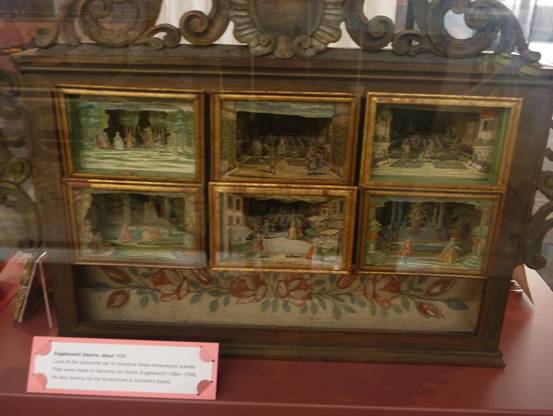 Engelbrecht theatre about 1721
Engelbrecht was a famous children's book illustrator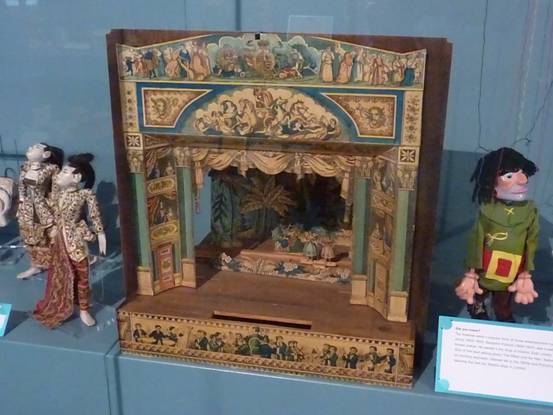 A Victorian theatre made by Benjamin Pollock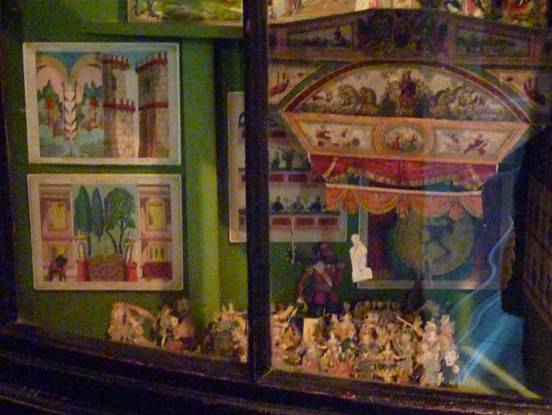 Parts of a Victorian toy theatre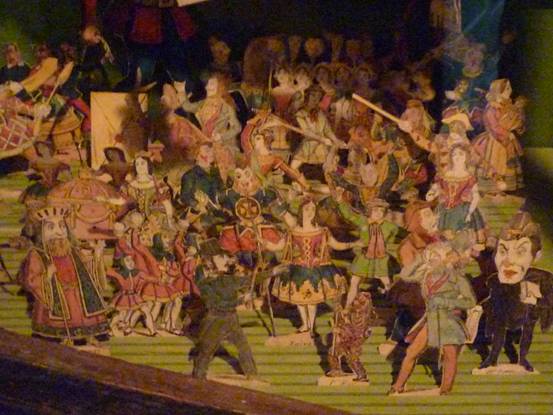 The figures are made of card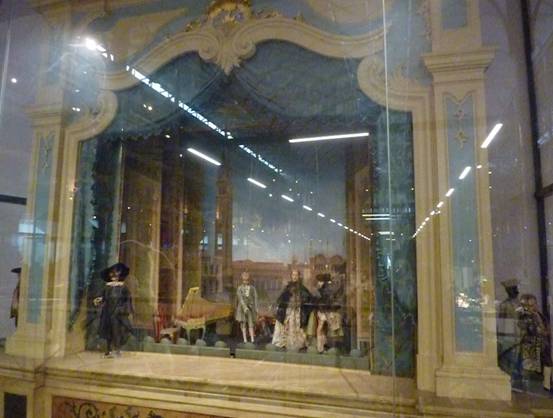 Theatre 1800 – 1900
It is very large and designed for string puppets
(Bethnal Green Museum of Childhood)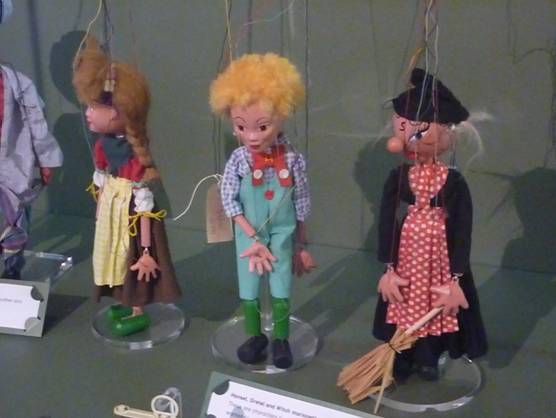 Hansel and Gretel and that witch that lived in a sweetie house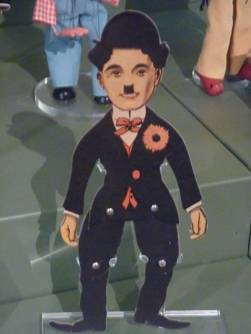 Charlie Chaplin made out of flat card
Charlie Chaplin was a famous film star in the silent films of the 1920s and 1930s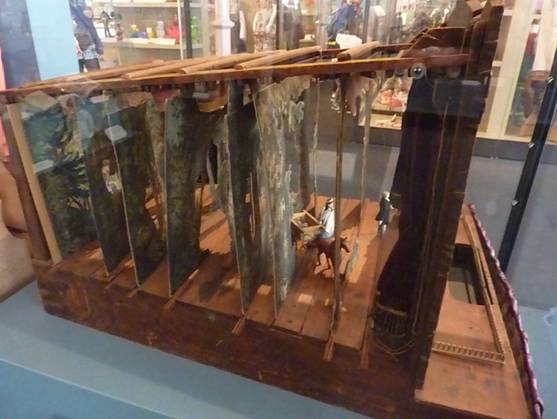 Viennese theatre 1825 
The theatre doesn't look very interesting from the side – just sheets of card slotted into grooves above and below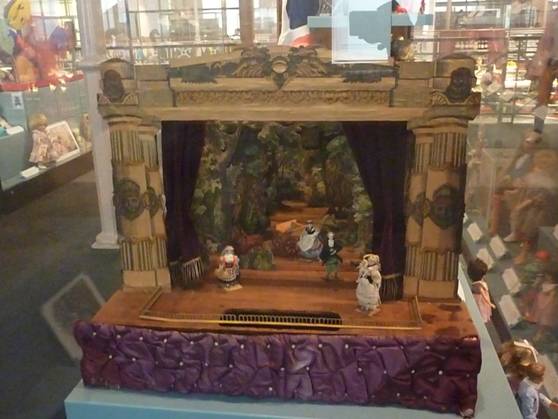 But from the front the depth of the stage is wonderful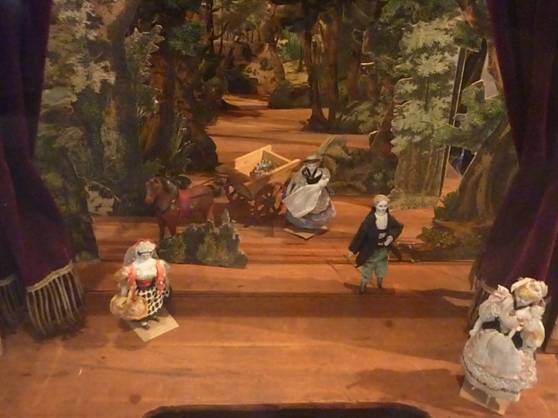 The scenery goes back and back giving the characters plenty of places to stand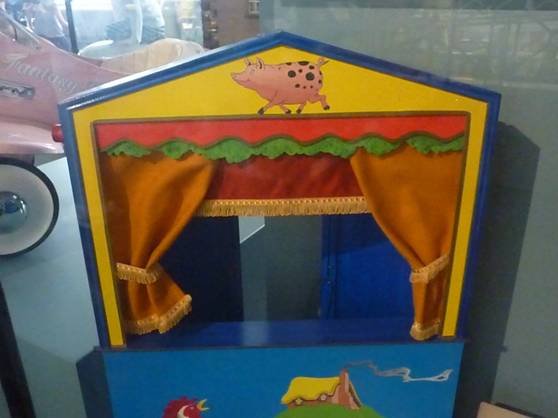 Toy farm theatre 2000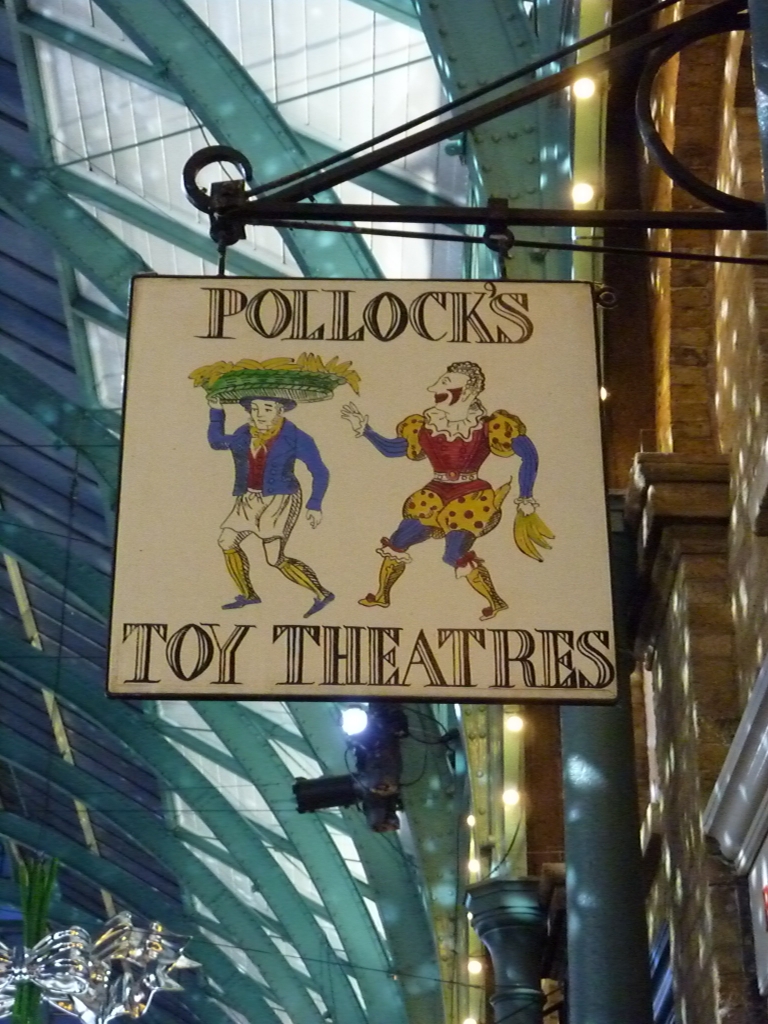 Covent Garden



  THE SALTY SAM NEWS DESK


Bill and Bob decided that they wanted to play with their toy theatre this week.
So they started writing their own new play.
The story is set in a spooky house. 
It is about three friends who live together. They are a ghost, a vampire and a zombie.
Auntie Alice made them three finger puppets to use in their play. Henry came round to their cottage to help them write the story.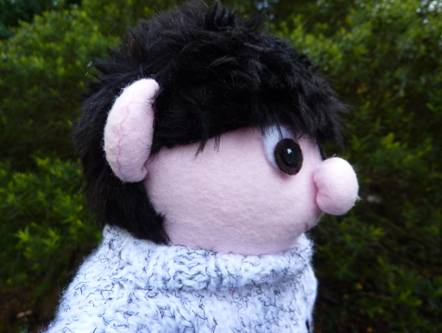 Henry came round to play
 
We don't know what the story is about yet exactly, but there has been a lot of howling, growling, moaning and giggling and many other strange noises coming out of the back bedroom of Primrose Cottage every evening this week as they have been writing it.
The three boys have also been collecting cellophane sweet wrappers that they will sticky-tape to the front of their torches when they put their play on. This is how they will create coloured 'mood lighting' on stage.
They said to tell you that lighter colours like yellow can seem a bit pale so it is best to use two wrappers and this will create a stronger light.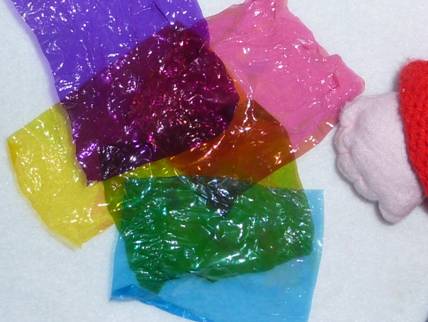 *DON'T, however, put wrappers like these onto light bulbs because light bulbs get too hot. Never leave anything close to a light bulb because it is very dangerous.
If you would like the pattern for the puppets Auntie Alice made so that you can make your own puppets, then here it is.
NEWSDESK MINIMAKE
FINGER PUPPETS
 
The ghost is made from white yarn, the vampire from black and the zombie from green. The needles used are 4mm and yarn is all double knitting.
Cast on 16 stitches
Knit 1 row, knit 1 row
Stocking stitch 18 rows
Cut off the yarn leaving a length to sew up the back seam – this should be threaded through the 16 stitches you have on your needle first and pulled tight to create a rounded top to the head.
Embroider the faces on the front of the puppet before you sew up the back seam.
The ghost has an open howling mouth, long dark eyes and a wisp of ectoplasm coming out of the top of his head.

 

The vampire has a smiling mouth with gleaming white fangs and two loopy ears at the top of his head. He also has felt wings which are stitched onto the body down the spine of the puppet. If you want to make the top of the wings curved, then pull the felt a little to stretch it at the top centre of each wing.

 

The zombie has bulging French knot eyes and loopy hair.
 
(Make sure you attach the loops firmly at the back of the knitting, otherwise they will undo).
This is what the bat wings should look like. Cut a paper pattern first to check the size and shape against the back of the bat puppet. The length along the top edge is 11cm/4¼ inches.

If the puppets are big on your little fingers, don't worry, they are stiff enough to stand up straight.
If you want to play with them on a table top, then turn up the bases and they will stand up on their own. You can even put a small amount of stuffing inside if you want to.
If you want to make them into puppets on sticks, then just stuff them and poke a skewer through the base from the side. Remember ghosts and vampires can fly through the air.
If you need a really big project to keep you busy over the Easter holidays, you could make your own theatre too.  You can start looking for a big box to make your theatre from before the holidays start and you can start collecting other materials now too. If you have some glove puppets that you plan to use in your theatre, you will need a really big carton so that there will be plenty of room to move your hands about in.
Making the scenery and puppets, writing the scripts and rehearsing your plays will need lots of time.  Then you can wow your friends and family with your own productions!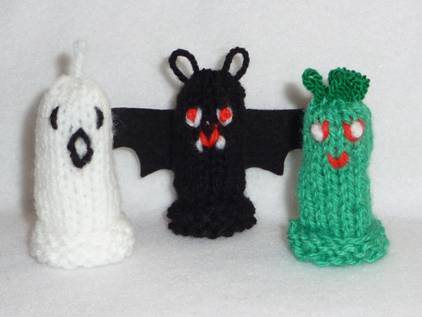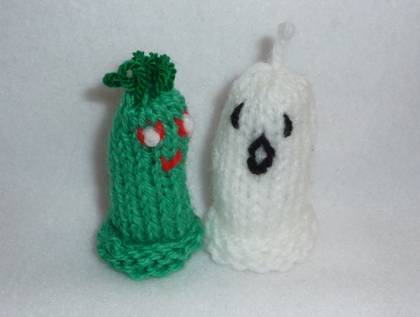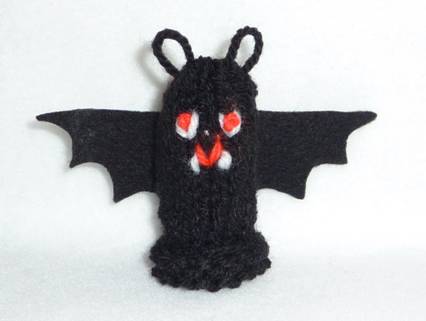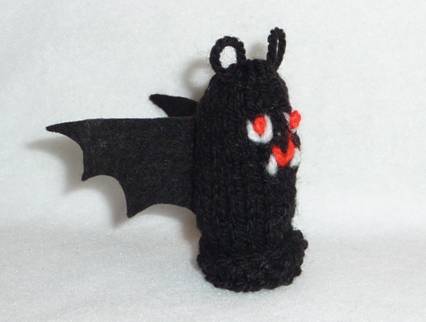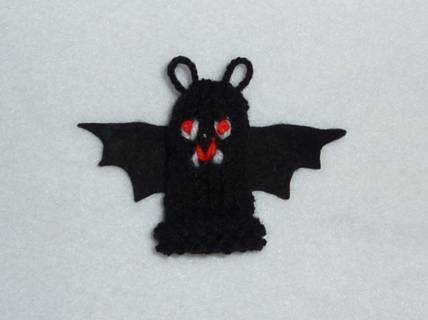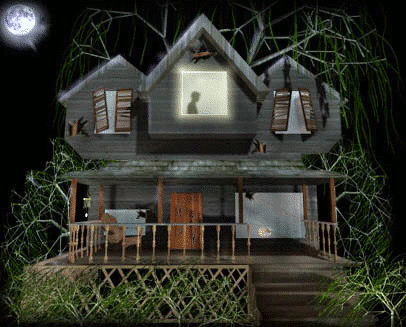 *********************
TO ADVERTISE ON THIS BLOG
PLEASE CONTACT:
                                               christina.sinclair.ads@aol.co.uk
 *********************


Quick Quiz
 
What do these phrases mean?
to get stage fright
to stage manage
a stage whisper
to bring down the iron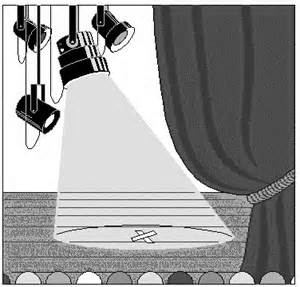 BLOW MY FOGHORN!!!

PLUS
Salty Sam fans can join in with their comments and share them with children all over the world. You will need permission if you are not an adult.
Enter your e-mail address to subscribe to my blog and receive new Salty Sam Blog Posts for free by e-mail every week. Your address will be kept private and will not be shared with any third party.
 Sign me up at the side bar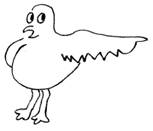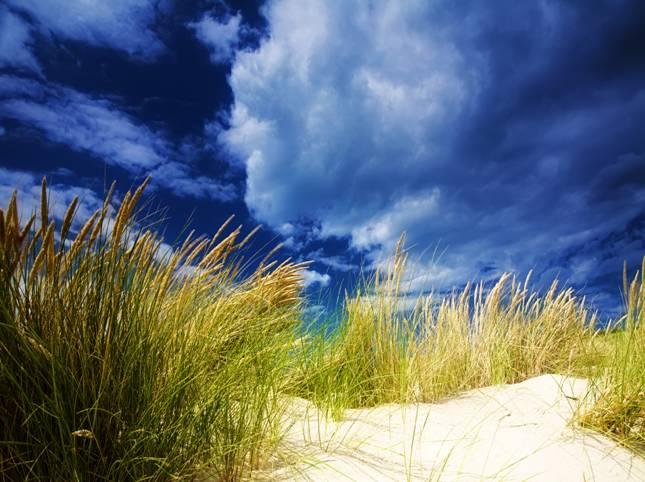 lt's the Weekend!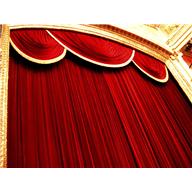 HOW TO MAKE CURTAlNS FOR A TOY THEATRE
 
If you want to make a theatre like Bill and Bob, then this is how you can make the curtains.
 
Cut two pieces of fabric 10cm longer that the hole at the front of your theatre and 1½ times the half the width of the hole.
Don't use fabric that is really stiff.
Hem the sides and bottom of each curtain. Hem the top and then fold it over and stitch along the edge to create a channel to tread some string through. This is easily done by putting a safety pin through the end of the string and pulling that through.
Tie the ends of the string to a paper fastener and push the paper fastener through the front of the box.
The string should be nice and taught and the right side of the material should be facing towards the audience.
When your theatre is made, you can start writing plays for it! 
If you want to make a theatre for finger puppets of hand puppets, you would need to cut a hole in the base of a fairly large box to give you access and room to move inside. You can still have scenery on the back wall.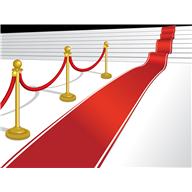 Please note that the material on this blog is for personal use or use in classrooms only.
It is a copyright infringement and, therefore, illegal under international law to sell items made with these patterns.
Use of the toys and projects on all of these blogs is at your own risk.
©Christina Sinclair Designs 2015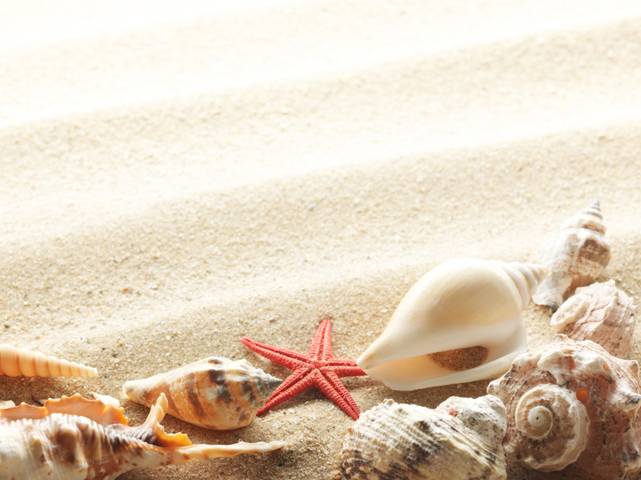 ANSWERS TO LAST WEEK'S WORDSEARCH
| | | | | | | | | | | | | | | |
| --- | --- | --- | --- | --- | --- | --- | --- | --- | --- | --- | --- | --- | --- | --- |
|   |   |   |   |   | H |   |   |   |   |   |   |   |   |   |
|   | F | I | N | G | E | R |   |   |   | F |   |   |   |   |
|   | O |   |   |   | A | R | M |   |   | A |   |   |   |   |
|   | O |   |   |   | D |   |   |   |   | C |   |   |   |   |
|   | T | O | E |   |   |   |   |   |   | E | L | B | O | W |
|   |   |   |   |   |   |   |   | K | N | E | E |   |   | R |
|   |   |   |   |   |   |   |   |   |   |   | G |   |   | I |
|   |   |   |   |   |   |   |   |   |   |   |   |   |   | S |
|   |   |   |   |   |   |   |   |   |   |   |   |   |   | T |
55. Parts of the Body Wordsearch Answers PDF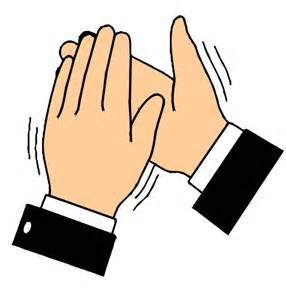 Quick Quiz Answers
1. to get stage fright
2. to stage manage
3. a stage whisper
4. to bring down the iron
to feel nervous in front of an audience
to be in charge of a large project
a loud whisper intended to be heard by more people than the person you are speaking to
to bring down the safety/fire curtain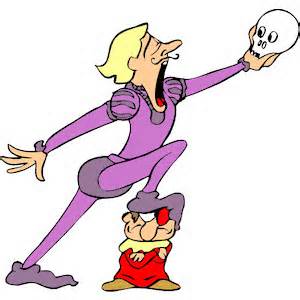 For an Embroidery Stitches Chart
Check out Blog Post 3