March 25th, 2016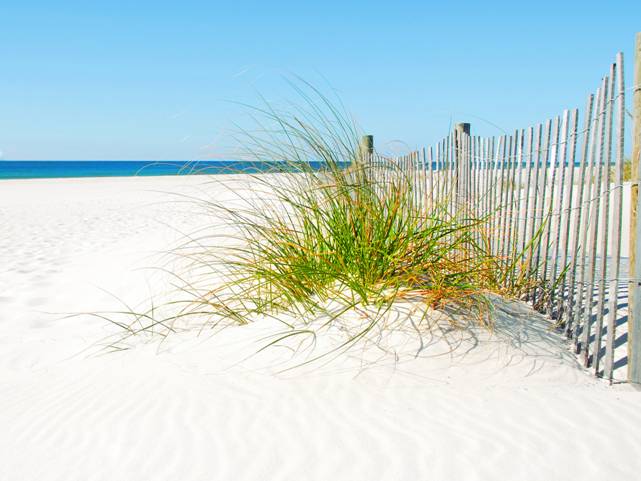 Salty Sam's Fun Blog for Children
Post Number 58
A Message in a Bottle
Hello Everyone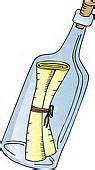 When Bill and Bob heard about the escapades of the escaped plastic ducks that l was telling you about in last week's blog post, they had an idea to try an experiment of their own.
They decided to try and send a message in a bottle. They had read about people doing this in stories they had read.
They thought that maybe they could make a new pen friend in another country.
They could tell their new friend about life in Rocky Bay and they could learn about life in the pen friend's country.
First, they needed to find a bottle with a very tightly fitting cap that would float well. lt had to be big enough that an animal would not swallow it by mistake.
They made sure that it was completely dry inside. They used a piece of thin white card to write the message on.
They wrote a message in a permanent marker so that it would not run if it got wet or fade in the sun.
They added their postal address and e-mail address so that anybody wanting to make friends with them could get back to them.
They used simple English in case the person who found it couldn't speak English very well.
This is what they wrote:
Our names are Bill and Bob.
We are 7 years old.
We live in Rocky Bay in England.
lf you would like to make friends with us, please get in touch.
l took them out in my little motor boat so that they could throw the bottle over the side far out to sea. They didn't want to leave it close to beach, otherwise it might just float back in again.
We are now waiting to see where it will end up.
Who knows: France, Portugal, Holland, Denmark, Belgium, Spain Germany, lreland?
Maybe it will even go right across the Atlantic?
Once a message was thrown into the sea around Nova Scotia in the east of Canada in 1985 and arrived in Croatia 4,971 miles away 28 years later!
One message left in a glacier was found 54 years later in December 2013. The scientist who left the bottle was measuring the movement of the glacier at the time and asked in the note if anyone who found the bottle would re-measure its position to see if the glacier had moved. It had; 200 feet.
So what about our bottle? Well, we are still waiting to hear.
Bye bye everyone – don't forget to subscribe to my blog!
Love and kisses
Salty Sam

www.christina-sinclair.com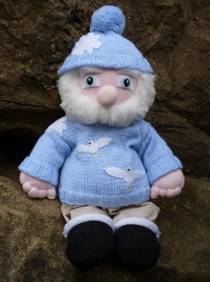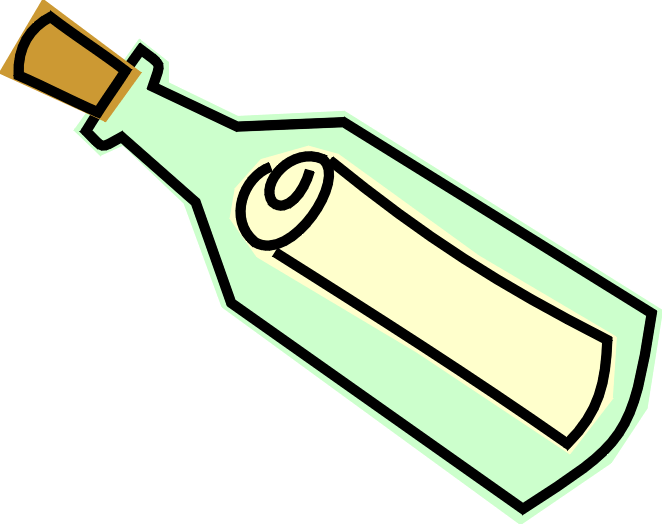 Bill and Bob's Joke of the Week


Bob: Why can't you use a telephone underwater?
Bill: l don't know. Why can't you use a telephone underwater?
Bob: Because it would be wringing wet!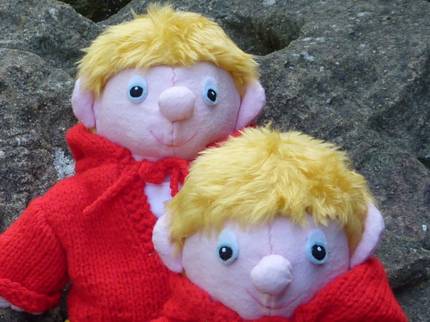 Salty Sam © Christina Sinclair 2015
Unauthorized use and/or duplication of material from this blog without express and written permission from this blog's author and owner is strictly prohibited.
Links may be used to www.christina-sinclair.com

Picture Gallery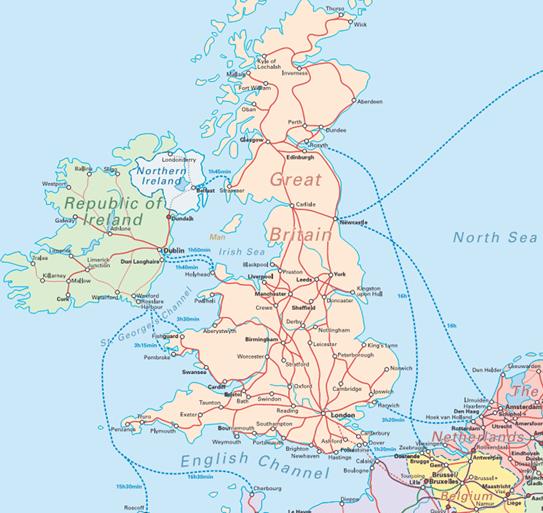 A map of Britain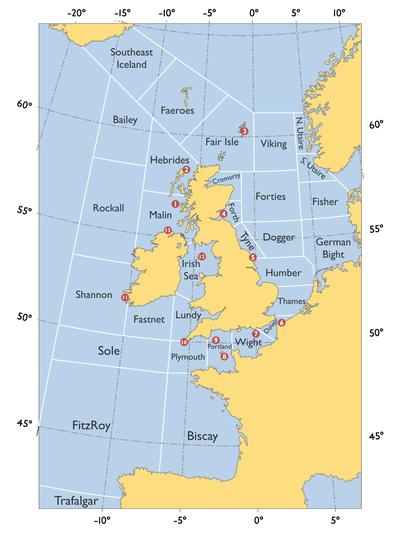 Sea regions around Britain used for the shipping forecast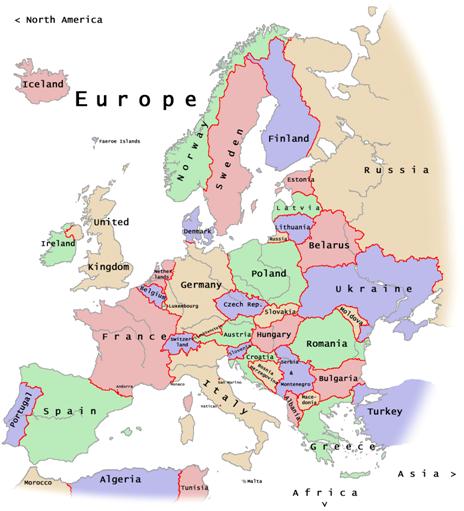 A map of Europe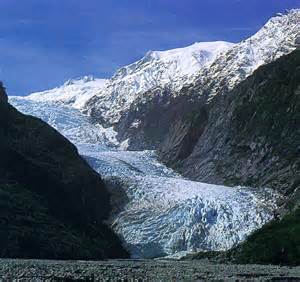 A glacier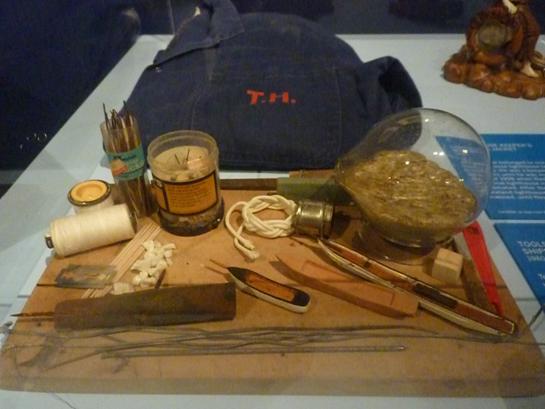 The tools needed to put a ship in a bottle
These belonged to a Trinity House lighthouse keeper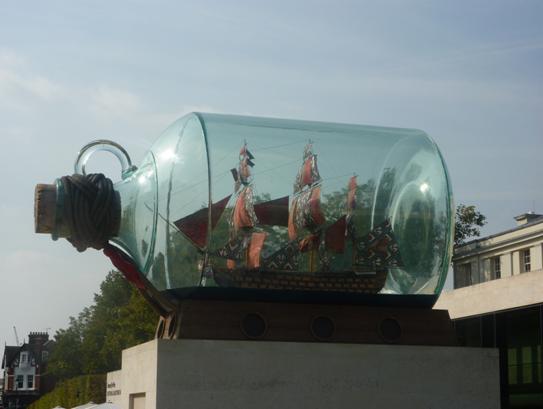 This is a very large ship in a bottle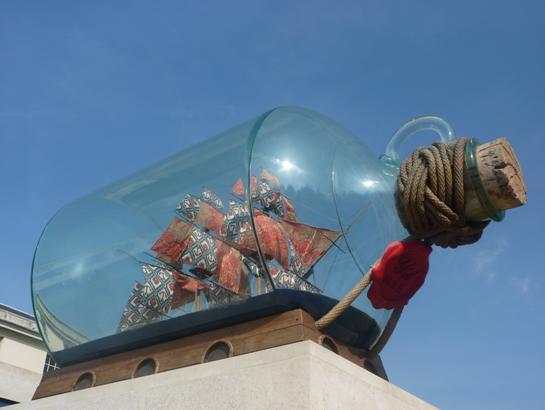 It can now be seen in Greenwich Park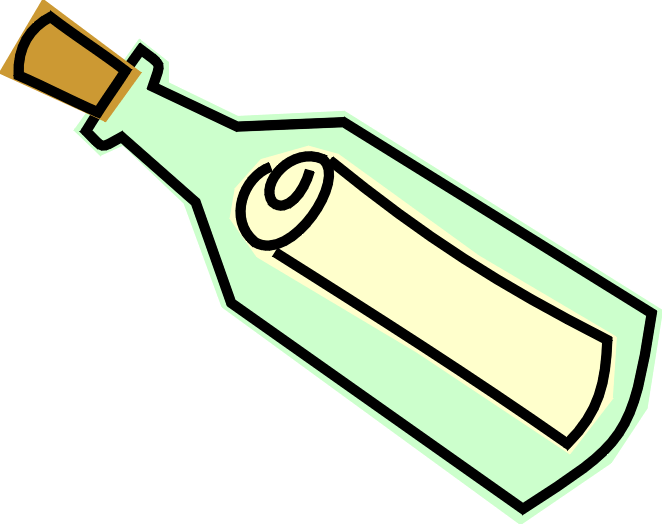 THE SALTY SAM NEWS DESK


When Auntie Alice heard about what we had done she said that maybe there was enough plastic floating in the sea already and that wasn't such a good thing that we had done that.
So we all went down to the beach with some plastic bin bags and the whole family went along picking up any rubbish that we could see that had been washed in by the winter storms.
We thought that had sort of evened things up.

With spring on its way, the Sandy Cove beaches are now clean and tidy and ready for the summer visitors! 

Don't forget to put your clocks forward by one hour on Sunday morning.  We will be going on to British Summer Time this weekend.

Talking about the future – did you know that ancient peoples thought that shooting stars brought news of things to come?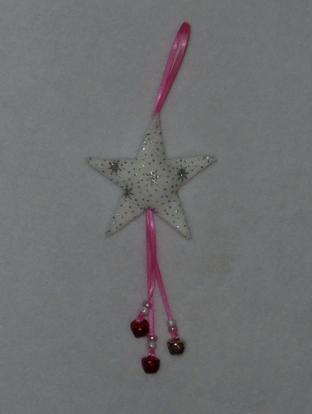 Sailors also used to navigate by using the stars. They could see which direction was north or south by looking up at them.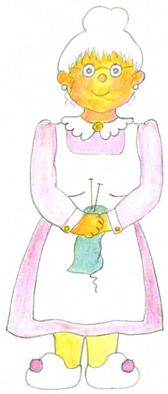 Auntie Alice has been sewing again this week and she has made something that you might like to copy. This shooting star with a jingling tail would make a lovely decoration.
NESWDESK MINIMAKE
A SHOOTING STAR DECORATION
Make a paper pattern in a star shape.

Cut two pieces of felt by using your pattern.

Sew a loop of narrow ribbon 15cm/6 inches long to the inside of the back piece at the top.

Attach a bell to three lengths of ribbon that are slightly different lengths.

Cover up your sewing with some beads.

Attach the top of each ribbon securely to the inside of the back piece at the base.

Sew the two pieces of the star wrong sides together using small over-sew stitches in a matching colour leaving a gap in one side.

Lightly stuff and close up the gap.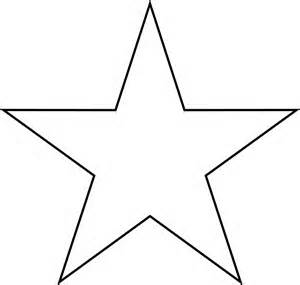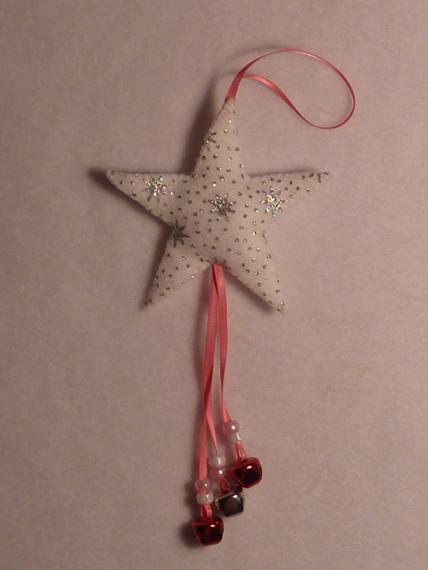 * Of course you could use any shape to create a jingling hanging decoration.

*********************
TO ADVERTISE ON THIS BLOG
PLEASE CONTACT:
christina.sinclair.ads@aol.co.uk
 *********************


Crafty Tip
This is an idea for a present to make – a scissors case. 
Put your scissors on a piece of paper and draw around them.
Draw a kite shape around the pencil outline of the scissors – that is the shape you want your case to be – this 'kite' will be the back and flap at the top (the size of the 'kite' for the case in the photo was 12½cm long and 6cm at the widest point and the point where these two lines of measurement crossed was 2½cm down from the top and 10cm up from the bottom).
Then add a ½cm strip all the way around your shape (you can blunt the bottom point to match the original measurement).
lf you want a curved flap, draw around the corner of a tray (that you get vegetables in a supermarket on) or box that has curved corners to give your 'kite' a rounded top – make sure your shape is a perfect mirror image from left to right.
Cut around the paper shape and use it as a pattern piece on a piece of felt (fold it in half lengthways to check that it is symmetrical).
Fold down the top of the paper pattern to the cross line to make the pattern piece for the front of the case (fold each piece of felt lengthways to ensure the felt pieces are symmetrical and trim a little if necessary).
Also make a lining out of a spare piece of fabric or felt using just the bottom part of the kite (don't use fabric that is very thick or that will fray easily) – sew the side seams and hem the top if you have used fabric rather than felt (the right sides of the fabric will face into the case).
Embroider the surface of the case avoiding the edges and the place where you want the fastening to be using one or two strands of embroidery thread.
Edge the flap with blanket stitch worked in a contrasting colour.
Sew a snap fastener to the front of the case and the underside of the flap (make sure they are matching up) and then a button on the top of the flap to cover the back of the stitching used to sew on the snap fastener.
Sew the front and back together in the same or contrasting coloured thread using blanket stitch.
Slip in the lining and anchor in place using a few discreet stitches – this lining will ensure that the scissors don't catch on the back of the embroidery covering the surface of the case.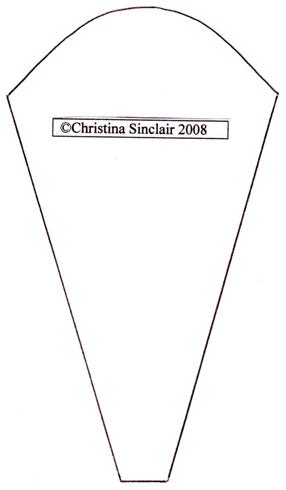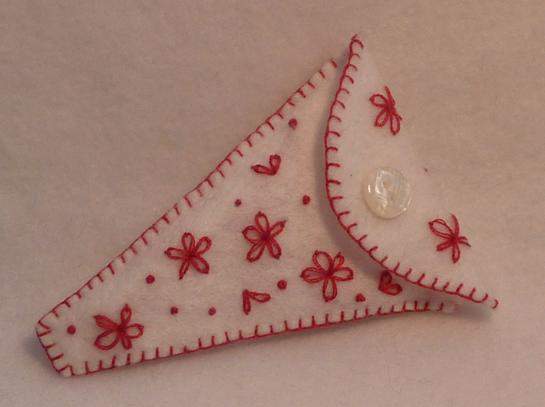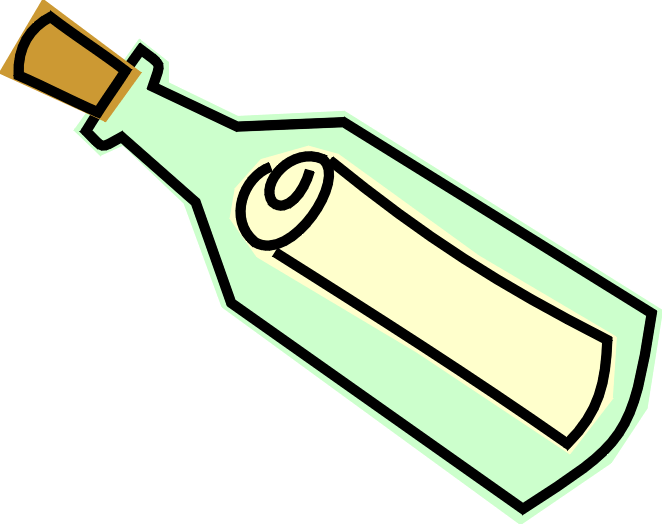 BLOW MY FOGHORN!!!

 PLUS
Salty Sam fans can join in with their comments and share them with children all over the world. You will need permission if you are not an adult.
Enter your e-mail address to subscribe to my blog and receive new Salty Sam Blog Posts for free by e-mail every week. Your address will be kept private and will not be shared with any third party. 
Sign me up at the side bar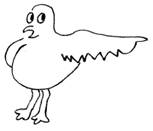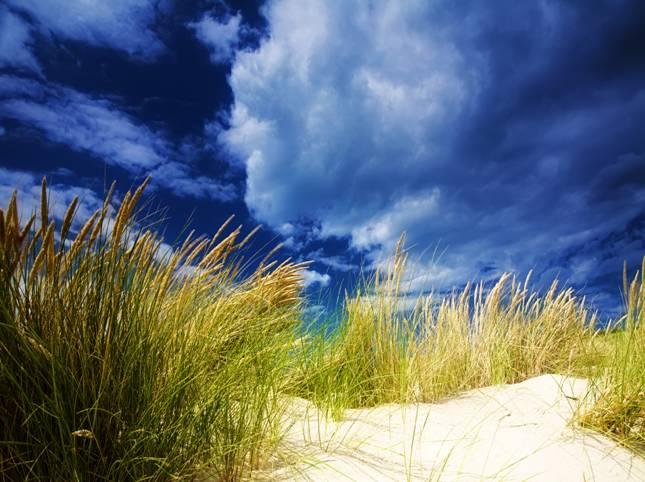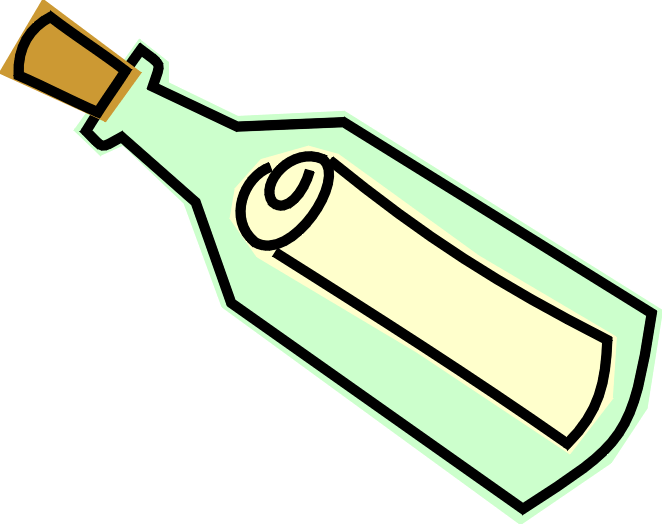 lt's the Weekend!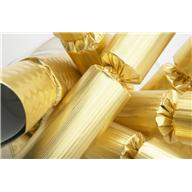 HOW TO MAKE TABLE CRACKERS
 
If you like to have crackers on your meal table or on your tree at Christmas, it is possible to make your own. Then you can put inside any presents or messages that you would like to give to people.
Crackers can be used at any time of year to give people presents when they come to a party or dinner. They can be filled with sweets or little Easter eggs.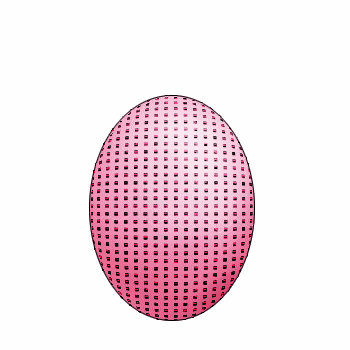 I know what you're thinking – it is too early in the year to be thinking of Christmas decorations.
But there are so many little projects on my blog posts, and there will be more to come, that you might want plenty of time to make them as cracker presents – and not leave everything to be a last-minute rush!
You might like to start collecting what you need and working on your presents way before time and leave them in a box – remember where you put the box!
Or you might want to make a note in your diary to look up Blog Post 58 at a later date.

You will need the inside card from some toilet rolls – (lavatory rolls if you are posh) and some presents – and you can use the jokes from my posts to write on little pieces of paper.
Here are some more, if you need to make lots of crackers.
What happened to the Easter Bunny when he misbehaved at school? – He was eggspelled!

Why did the Easter egg hide? – He was a little chicken!

How should you send a letter to the Easter Bunny? – By hare-mail.

What do you call a bunny with a large brain? – An egghead.

Why are people always tired in April? – Because they have just finished a long March!

Do you know how bunnies keep in shape? – Hareobics!

What comes at the end of Easter? – The letter 'R'

How does the Easter Bunny manage to paint all those eggs? – He hires Santa's Elves in their quiet season!

 
Why did nobody bid for Donner and Blitzen on eBay? – Because they were two deer!

Why don't you ever see Santa in hospital? – Because he has private elf care!

Where does Father Christmas get his hair cut? – At Santa Barbera!

How do you know if Santa has been in your garden shed? – There will be three extra hoes in there!

What does the Queen call her Christmas Broadcast? – The One Show.

What happened to Santa when he went speed dating? – He pulled a cracker!

What do you calll a kid who doesn't believe in Santa? – A rebel without a Claus!
You need some soft crepe paper to wrap around the outside, or maybe some thin wrapping paper or foil – or even newspaper or thin brown paper if you want to be trendy. It needs to pull in easily around the ends of the cardboard rolls, so thick paper won't work very well.
You can do this by tying a piece of string around the ends and pulling it into a simple knot. The paper will automatically scrunch up underneath it. Then release the string and tie something around that is a little more decorative.
You can decorate your crackers any way that you like; you can use tinsel, ribbon, raffia, little pictures that you have drawn yourself – but don't forget to put people's names on their crackers otherwise everyone will get the wrong presents!
If you really want to have the strips that crack when you pull them to put inside as well, then you can buy them.
If you want to make ribbon curly, you have to squash it between your thumb and the side of a pair of CLOSED scissors or the edge of a ruler and pull it through.

 
IDEAS FOR TINY PRESENTS
WOMEN
NAIL POLISH                       LIPSTICK                    MINIATURE SEWING KIT
FRIDGE MAGNET                 EMERY BOARDS          PAPER CLIPS
MEN
KEY RING                            PLANT LABELS           REMOTE CONTROL BATTERIES
NAIL CLIPPERS                   POSTAGE STAMPS     PACKET OF SEEDS
TEENAGERS
FOOTBALL STICKERS             LIPGLOSS                   MOBILE PHONE MASCOTS
GLUE STICK                            HAIR TIES                  COLOURED TRAINER LACES
CHILDREN
ANIMAL ERASERS               PENCIL SHARPENER      TOYS
COMPASS                             DOLLS' HOUSE OR RAILWAY MODEL ACCESSORIES
TIP
If you want to put the scissors case from the Crafty Tip Section inside a cracker, then make sure that the scissors you use are small enough to fit inside a cardboard tube.
If you are an adult making crackers for adults and you don't have time to look for presents, you could buy some scratch cards to create some excitement.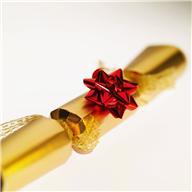 Please note that the material on this blog is for personal use and for use in classrooms only.
It is a copyright infringement and, therefore, illegal under international law to sell items made with these patterns.
Use of the toys and projects is at your own risk.
©Christina Sinclair Designs 2015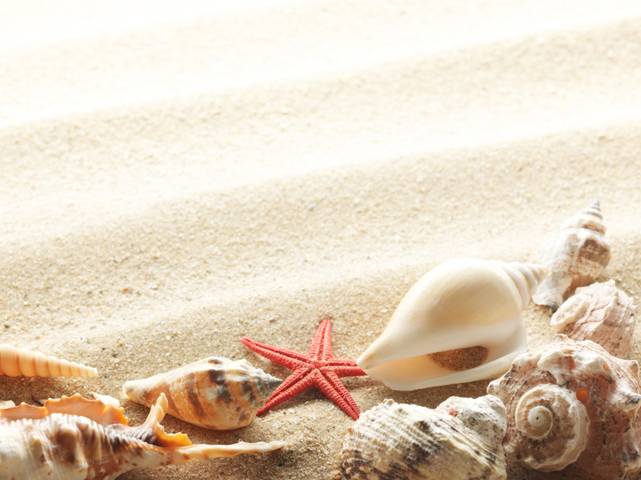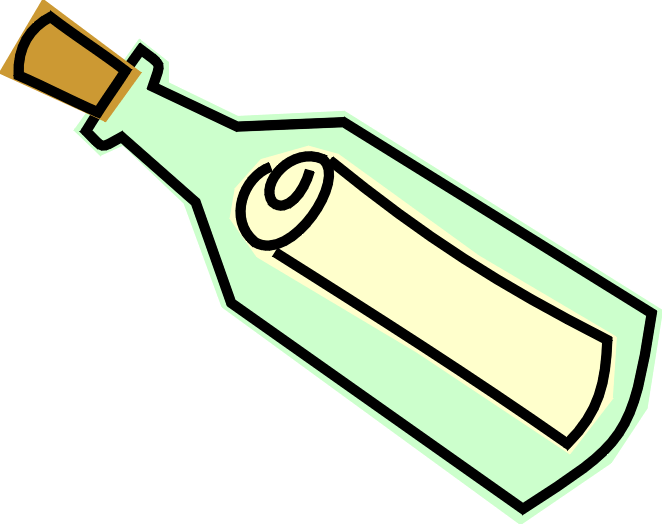 Embroidery Stitches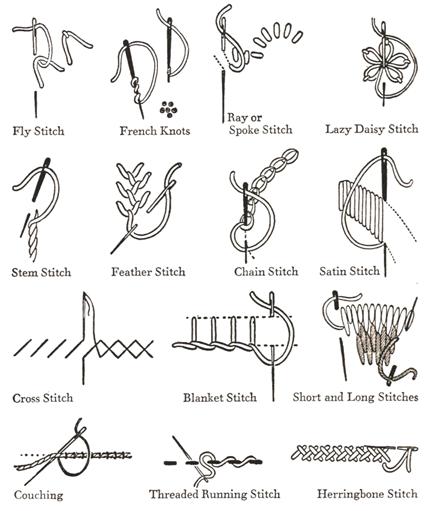 Please tell all your friends on
 and Twitter
about my blog.

Thank You!

And Happy Easter!