May 1st, 2015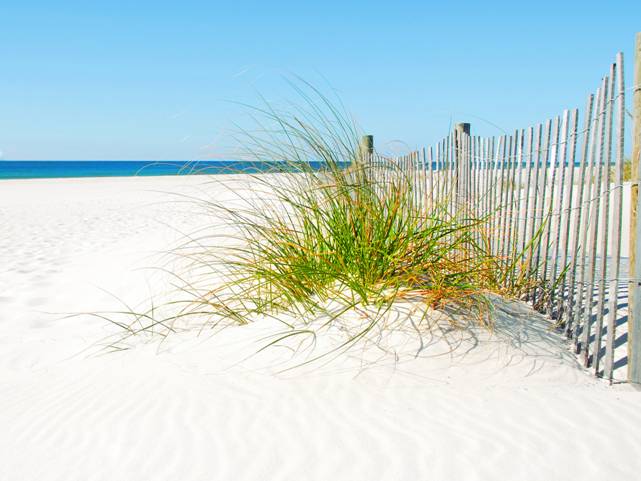 Salty Sam's Fun Blog for Children
Post Number 11
Seagulls
Hello Everyone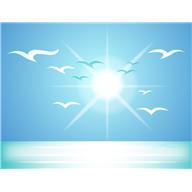 Every morning my alarm clock wakes me up and l have to get up and switch the light at the top of the lighthouse off before l can make my breakfast of purple porridge.
Porridge is a very good breakfast to have because it gives you lots of energy through the morning and mine is purple because l put blackcurrant jam in it!

ln your garden, you might have a lot of birds that sleep through the night but wake up very early in the morning and start singing. This is called the 'dawn chorus'. l have birds outside my bedroom window but they are mostly seagulls and they call out all night! Luckily, because l am used to them being there, they don't keep me awake.
The seagulls sometimes like perching on my lighthouse, but they don't live on the lighthouse. They build their nests on the cliffs of the Rocky Bay Headland which is to the west of Rocky Bay, on the cliffs that are at the east end of Sandy Cove and on the sea stacks that stand a little way out to sea from there. Lots of seabirds like to build their nests on cliffs.
Sea stacks are extremely tall columns of rock. They are little islands with cliff sides and they often have very tough grasses growing on the top of them. ln the summer there are little, pink flowers in the grass that look like bobbles from a distance, and they jiggle about in the wind. These flowers are called sea thrift. Some people grow thrift in their gardens as well, especially in their rockeries. The bees love visiting thrift for its nectar so it is a good flower to grow.
On my website, you can see me wearing a lovely jumper with a seagull design on it that my Auntie Alice knitted for me, and also a bobble hat to match. The jumper is light blue like the sky and the seagulls are white.
There are also some felt seagulls that you can use as decorations. You can embroider their sides or sew beads or sequins on them. You can make their tails from ribbon or feathers or what ever you like and then hang them up in your bedroom!
You can make them out of coloured felt as well if you like and use them as seasonal decorations.
l'll speak to you soon. 
Bye bye everyone – don't forget to subscribe to my blog!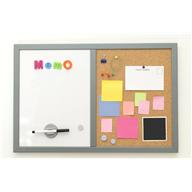 Love and kisses
Salty Sam

www.christina-sinclair.com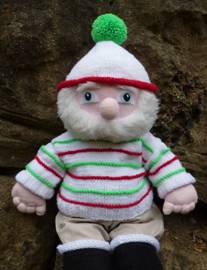 Bill and Bob's Joke of the Week


Bob:  What do you get if you put a pair of wheels on a seagull?
Bill:  l don't know. What do you get if you put a pair of wheels on a seagull?
Bob:  A bi-seagull!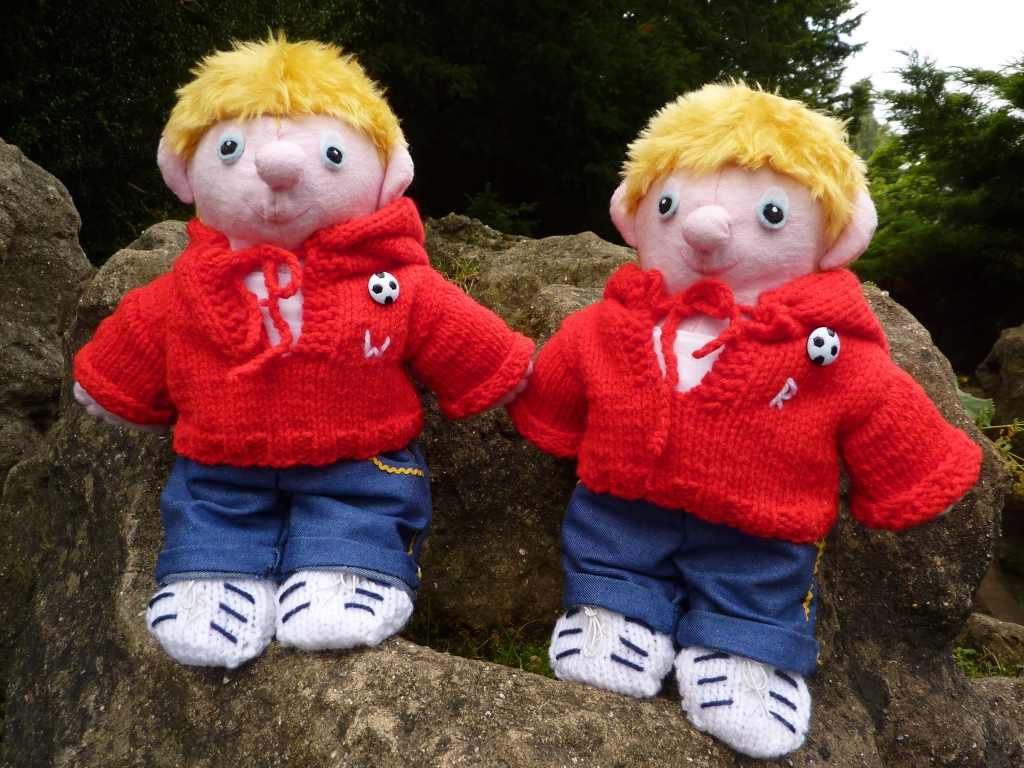 Salty Sam © Christina Sinclair 2015
Unauthorized use and/or duplication of material from this blog without express and written permission from this blog's author and owner is strictly prohibited.
Links may be used to www.christina-sinclair.com

 Picture Gallery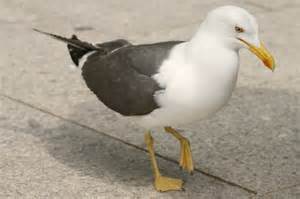 Herring gull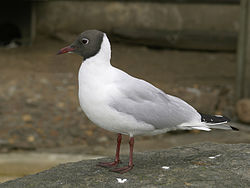 Black headed gull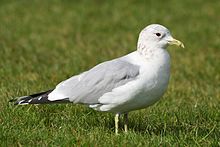 Common gull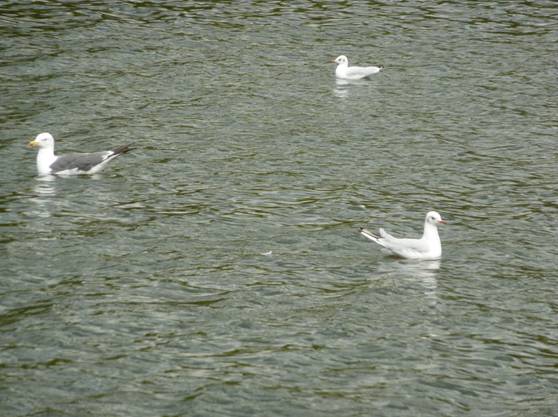 A herring gull and two common gulls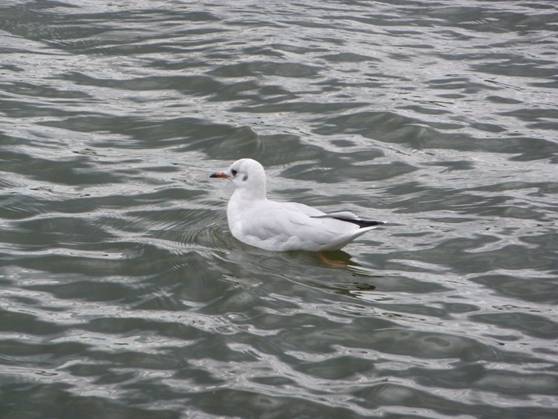 A common gull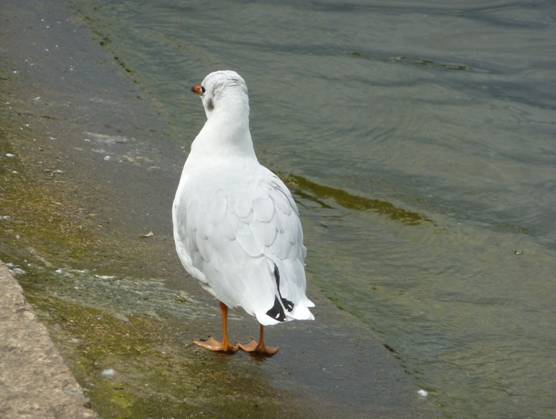 Gulls have webbed feet to help them swim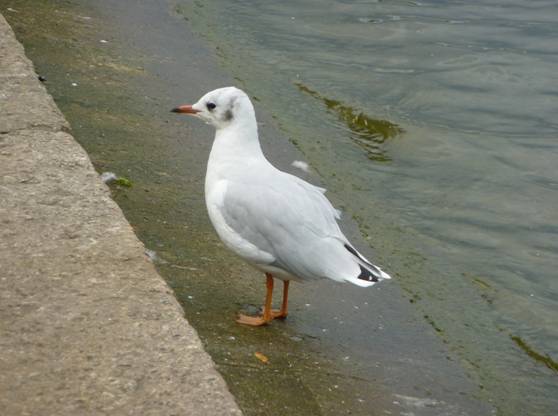 They are always on the look out for food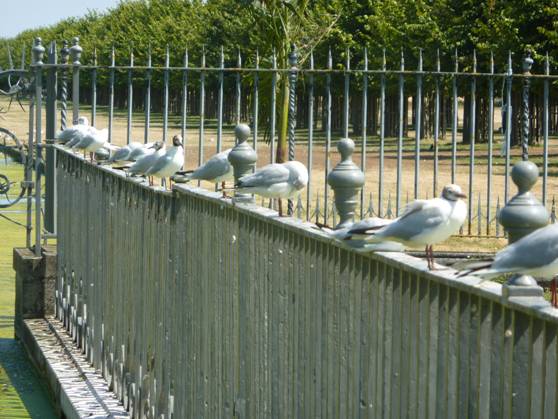 Seagulls like perching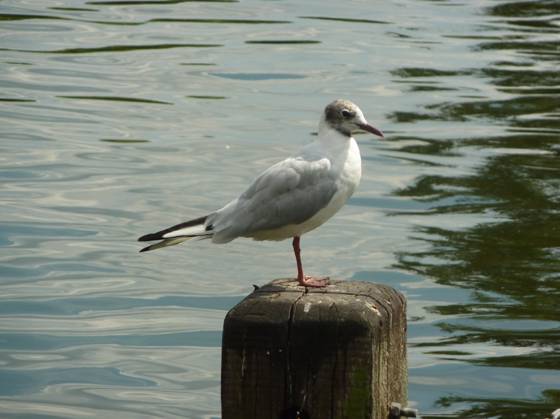 Seagulls often come inland to find food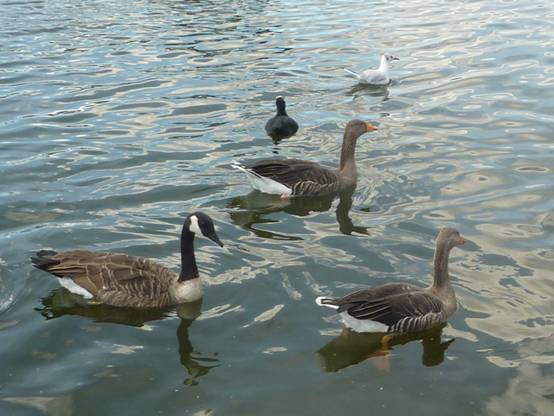 They sometimes line up in the park when children are throwing food!
(A Canada goose, greylag geese, a coot and a seagull)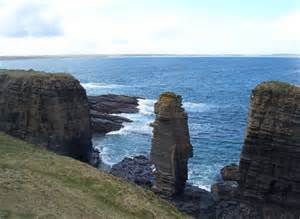 A sea stack
(Sinclair Bay from Flickr)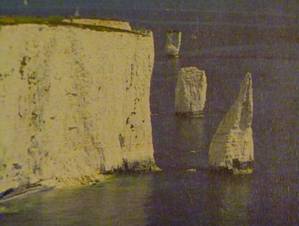 Sea stacks are to be found by cliffs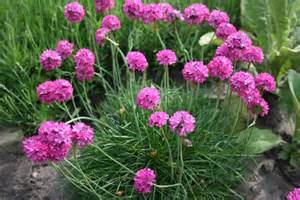 Thrift

A seagull flying around my lighthouse



 THE SALTY SAM NEWS DESK


If you would like to make some of your own seagulls, there is a new project for making seagulls on my website now.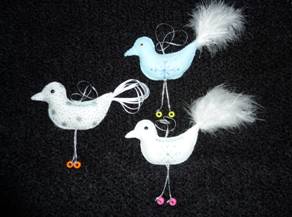 I am getting lots of people from all over the country and all over the world reading my blog – so a big welcome to you all!
Do you know what we call people from the following places?
London

Liverpool

Edinburgh

Manchester

Glasgow

Birmingham

Newcastle

Chicago

Sidney

Hong Kong

Cardiff

Belfast

Aberdeen

New York

Paris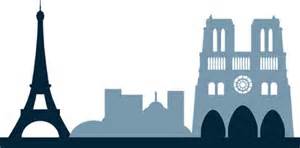 Have you got any more unusual ones to add to my collection?

NEWSDESK MINIMAKE
A SKY BLUE PENCIL CASE
 
Bob looked in his school bag the other day and saw that all of his pencils were loose in the bottom.  Then he realised that it was because there was a hole in his pencil case.  So Auntie Alice knitted him another one. 
Auntie Alice is an experienced knitter and it only took her an evening to make it. 
However, it is still an easy thing for anyone to make. 
If you have started knitting and you would like to make a simple project, here is the pattern for the knitted pencil case.
PENCIL CASE (KNIT ONE)
Using 4mm knitting needles and sky blue dk yarn cast on 46 stitches 
Garter stitch 80 rows
Cast off
Pin then sew the top and bottom of the knitting to the side of a sky blue 20cm/8 inch zip using sewing thread
Sew up the side seams of the pencil case using yarn and over-sew stiches (with wrong sides together)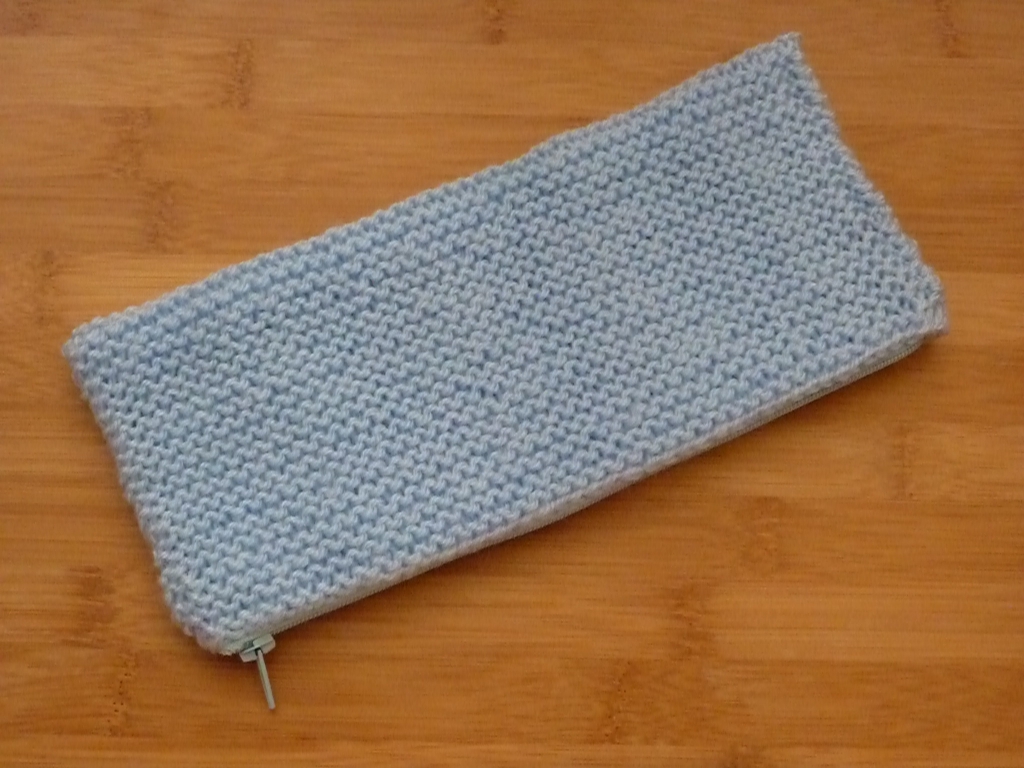 TIP
Knit 100 rows for a larger pencil case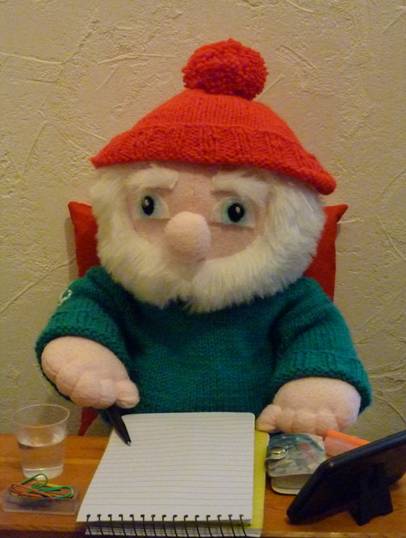 Me writing my blog

*********************
TO ADVERTISE ON THIS BLOG
PLEASE CONTACT:
christina.sinclair.ads@aol.co.uk
*********************


Recipe Spot 
This is a recipe for a nice teatime treat. We call them Scotch pancakes in our family and some people call them drop scones. Bill and Bob like to call them seagull dropping pancakes. When you spoon the mixture into the frying pan you will see why.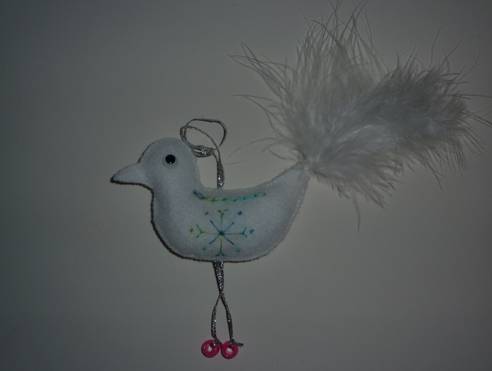 Scotch Pancakes
You just mix the ingredients in a bowl and drop the mixture a spoonful at a time into a hot frying pan that has a little oil and melted butter in it.
You should be able to get about three pancakes in a medium size pan at a time. Turn them over when they are golden on the bottom – this should take about three minutes. You will see bubbles forming on the top when they are ready to turn. Cook the other side for about two minutes.
Then eat them with butter or honey – or whatever you like!
Your mum or dad might prefer it if you did the measuring and mixing part and they did the frying part – ask them before you start.
And of course don't forget to wash your hands before you start cooking either.

225g/8ozes                  self-raising flour
½ teaspoon                   salt
150g/5ozes                  sugar
1                                     egg
300ml/½pint                milk
Sift the flour and salt into a bowl
Add the sugar
Add the egg and a little milk and mix into a paste
Add the rest of the milk
When cooked, put the pancakes into a clean folded tea towel to keep them warm and moist.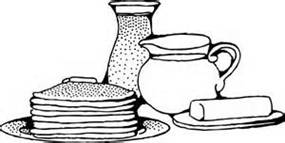 BLOW MY FOGHORN!!!

PLUS
Salty Sam fans can join in with their comments and share them with children all over the world. You will need permission if you are not an adult.
Enter your e-mail address to subscribe to my blog and receive new Salty Sam Blog Posts for free by e-mail every Fun Friday. Your address will be kept private and will not be shared with any third party.
Sign me up at the side bar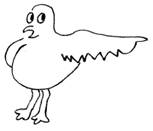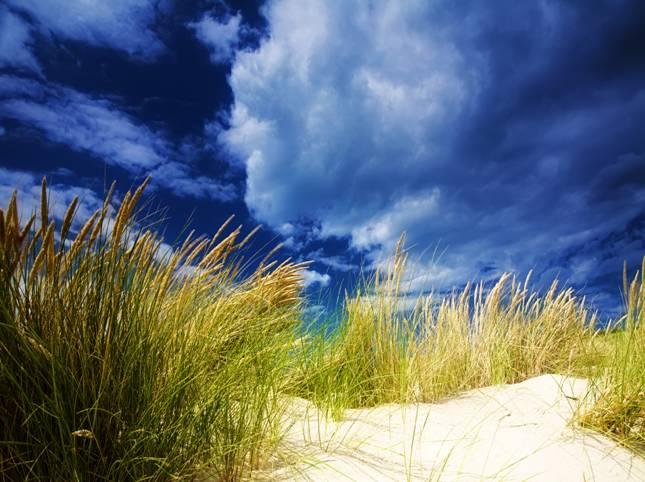 lt's the Weekend!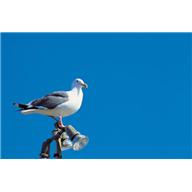 HOW TO MAKE A SEAGULL DESlGN JUMPER 
There is a pattern for a seagull jumper and hat that you can download from


_______________________________________________________

ANOTHER IDEA
You can use the seagull shapes cut out in white felt to decorate a plain blue lampshade. Then you can always have seagulls flying above your bedroom too!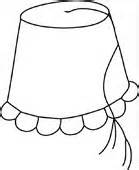 *(Whenever you make a lampshade, or add anything to one, make sure that you use suitable materials to use near a hot light bulb!)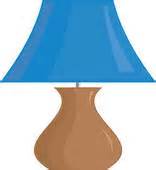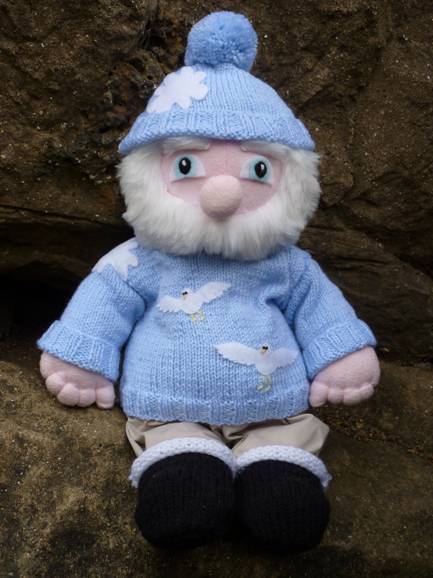 Please note that the material on this blog is for personal use or for use in classrooms only.
It is a copyright infringement and, therefore, illegal under international law to sell items made with these patterns.
Use of all of the toys and projects on this blog is at your own risk.
©Christina Sinclair Designs 2015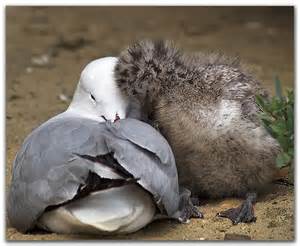 (acuteaday.com)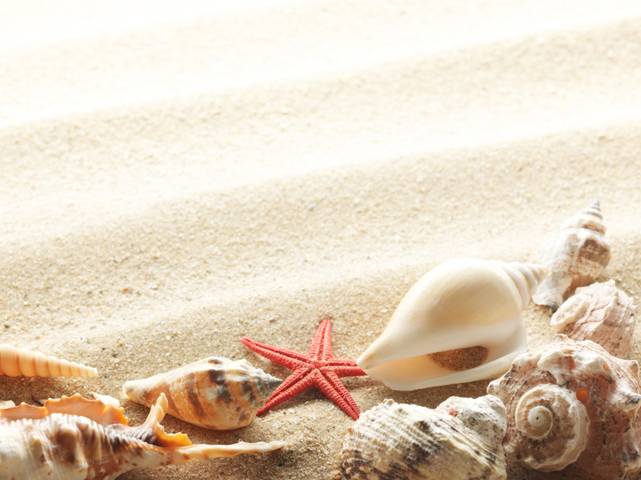 Answers to the News Desk Quiz 
Londoner

Liverpudlian

Edinburghian

Mancunian

Glaswegian

Brummie

Geordie

Chicagoan

Sidneysider

Hong Kongese

Cardiffian

Belfastian

Aberdonian

New Yorker

Parisian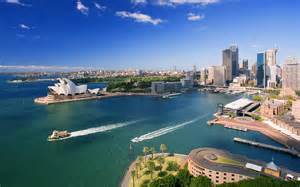 Sidney