May 8th, 2015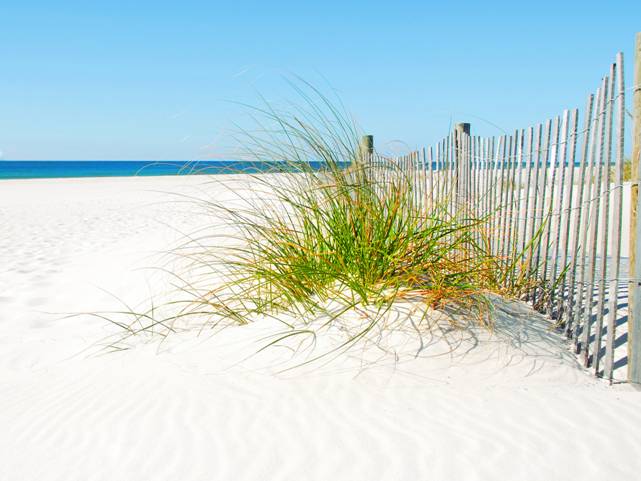 Salty Sam's Fun Blog for Children
Post Number 12
Smugglers
Hello Everyone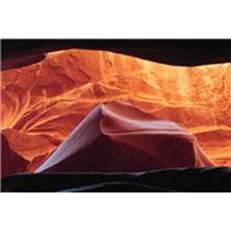 Last week, l was telling you about the cliffs on the mainland and how seagulls and also other kinds of seabirds like to build their nests there.
But there is also something else that is very interesting about them.
They are full of secret caves and tunnels!
ln the olden days; l am talking about mostly in the 1700s and 1800s, smugglers used to use those tunnels to hide in.  They also liked to store their booty in them. Some of the tunnels even went up into the cellars of some of the taverns and inns in Rocky Bay (taverns and inns are old fashioned types of pubs). The smugglers' ships would drop anchor in the bay and row ashore in smaller boats. They could go into these tunnels from the beach and then into the town without being seen.
They wanted to bring certain things into the country secretly. lf they brought them in through the ports, the government would make them pay money called tax on the goods. lt was a way that the government could make money.
The smugglers brought in things like wine, brandy, silks, lace and tea. ln fact, at one time, two thirds of the tea that came into England was brought in by smugglers. Anything that people bought from smugglers was cheaper than in the shops; but they had to do it in secret.
The best thing of all for smugglers though would be a shipwreck. ln those days, when a wooden ship got caught in a storm it could be smashed against the rocks and broken to pieces. As it broke up its cargo floated out into the sea.
The barrels and boxes could then wash up on the beach and the smugglers would have even more goods to sell; and this time they got them for free!
Smugglers would take most of their booty inland to sell on horse-drawn carts. The horses were sometimes borrowed from farmers because they needed so many.
Sometimes the farmers didn't know that their horses were being taken!
The brandy and wine was transported in barrels or kegs (little barrels).
The barrels were very heavy but quite easy to move because of their shape. (They can be rolled along the ground and then swung up onto their ends.) Kegs were small enough to be carried.
My nephews love playing in these caves when we go out on an exploring adventure together. So even now they are being used!
Have you ever explored an interesting cave?
l'll be back with more ripping yarns next week.
Bye bye everyone – don't forget to subscribe to my blog!
Love and kisses
Salty Sam

www.christina-sinclair.com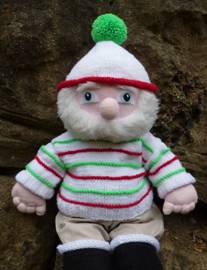 Bill and Bob's Joke of the Week


Bob:  How do you stop a rhino from charging?
Bill:  l don't know. How do you stop a rhino from charging?
Bob:  Take away its credit card!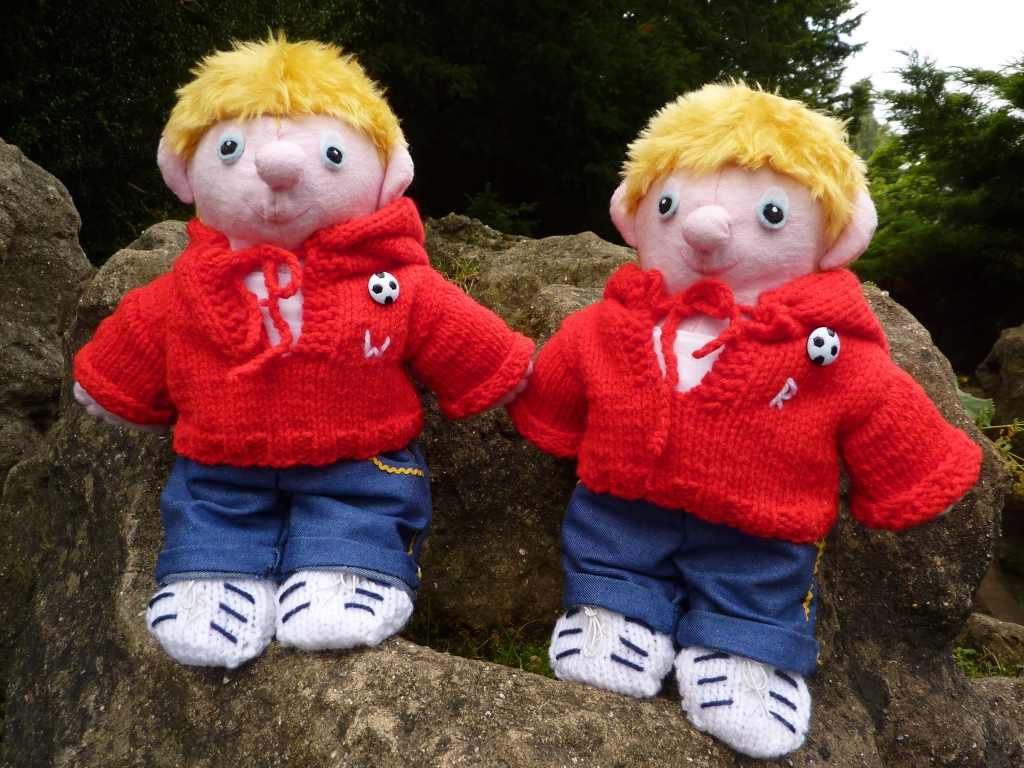 Salty Sam © Christina Sinclair 2015
Unauthorized use and/or duplication of material from this blog without express and written permission from this blog's author and owner is strictly prohibited.
Links may be used to www.christina-sinclair.com

 Picture Gallery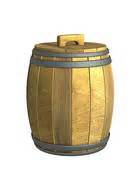 A small barrel is sometimes called a keg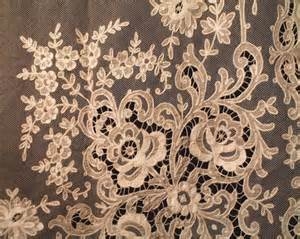 Old lace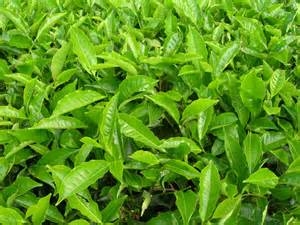 Tea leaves growing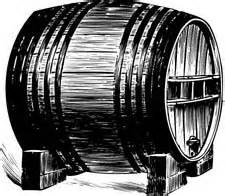 Wine and rum were stored in barrels
Some kegs were so small they could be strapped to a man's chest
 If a galleon was smashed against the rocks by the sea it would soon sink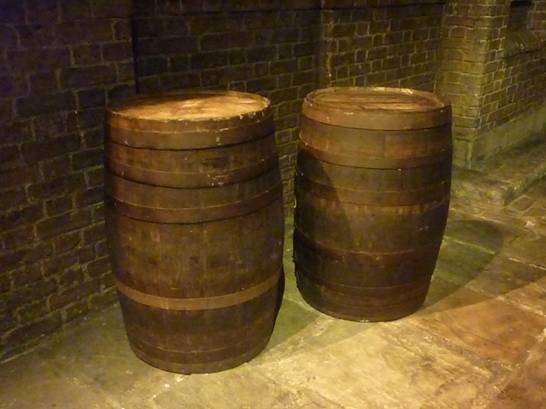 Wooden barrels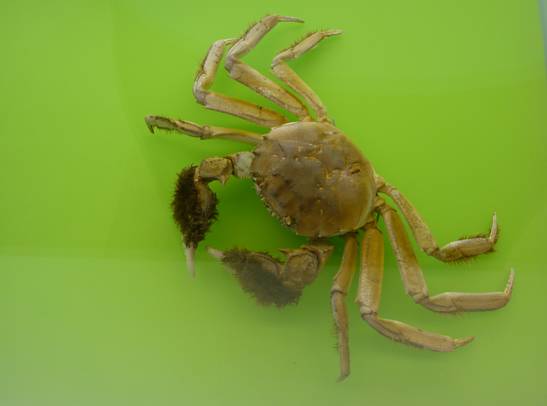 Some things are smuggled in purely by accident like this Chinese mitten crab
Some were brought into Britain in the ballast water of ships (in 1935) they crawled out, bred and now inhabit many rivers



  THE SALTY SAM NEWS DESK


Well it has been very windy in Rocky Bay this week.  The wind was pummelling my lighthouse so much that I kept thinking that someone was knocking at the front door! 
Luckily my lighthouse was built to withstand wild weather.

The wind made the sea very rough and difficult to cross.  The waves were lashing at my windows.  But the weather improved by Thursday and didn't stop anyone going to vote in the general election.  Bill and Bob were happy because their school was being used as a polling station so they got the whole day off!
They do say that we will have warmer weather next week – and that summer is on its way.  All the tourist attractions here are open now for the summer season.  Holiday makers love to come to Rocky Bay. 
I have already told you about some of the places in Rocky Bay but this week I am going to tell you about another one.
One of the places that the people of Rocky Bay like to congregate in is the Rocky Bay Tea Rooms.
It is run very efficiently by Betty Clutterbuck.
It is just known as 'the café' by the locals.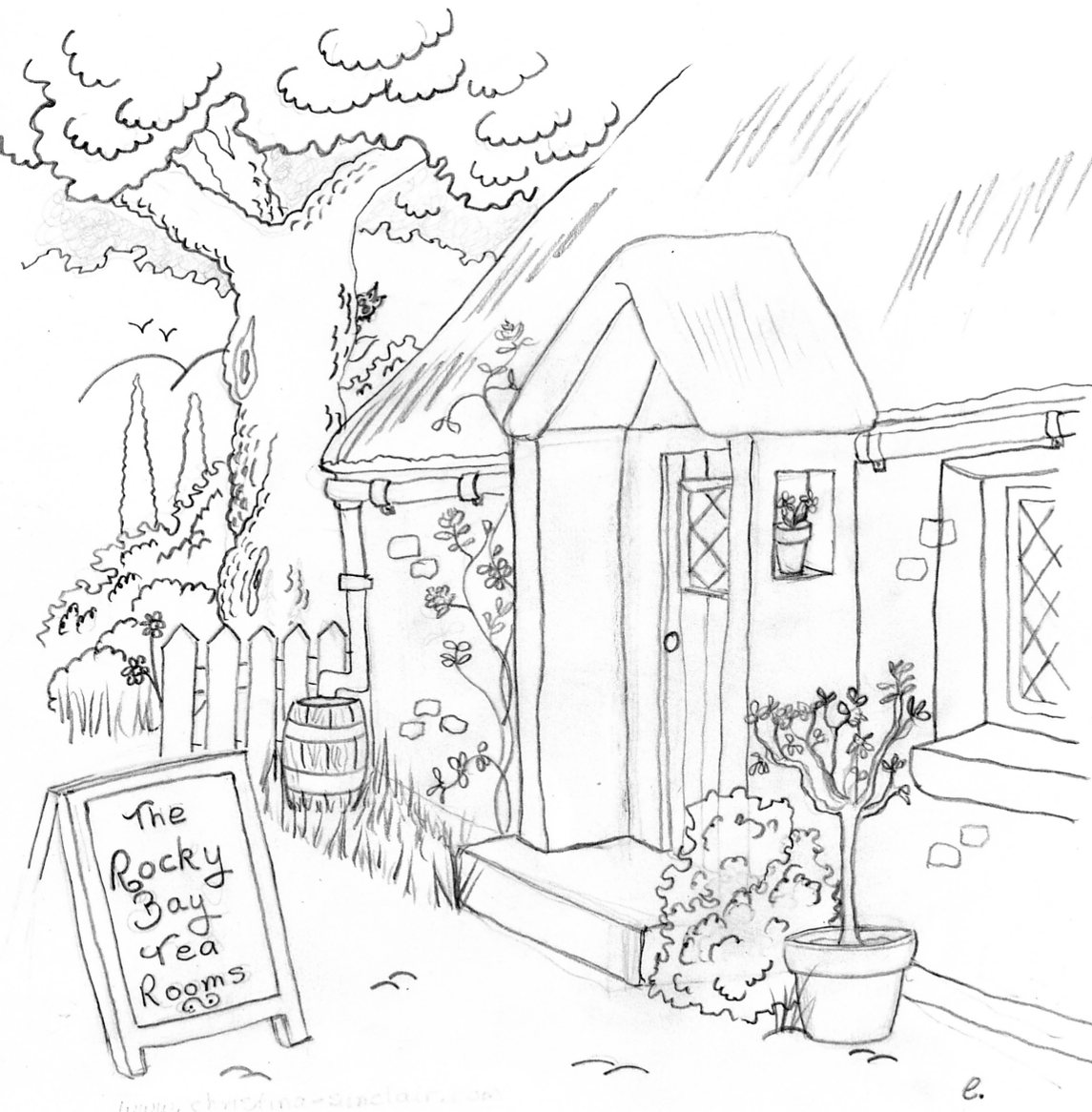 Although it is open all year round, it has longer opening hours in the summer for the tourist season which is, of course, now underway.
It has a variety of food on offer but is well-known for its cakes.
Betty loves baking and makes them fresh every day.
Sometimes Betty also hosts children's birthday parties – this is because not only do the children love her cooking, but the café has a washable floor!

Can you solve this puzzle to know what is on offer this week?
c_r_o_   c_k_

m_c_r_o_s

c_o_o_a_e   _a_e_u

i_e_   b_n_

j_m   _o_g_n_t_

c_e_r_   m_f_i_s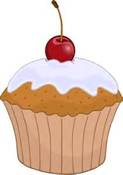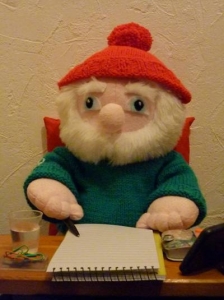 Me at my desk

*********************
TO ADVERTISE ON THIS BLOG
PLEASE CONTACT:
christina.sinclair.ads@aol.co.uk
*********************


Quick Quiz
What is the difference between:-
A stalactite and a stalagmite?
A tread and a riser?
Stairs and steps?
To fall over and fall down?
What is the name of a person who explores caves as a hobby?
What kind of rock did ancient peoples use to make tools?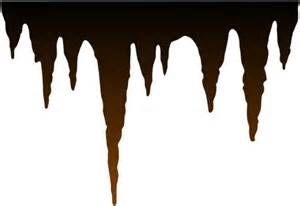 BLOW MY FOGHORN!!!

PLUS
Salty Sam fans can join in with their comments and share them with children all over the world. You will need permission if you are not an adult.
Enter your e-mail address to subscribe to my blog and receive new Salty Sam Blog Posts for free by e-mail every Fun Friday. Your address will be kept private and will not be shared with any third party.
Sign me up at the side bar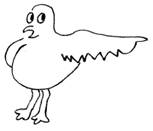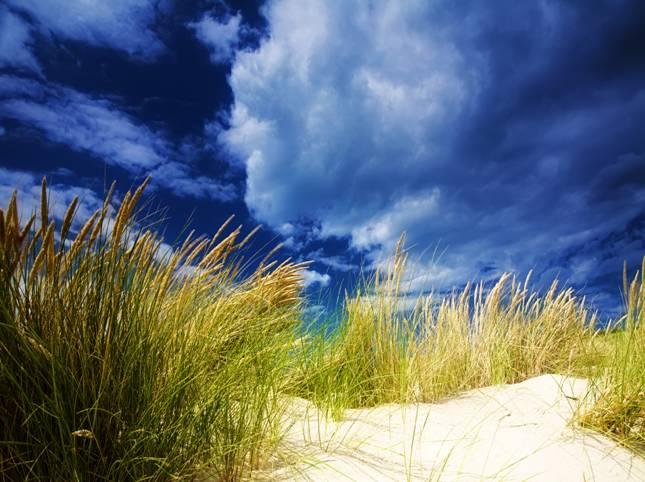 lt's the Weekend!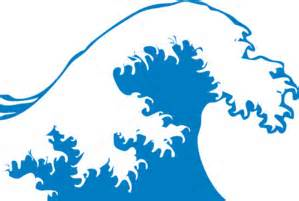 HOW TO MAKE MY OCEAN DESlGN HAT
 
My Auntie Alice has knitted me a lovely new hat, mittens and jumper. This is the pattern for the hat.
 
TIP
When starting a row, always slip the first stitch over to make a neat edge on your pieces (unless you are changing colour).
 
PLEASE NOTE YOU WILL NEED 100G OF THE SAME COLOUR BLUE FOR THE JUMPER, HAT AND MITTENS TO MATCH.
 
OCEAN HAT (KNIT TWO)
Using 3½mm knitting needles and blue dk yarn cast on 40 sts
K3 (p2, k2) repeat the last 4 sts until 3 sts remain k3
P3 (k2, p2) repeat the last 4 sts until 3 sts remain p3
Repeat these last 2 rows twice (6 rows of ribbing)
 
Change to 4mm knitting needles
Stocking stitch 8 rows
Decrease 1 st at the beginning of the next 16 rows of stocking stitch (24 stitches)
Decrease 1 st at each end of the next 8 rows of stocking stitch (8 stitches)
Cast off and leave a 20cm/8 inch tail of yarn.
 
Embroider an anchor onto one side of the hat (the front side) using the pattern from the sleeve of Sam's green jumper at www.christina-sinclair.com
 
TO MAKE UP
Put wrong sides together and over-sew the ribbing. Then put right sides together and sew the rest of the hat together using running stitch or back stitch with the left over yarn from the top of the hat.
Cut a rectangle of card with a width of 3cm/1¼ inches.
Wind some white yarn around the width of the card a few times. Secure a length of yarn around one end of the strands at the edge of the card, then pull it tightly into a couple of knots. Cut the other end of the strands free and you will have a spray of white to put on top of the hat.
Or you could make a thinly constructed bobble to get a spray effect.
Watch out for the pattern for the matching mittens in my next blog post!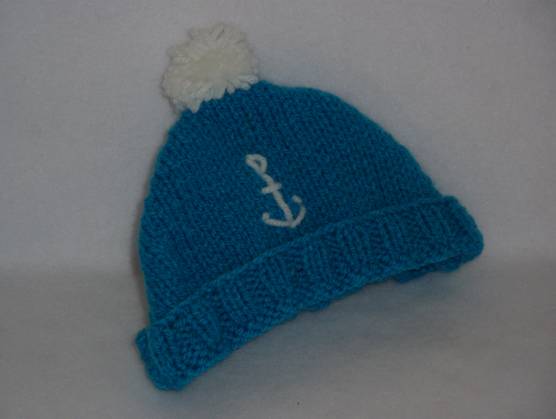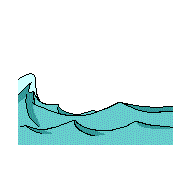 Please note that the material on this blog is for personal use or for use in classrooms only.
It is a copyright infringement and, therefore, illegal under international law to sell items made with these patterns.
Use of all of the toys and projects on this blog is at your own risk.
©Christina Sinclair Designs 2015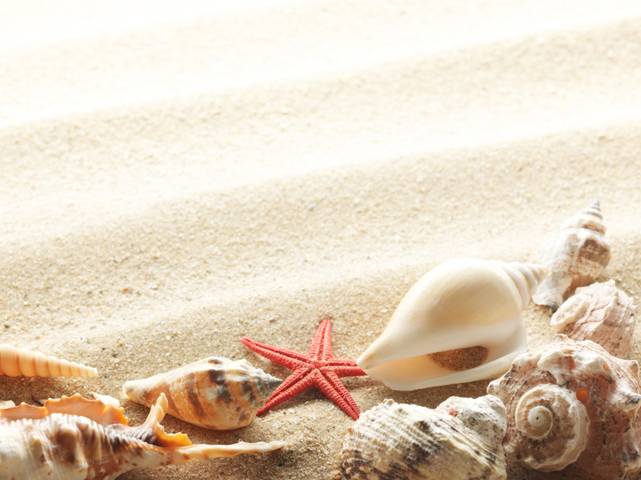 Answers to the News Desk Quiz
carrot cake

macaroons

chocolate gateau

iced buns

jam doughnuts

cherry muffins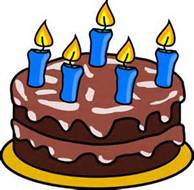 Quick Quiz Answers
A stalactite is a rock that looks like an icicle hanging down from the roof of a cave, whereas a stalagmite stands up from the floor – it has been formed from the mineral deposits dripping from the stalactites (to remember which is which, think of tights hanging on a washing line).
The tread is the horizontal part of a stair and the riser is the vertical part.
Stairs are inside and steps are outside.
You fall over on the flat and fall down to a lower level (like down some stairs).
a potholer (spelunker in US and Canada)
flint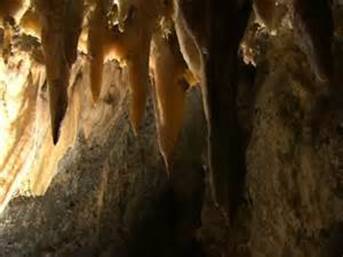 Stalactites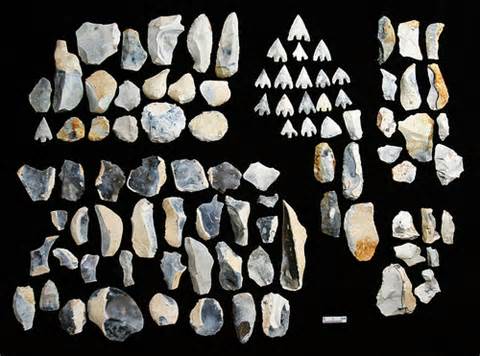 Flint tools and arrow heads
(Flint chips and splits easily when you hit it – but don't try this yourself)
The Salty Sam Fun Blog for Children is now registered on: