August 3rd, 2018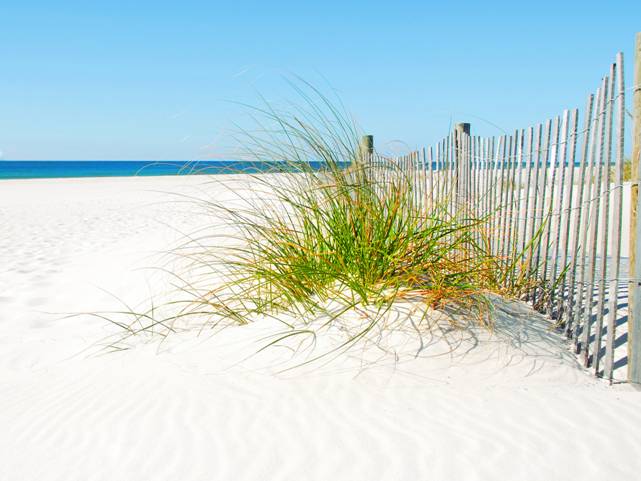 Salty Sam's Fun Blog for Children
Number 181
The History of Clowns
Hello Everyone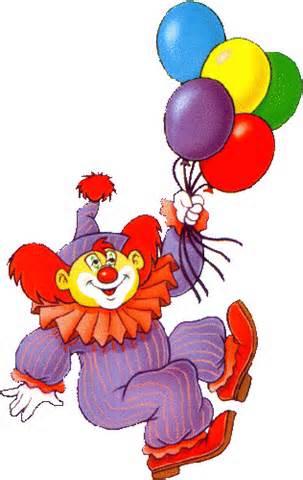 Have you ever been to a circus and seen some clowns? Maybe you have been to a party and had a clown entertainer come to visit.
We have a clown on the beach at Sandy Cove. His name is Bo Bo; you may remember.
He judges the sandcastle building competitions there and sometimes he does some miming and juggling to amuse the children. Sometimes he even makes some balloon sculptures.
Clowns are mostly known for slapstick comedy. That means they fool around. They tumble; they squirt water at each other and throw things at each other like buckets of confetti.
Bo Bo never fools around when he judges the sandcastle competitions though. When children spend a long time creating their masterpieces in sand it is a very serious business, and they wouldn't find it very funny if Bo Bo came along and squashed their castle with his enormous shoes or squirted it with his squirty flower brooch!
Although everyone knows what a clown looks like today, did you know that clowns have been around for thousands of years?
They first started out as court jesters and the first known record of one was about four and a half thousand years ago in the Pharaoh's court in ancient Egypt. There were also court jesters in China about four thousand years ago and even the Native Americans tribes had clowns.
There were clowns performing in shows in Ancient Greece and Rome too. These shows were similar to our modern circuses.
l guess people have always liked comedy!
There were court jesters in the mediaeval courts of England. They were often gifted musicians, dancers and acrobats.
These jesters were the only people allowed to make fun of the monarch and his decisions. lt was a way that the people's opinion could be voiced to the king. The jesters were called fools but often said things in a very clever way that could influence the opinion of a monarch and affect his or her decisions. But some jesters went too far; they upset people and did suffer for it.
The early fools often wore caps, donkey ears and tails to show that they were not to be taken seriously. This costume evolved into the jester's cap with the many points on it.
Jesters didn't just play to the royal court; they entertained the masses too.
From about 1000 AD, clowns would roam from town to town with groups of actors. These actors would use the wagons they travelled with as stages and put on shows in the street or market place where people congregated (came together).
They often became part of a fair that was put on in the town centre at the time of church holy days. People would attend them when they took a break from working. The holy days became holidays.
These shows continued for hundreds of years and were the beginnings of our modern pantomimes.
ln the 1500s, a show was born in ltaly called The Comedy of Arts. The main character was called the Zany. This is a word we now use to describe someone or something that is comical or a bit crazy.
This Zany played different everyday characters but in a mocking and exaggerated way to make people laugh. This is the basis of the clowns we know today. Shakespeare (lived 1564-1616) wrote clown characters into his plays too.
The first clowns appeared in circuses in England in the mid 1700s. A man called Joseph Grimaldi (lived 1778-1837), also known as 'the Father of Modern Clowning', was the first person to paint his face white. Many clowns today paint their faces white and so does Bo Bo.
Then, from the end of the 1800s, clowns started to perform in theatres. They performed in a special kind of show called Vaudeville Theatre. Vaudeville is another name for variety theatre. ln these shows there were singers and dancers and comedians and people who would clown around, but they didn't always wear clown make up.
The clowns performed acts such as acrobatics, mime, juggling and slapstick comedy. But of course there were still clowns performing in circuses at that time as well.
Some performers are called clowns even though they don't dress up in special costumes. Film actors like Norman Wisdom and Laurel and Hardy used clowning techniques to make people laugh. Jim Carrey is a more modern day actor who sometimes uses slapstick comedy in his films too. (lf you don't know what these actors look like, you can find them on You Tube.)
ln fact, nowadays, there are even clown colleges. Anyone can go to learn to be a clown and get proper training. They learn things like how to put on make up, how to walk on stilts and how to fall without getting hurt.
There are different styles of clowns too. The Pierrot (male) or Pierette (female) has a loose costume with pompoms down the front and a white face often with a black tear painted on his or her cheek. Harlequin has a colourful costume with a diamond shaped design. The Pantaloon has baggy trousers. These clowns come from a story.
The story of the Harlequinade revolves around a comic incident in the lives of its five main characters: Harlequin, who loves Columbine; Columbine's greedy father Pantaloon, who tries to separate the lovers and is in league with the mischievous Clown; and the servant, Pierrot. There are usually chaotic chase scenes with a policeman.
The clown we know with the painted face, ruff collar and oversized shoes originates from Germany from a clown they called Pickelherring.
l think this is probably the kind of clown that Bo Bo is.
Bye bye everyone – don't forget to subscribe to my blog!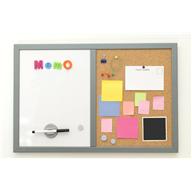 Love and kisses
Salty Sam

www.christina-sinclair.com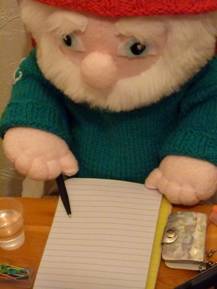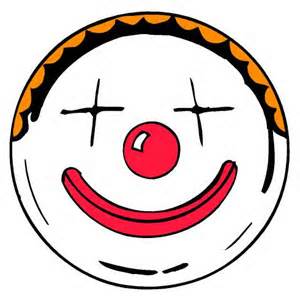 Bill and Bob's Joke of the Week


Bill: Do you know why the lions that escaped from the circus didn't try to eat the clowns?
Bob: No. Why didn't they try to eat the clowns?
Bill: Because they thought they might taste funny!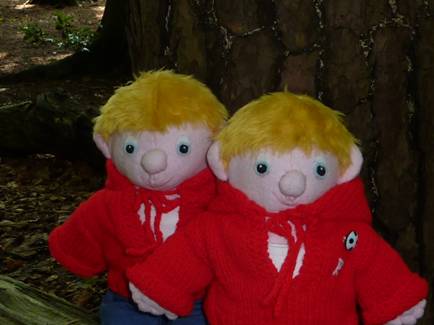 Salty Sam © Christina Sinclair 2015
Unauthorized use and/or duplication of material from this blog without express and written permission from this blog's author and owner is strictly prohibited.
Links may be used to www.christina-sinclair.com

Picture Gallery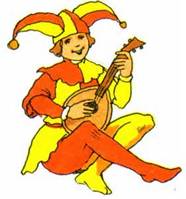 A mediaeval fool (or jester)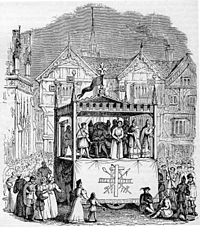 A play being performed in Chester on the back of a wagon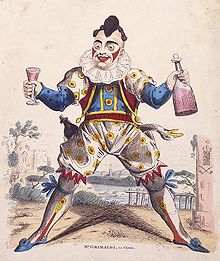 Grimaldi as 'Joey the Clown'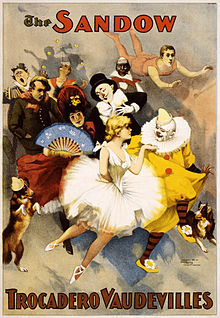 A poster from 1894 showing vaudeville clowns and various other acts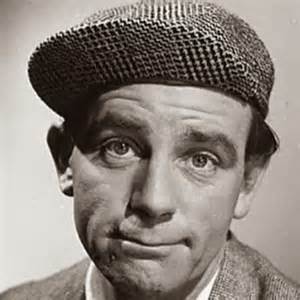 Norman Wisdom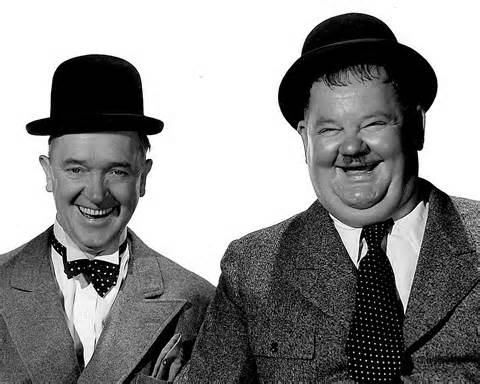 Laurel and Hardy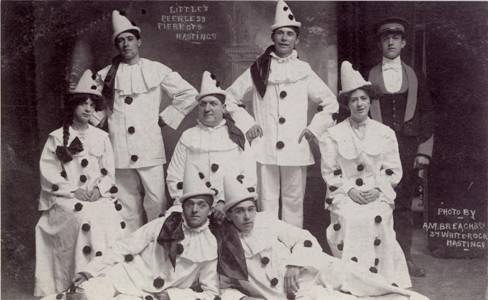 Pierrot clowns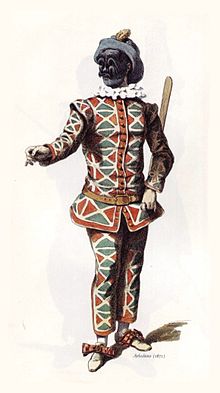 Harlequin 1670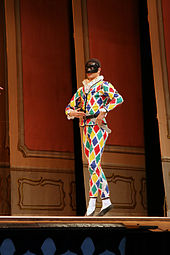 Modern Harlequin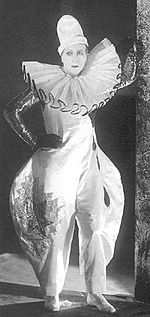 The white faced clown has a pointed hat and wide trousers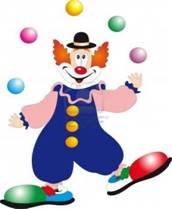 A clown with a red nose, ruff and big shoes – (based on Pickelherring)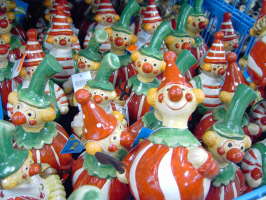 Toy clowns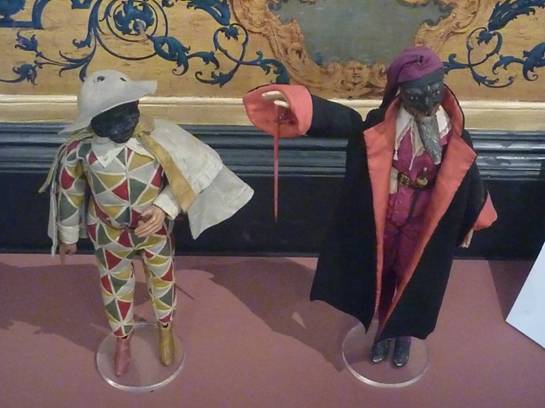 Puppets based on the clowns of The Comedy of Arts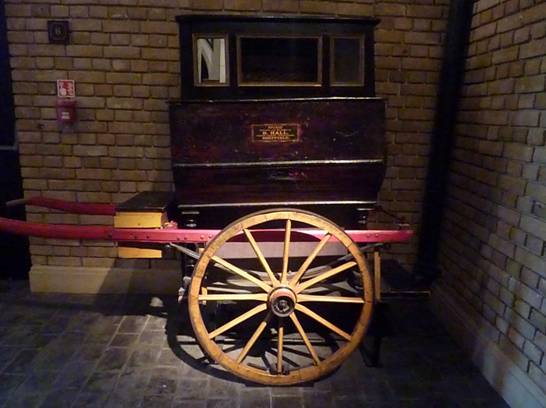 Musical street entertainment Victorian style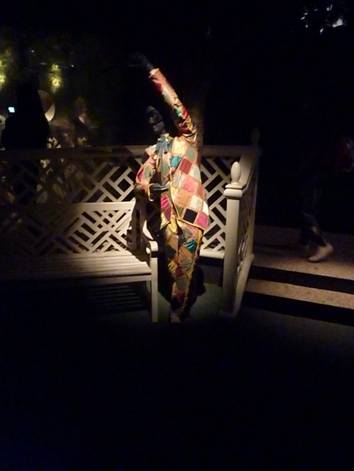 18th century Harlequin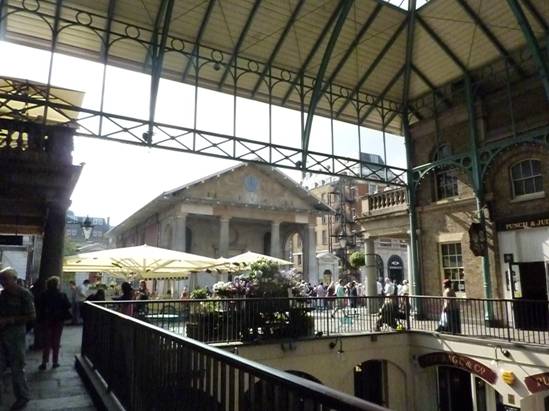 Street entertainment can still be found in town squares like Covent Garden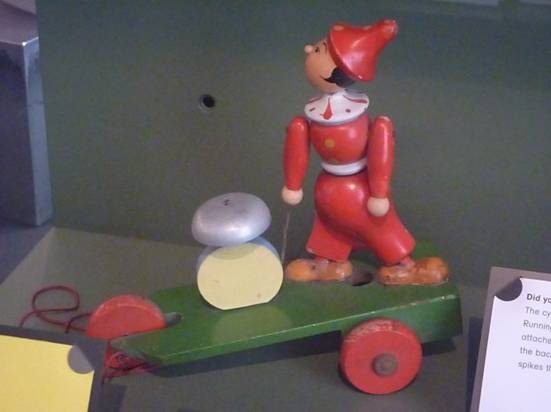 Pull along clown toy 1920 – 30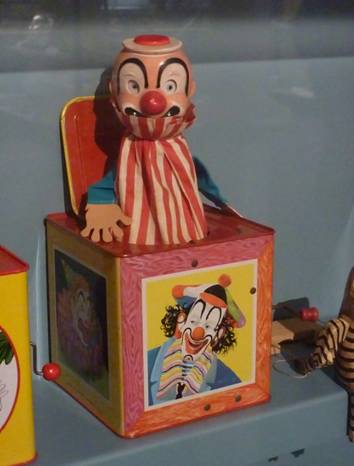 Clowns make popular toys because they are so colourful
Clown jack-in-the-box from 1970s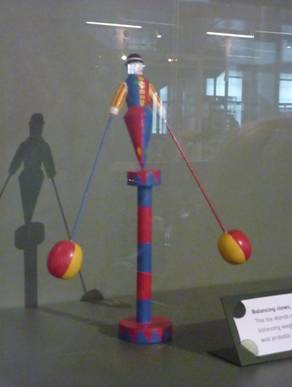 Toy balancing clown from 1996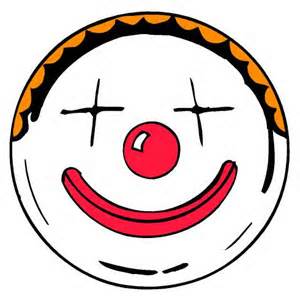 THE SALTY SAM NEWS DESK


Bill and Bob have prepared a puzzle for the news desk this week to fit in with the theme of the blog post.
They thought it up while they were playing in the garden.
These are muddled up words and the words all have something to do with clowns, can you work out what they are?
gearl sobot

der sone

reblow tah

keoj wolref

wob eti

hetiw cafe

cwoln rac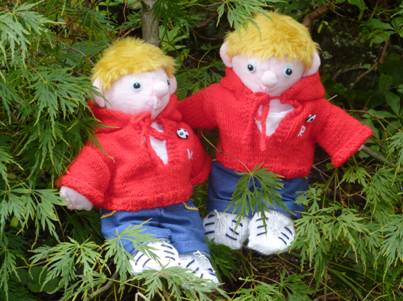 Bill and Bob clowning around in the bushes! 


It looks as if the heat wave may be back with us.
If you have a garden, and you don't normally, it might be a nice idea to put some drinking water out for animals, birds and bees to drink from.  The dish should be put on the ground so that they can all access it.  They will be really grateful.
If you see any tiny trees planted near your house, they would appreciate a drink too, because they have really been struggling in this very dry and hot weather.

Bill and Bob said that they have been struggling as well, and it is very difficult to sleep at night when it is hot.
Their mother bought some plastic boxes that are filled with liquid and are designed to be frozen in the freezer and then put into picnic baskets to keep food cool.
She gave one each to the boys and they took them to bed with them like hot-water bottles – in reverse!
The whole family had an ice block box each and put them in the freezer each morning so that they would be ready to take to bed again that evening.


*********************
TO ADVERTISE ON THIS BLOG
PLEASE CONTACT:
christina.sinclair.ads@aol.co.uk
*********************


Crafty Tip
LARGE POMPOMS
This is an easy ways to make yarn pompoms.
Wind yarn around two tubes (like the inside spool of a ball of string or the inside of two rolls of kitchen paper).
Then simply tie the hank of yarn very tightly around the middle and cut the strands of yarn along the outside edges of the tubes.
SMALL POMPOMS
Or to make really tiny ones you can wind your yarn around the prongs of a fork about 25-30 times and tie the middle up with thick thread.
Make sure you hold the end of the yarn against the top of the fork with your free thumb before you start wrapping. That is to say your left thumb if you are right handed.
Then tie a length of thread around the centre of the pompom by poking it in between the two centre prongs of the fork.
KNlTTED BUTTONS
And here is an easy way to make buttons. They will always match the garment you are knitting and they will save you money.
For the small button cast on 16 stitches and for the large cast on 20 stitches.
Knit one row casting off every stitch as you go.
Thread a knitter's needle onto the tail left at one end.
Start curling the other end up to form a tight curl.
Push you needle across the button several times moving around the edge as you go.
The button should become quite hard to stand up to use.
Bring the two ends of yarn to the back of the button, thread these through to the back of your knitting and tie them to the back of your knitting a couple of times to secure – sew the button on to make it stable.
Darn the ends of yarn into the back of your knitting; there is no need to cut them off unless they are very long.
You can adjust the number of stitches you cast on to make different sized buttons – the colour of the buttons can match your knitting or contrast with it.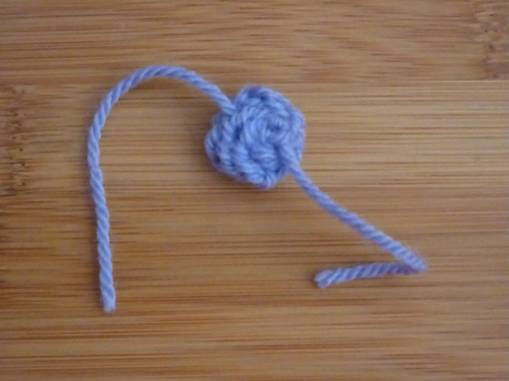 The back of the small button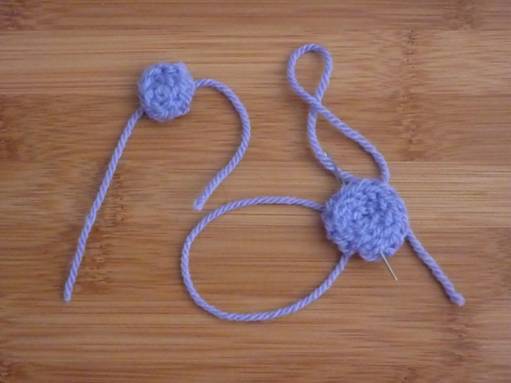 The fronts of the small and large buttons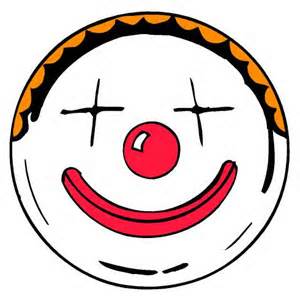 BLOW MY FOGHORN!!!

PLUS
Salty Sam fans can join in with their comments and share them with children all over the world. You will need to ask permission if you are not an adult.
Enter your e-mail address to subscribe to my blog and receive new Salty Sam Blog Posts for free by e-mail every week. Your address will be kept private and will not be shared with any third party.
Sign me up at the side bar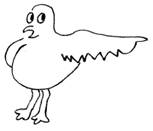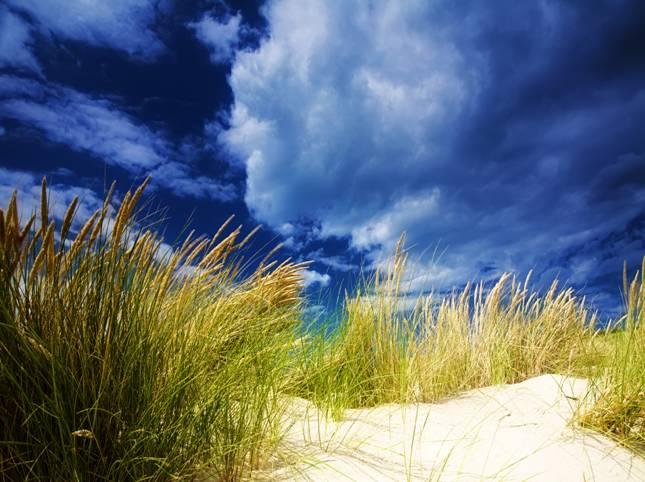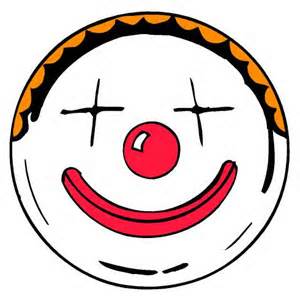 lt's the Weekend!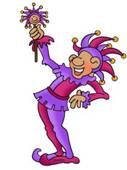 HOW TO MAKE A JESTER ON A STlCK
You will need a long wooden spoon to build your jester on.
Draw the face onto the spoon with pencil after you have fitted the hat and hair to the top of the head so that you know where it should be placed (practice the face drawing on paper before you do it on the spoon then draw very lightly in pencil on the wood to check you are happy with it before you draw it on more heavily).
HAT PANELS (KNIT 2 IN RED AND 4 IN YELLOW)
Using 4mm knitting needles and dk yarn cast on 10 stitches
Purl 1 row
Knit 1 row
Knit 14 rows of stocking stitch
Decrease 1 stitch at the beginning of every row until you have 1 stitch left and cast off
TO MAKE UP
Sew the points of the hat together right sides together.

Sew down the straight seams of the parts of the hat to attach the centre red panel to the two outside yellow ones and the side seams of the hat.

Run a length of yarn along the bottom of the hat and pull in the base to fit the size of your spoon.

Sew some yarn to the front of the hat inside the bottom edge to represent hair (the hair is made by sewing a length of hair coloured yarn into itself with a knitter's yarn needle).

Decorate the hat points with bells (this is very important otherwise you won't have a jingly jester

).
SLEEVES (KNIT ONE IN RED AND ONE IN YELLOW)
Using 4mm knitting needles and pink yarn cast on 10 stitches
Knit 1 row
Purl 1 row
Increase 1 stitch at the beginning of each of the next 4 rows of stocking stitch
Then knit another 2 rows of stocking stitch
Change to black dk yarn
Knit 4 rows of garter stitch
Change to red or yellow dk yarn
Knit 30 rows of garter stitch (starting with a knit row)
Cut off the yarn and thread the end through the stitches to make a curved top to the arm – but don't pull the stitches together yet.
TO MAKE UP
Sew up the side seam right sides together.
Pull the sleeve the right way out and stuff.
Pull the tops together tightly and tie to the stick.
Sew a bell onto the outside of each cuff.
The arms will swing about freely when your jester is telling his jokes but if you want to be able to pose the arms you will need to incorporate a long pipe cleaner into the sleeves and wrap the centre of it around the spoon handle/shoulders.
Cut a zigzag in a triangle of felt 14cm/5½ inches wide by 5cm/2 inches high by folding it into smaller triangles and cutting a 'v' shape into the end then run a thread along the top, gather the ruff in and tie to the jester's throat (or use a small length of lace or brocade gathered in down one side).
Stick the hat to the top of the head and draw on the jester's smiley face.
Traditionally jesters could be quite insulting with their jokes which could eventually become quite dangerous for them if they upset important people too much! Make sure your jester keeps people smiling.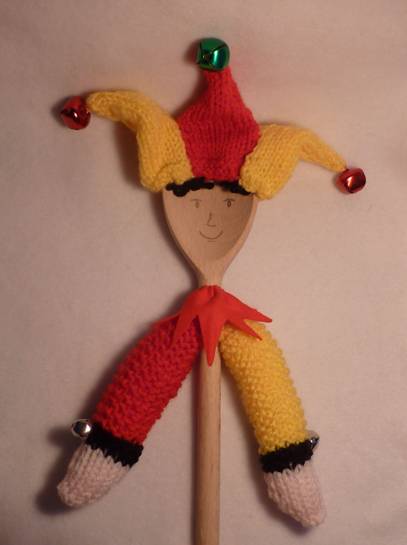 Please note that the material on this blog is for personal use and for use in classrooms only.
It is a copyright infringement and, therefore, illegal under international law to sell items made with these patterns.
Use of the toys and projects is at your own risk.
©Christina Sinclair Designs 2015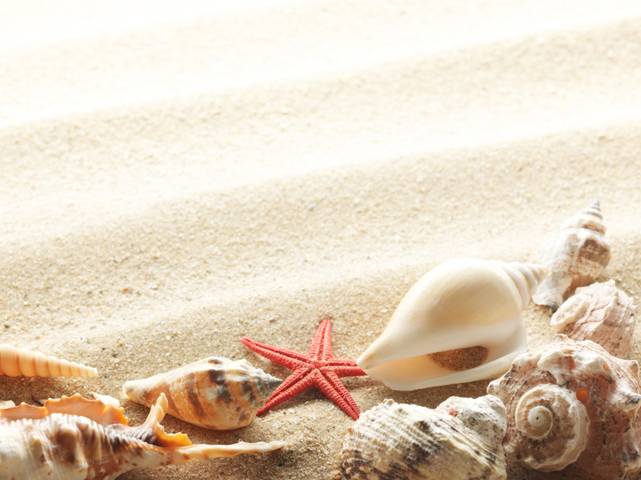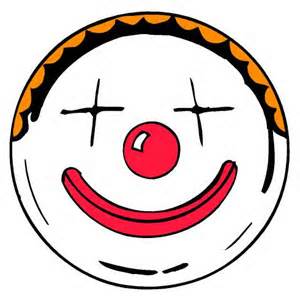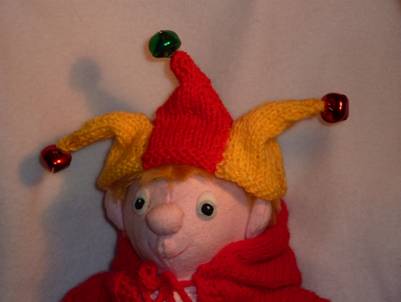 Bill and Bob like telling jokes too!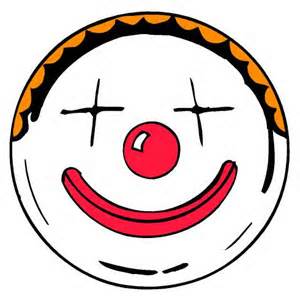 Answers to the News Desk Quiz
gearl sobot – large boots

der sone – red nose

reblow tah – bowler hat

keoj wolref – joke flower

wob eti – bow tie

hetiw cafe – white face

cwoln rac – clown car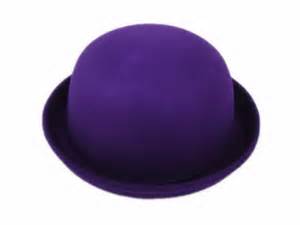 A bowler hat
A clown car usually has many tricks and jokes built into it