December 4th, 2015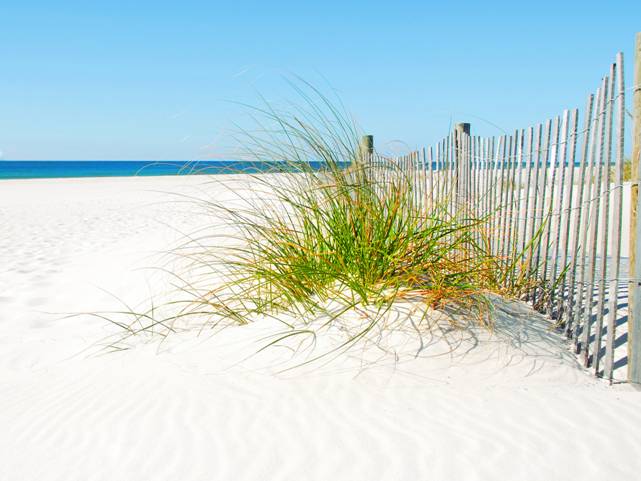 Salty Sam's Fun Blog for Children
Post Number 42
A Soil Test Experiment
Hello Everyone
As you already know, my two nephews love to do scientific experiments, and this week Miss Pringle their class teacher at the Rocky Bay Primary School set them some homework to do at the weekend again.
What they had to do was this:
They had to firstly get two jam jars. They put a spoonful of garden soil in one of them and a spoonful of beach sand in the other.
They filled both jars three quarters full with water, screwed on the lids tightly, and gave both jars a good shake. Then they left the jars alone over night.
ln the morning they rushed downstairs to see what they would find.
Do you know what had happened?
Well, if you can't guess l will tell you.
The soil had settled into layers with the biggest particles in the bottom layer. The water was a bit of a muddy colour and there were lighter bits floating on the top. These bits are called humus.
The sand on the other hand had just sunk to the bottom of the water and was just grains of sand that all looked just the same.
Garden soil is much better for growing plants in than beach sand.
Only some kinds of plants can grow on a beach.
Sometimes gardeners do a similar experiment with the soil in their gardens to see if it is more acid or alkaline. (To give you more of an idea what that means; lemons are acid and bananas are alkaline.)
When gardeners do this kind of experiment they have to use a special kind of water called distilled water though; not tap water.
Once they know what type of soil they have, they know which type of plants will be happiest growing in their gardens and so then they know which kinds of seeds to plant.
lf they have acid soil, they can grow rhododendrons and azaleas and if they have alkaline soil, they can grow lilacs and forsythias.
lf they have neutral soil, most things will grow well.
This test is called a litmus test.
lf gardeners have alkaline soil, this is usually chalky soil, they cannot grow plants like azaleas in their flower beds, but they can plant them in pots using something called ericaceous compost. This compost can be bought in bags. The plants need to be watered with rainwater because the tap water in these areas will have too much chalk in it.
After they had written their reports Bill and Bob threw the contents of the jars on the compost heap, washed out the jars and put them in the recycling bin.
They really are very good children.
Bye bye everyone – don't forget to subscribe to my blog!
Love and kisses
Salty Sam

www.christina-sinclair.com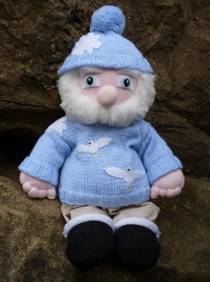 Bill and Bob's Joke of the Week


Bob: When the little worm came home from school very late what did his mother say to him?
Bill: l don't know. What did she say to him?
Bob: Where in earth have you been!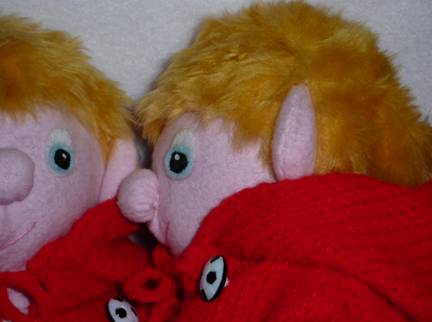 Salty Sam © Christina Sinclair 2015
Unauthorized use and/or duplication of material from this blog without express and written permission from this blog's author and owner is strictly prohibited.
Links may be used to www.christina-sinclair.com

Picture Gallery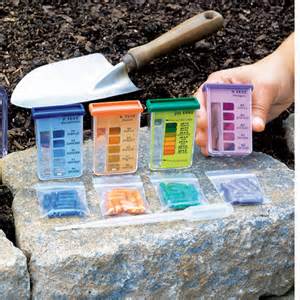 A complete soil testing kit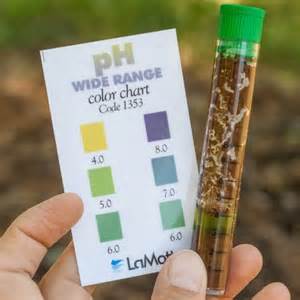 How to check the pH of your soil
Each kit has its own chart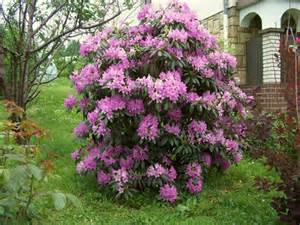 Rhododendron for acid soils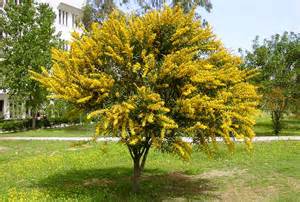 Acacia for alkaline soils (chalk is alkaline)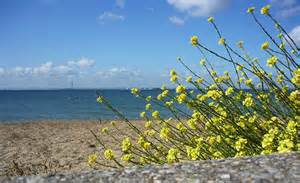 Beaches are usually less fertile than garden soil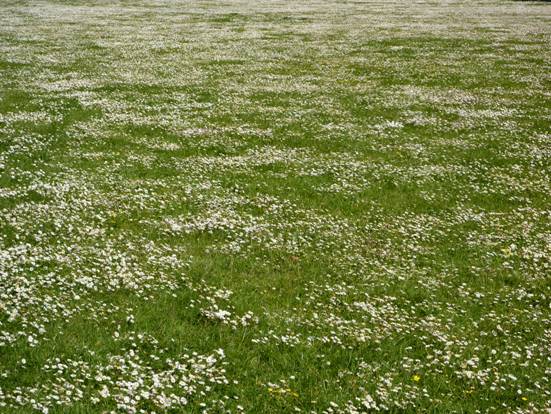 A field with daisies as far as the eye can see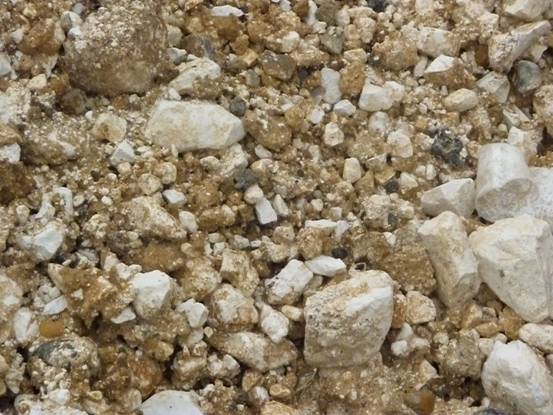 If you have ground like this under your soil, you have chalky soil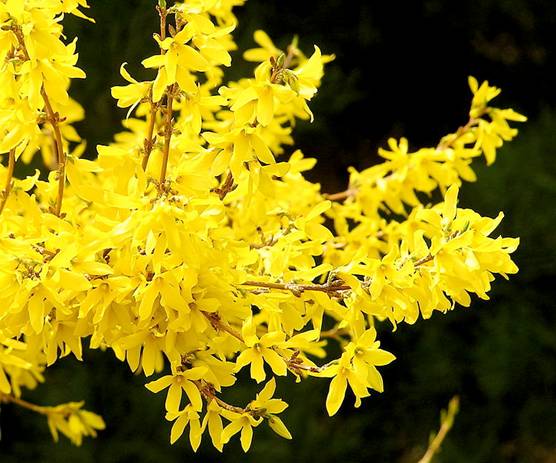 Forsythia 
Lilac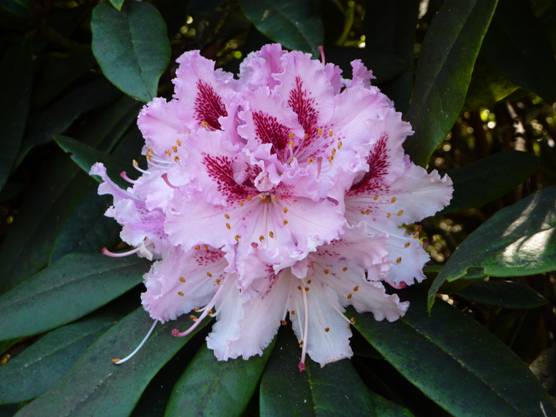 A rhododendron flower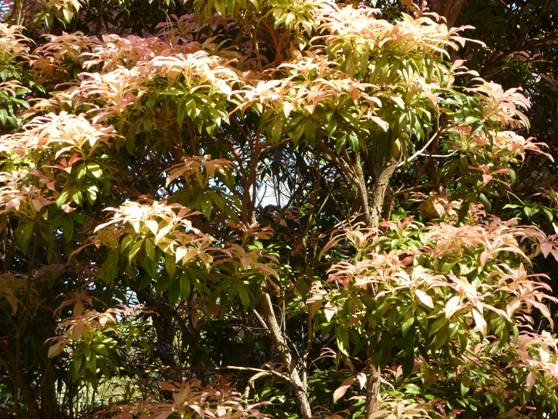 Pieris likes acid soils too – in the spring their leaves are as colourful as flowers


  THE SALTY SAM NEWS DESK


Auntie Alice was working in her large garden this week sweeping up the last of the fallen leaves.  She put them in the leaf store, which is an enormous compound with walls made out of chicken wire, at the bottom of her garden. There they will rot down and become a good soil conditioner to dig into her flower beds next year.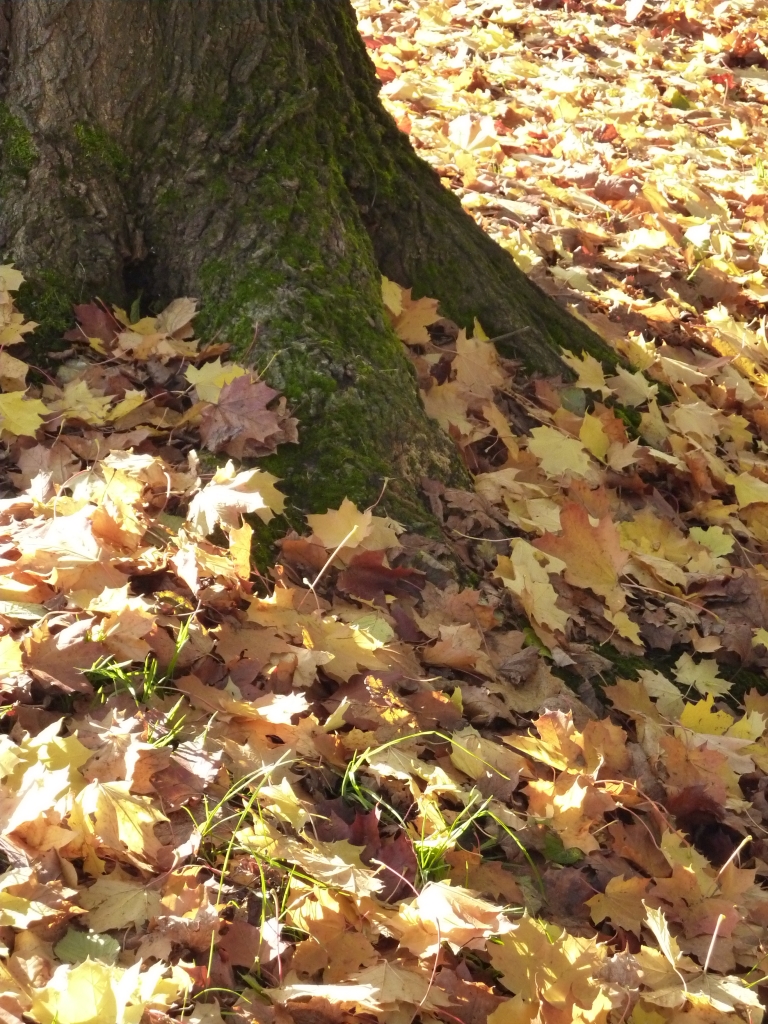 She mows the leaves up off the lawn and when they are cut onto little pieces they will rot down more quickly.
Bill and Bob went to help her and Henry came with them, but it wasn't long before they had had enough of leaf collecting and their thoughts turned to something else.
As you already know Bill and Bob love climbing trees, and in Auntie Alice's garden they have plenty to choose from.
Now they've got Henry at it!
Be careful Bob, don't fall again!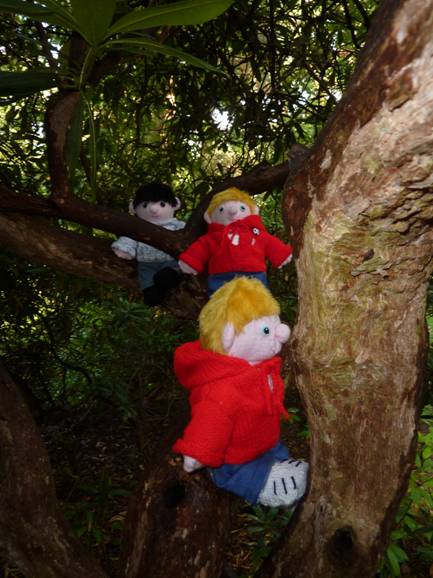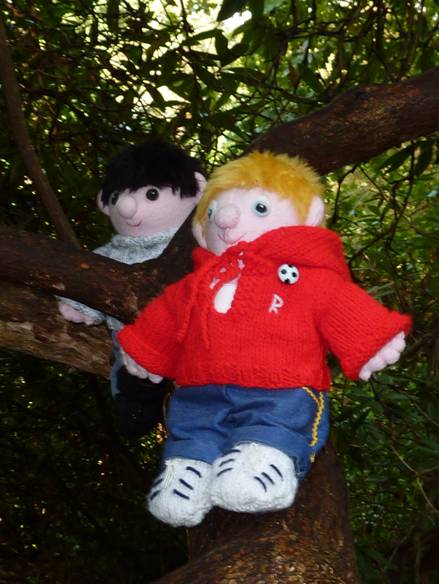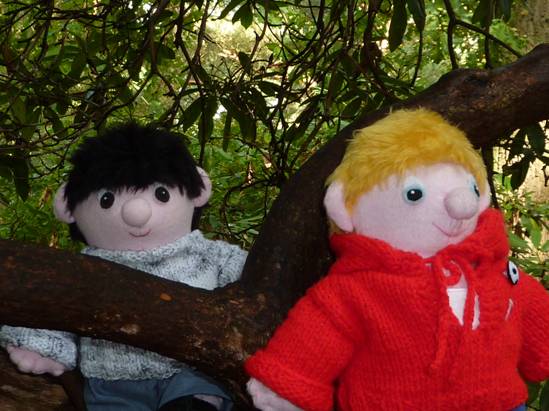 NEWSDESK MINIMAKE
A KNITTED DOLL STRIPED JUMPER
Blog posts 21 and 22 featured a knitted doll. Here is a pattern to make her a striped jumper to go with the trousers featured on blog post 37. This is a perfect outfit for a chilly winter's day.
JUMPER FRONT (KNIT ONE)
Using 4mm knitting needles and orange dk yarn cast on 24 stitches
Knit 4 rows of garter stitch
Change to green dk yarn
Knit 4 rows of garter stitch
Repeat the last 8 rows 4 times
Cast off
JUMPER BACK (KNIT TWO)
Using 4mm knitting needles and orange dk yarn cast on 12 stitches
Knit 4 rows of garter stitch
Change to green dk yarn
Knit 4 rows of garter stitch
Repeat the last 8 rows 4 times
Cast off
SLEEVES (KNIT TWO)
Using 4mm knitting needles and orange dk yarn cast on 24 stitches
Knit 4 rows of garter stitch
Change to green dk yarn
Knit 4 rows of garter stitch
Repeat the last 8 rows 2 times
Cast off
TO MAKE UP
With right sides together
Using over-sew stitches sew up back seam
Sew 3cm shoulder seams
Attach the top of the sleeves to the shoulders
Sew up under arm and side seams
Using a crochet hook make 70 chains in a length of green yarn twice and attach to the back top corners of the jumper.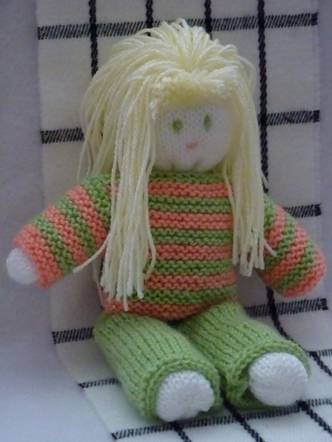 *********************
TO ADVERTISE ON THIS BLOG
PLEASE CONTACT:
                                               christina.sinclair.ads@aol.co.uk
 *********************


Quick Quiz
Which are the tallest trees in the world?
Which are the oldest plants in the world?
Which land plant grows the quickest?
Which plant has the longest leaves?
What fruits do palm trees grow?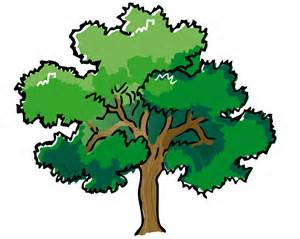 BLOW MY FOGHORN!!!

PLUS
 
Salty Sam fans can join in with their comments and share them with children all over the world. You will need permission if you are not an adult.
Enter your e-mail address to subscribe to my blog and receive new Salty Sam Blog Posts for free by e-mail every week. Your address will be kept private and will not be shared with any third party. 
Sign me up at the side bar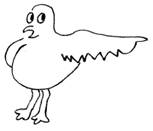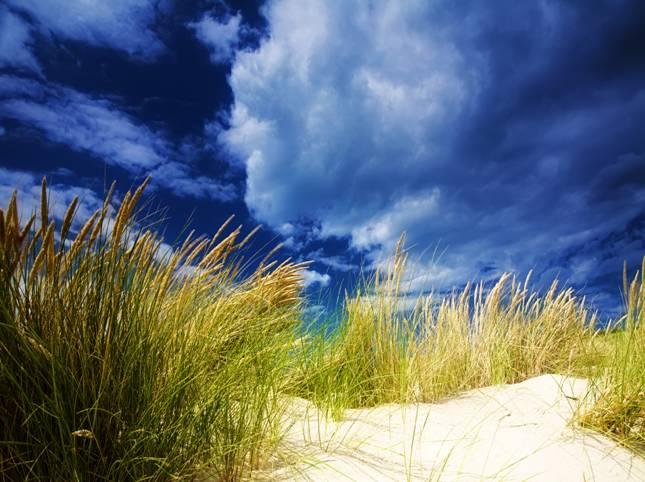 lt's the Weekend!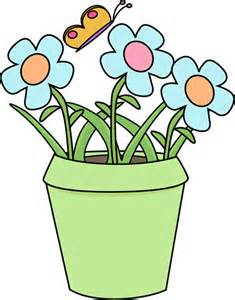 HOW TO MAKE POT PLANT HOLDERS
 
If you grow pot plants, they need to be watered regularly and as the water drains out of the holes in the bottom of the flower pot, it needs to be caught in a plant pot holder.
The project this week is a nice idea for recycling.
You can use used supermarket coleslaw and salad pots for smaller plants, but it is a nice idea to decorate them first.

Put down lots of newspaper first to work on and work in a well-ventilated room.
Use acrylic paint or enamel paint or some sort of paint for plastic or thick water-colour paint mixed with PVA glue.
When the base colour is dry decorate with stickers or cut-out-paper or felt shapes or even your own pictures.
If you get really adventurous, then you could mix up some sand, paint and PVA glue and paint a cheap plastic or clay pot to make it look really expensive. This will create a textured effect on the surface of your pot.
They will look lovely on your window sill.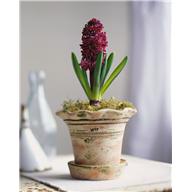 The pot holder in the photograph below was made by painting the pot silver and sticking on a face using wobble eyes and bottle tops.
The ears are washing up bottle tops and the ridged edge of the bottle top used for the nose helps make it look like a part of a machine.
To help the tops to stick to the pot, scrunch some tissue paper up inside the tops first to increase the surface area at the bottom of the bottle top.
If you grow herbs in pot holders with faces on, they will look as though they are growing green hair!
This pot holder is called Rosemary Robot.
You could make her some friends called something like: Percy Parsleyhair, Clive Chivehair and Basil Buckethead.

Please note that the material on this blog is for personal use or for use in classrooms only.
It is a copyright infringement and, therefore, illegal under international law to sell items made with these patterns.
Use of the toys and projects on all of these blogs is at your own risk.
©Christina Sinclair Designs 2015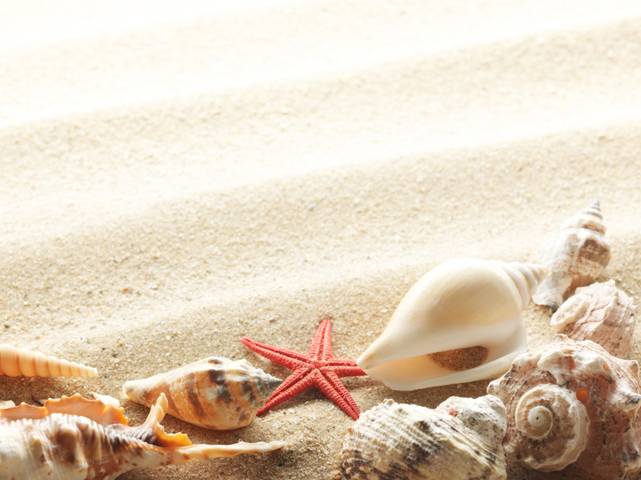 Quick Quiz Answers
Australian eucalyptus/giant sequoia (over 110m tall)
lichens in Antarctica
bamboo
Raffia Palm (can be made into baskets and mats) they can be over 25m long and 3m wide!
dates and coconuts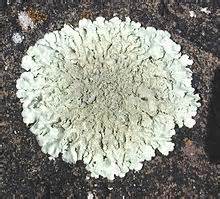 Lichens grow close to rocks and other surfaces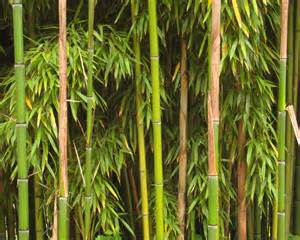 Bamboo makes a lovely sound in the wind but can take over a garden if you are not careful
You need to choose the type you buy carefully
and maybe even contain its roots in a large pot sunk into the soil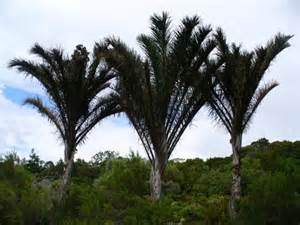 Raffia Palms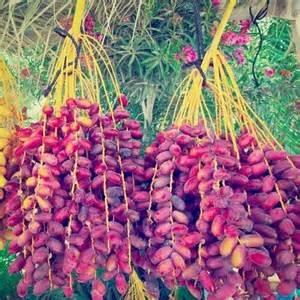 How dates grow